Upon our return to Fort Myers, we caught up on some everyday type tasks.  I worked on paperwork – checking bills, credit card statements, etc – yah, people still have to do stuff like that even if they live on a boat!  Ed got a haircut and we had the boat detailed because it wasn't up to Ed's "clean standards."  Our friends on BackAtcha finally caught up to us and we resumed some Looper get togethers.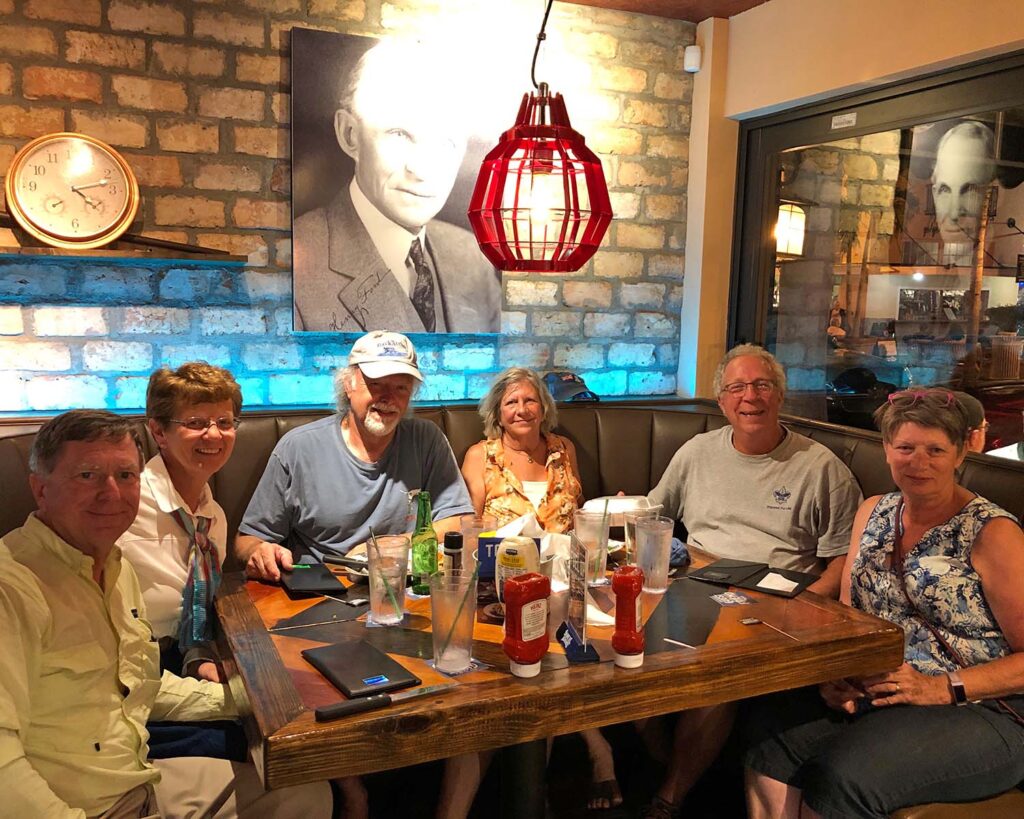 There is a lot of sculpture artwork done by Edgardo Carmona in Fort Myers.  As we walked around town, we enjoyed the whimsical nature of the pieces, as well as other types of art – they really add to the interest of the town.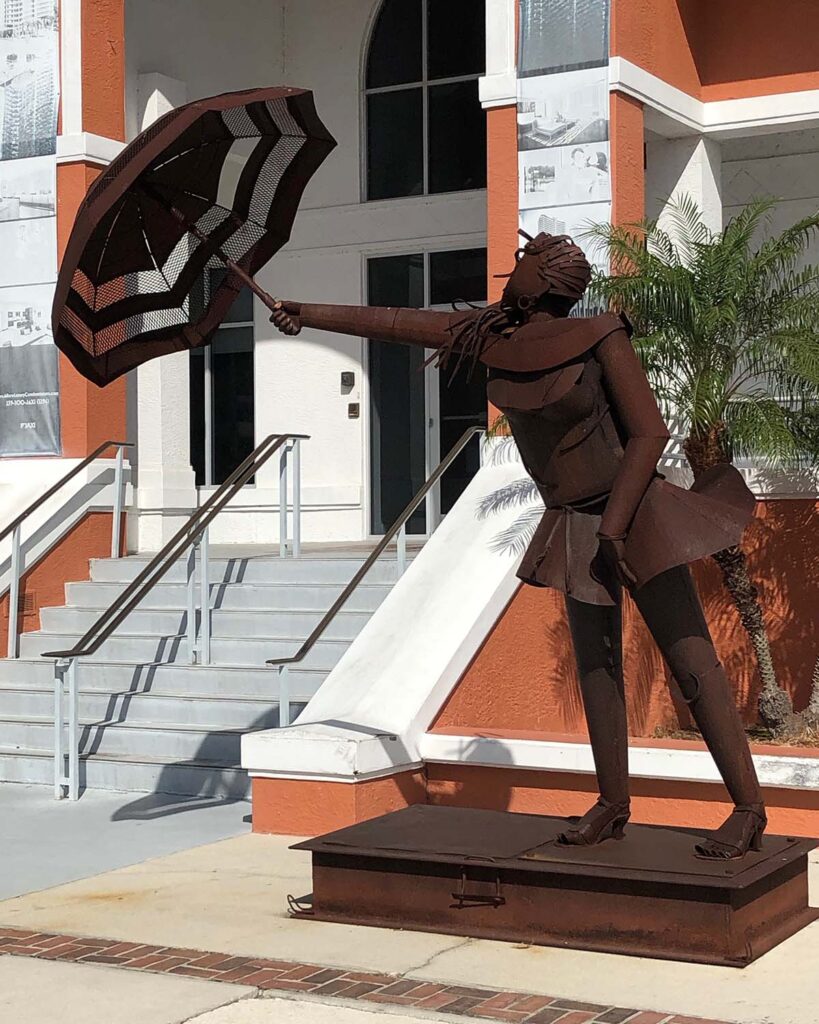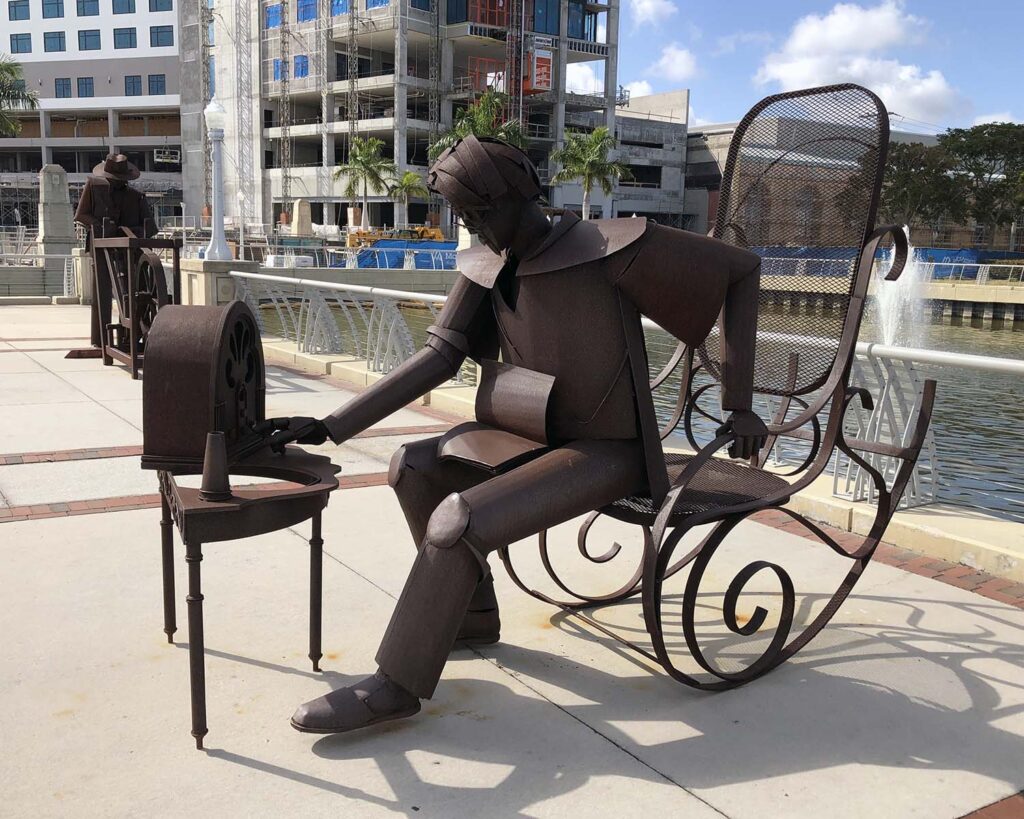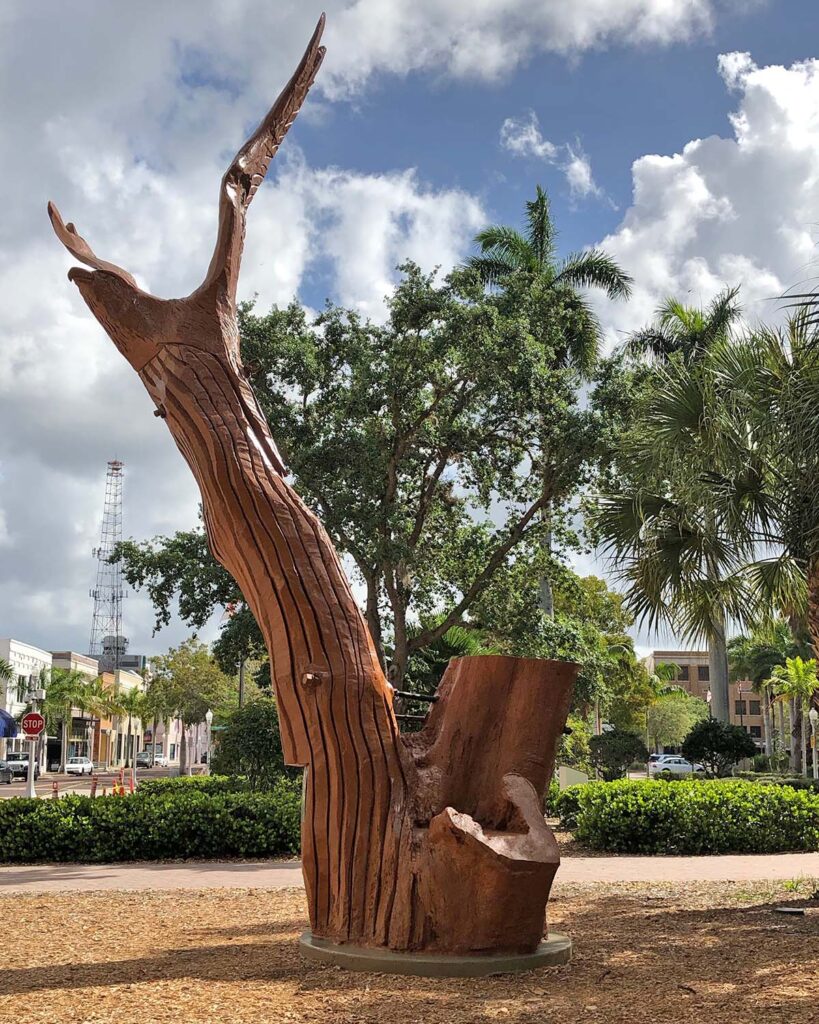 We had kept the rental car for another week because we wanted to go visit some of the places that we were not going to get to by boat.  Our first day trip was to Fort Myers Beach – which is about a 45 minute drive.  It was a hot day and as we neared the bridge, the two lanes narrowed to one, which had traffic backed up and we were at "crawl speed."  I happened to look at the temp gauge and Whoa – entering RED zone.  We pulled over and spent the next two hours waiting for a pick up from the rental company.  Never happened!  By then, the engine had cooled, so we drove BACK to the rental company to get another car.  It was now late in the day and we didn't feel like dealing with that slow traffic again.
The next day, with a new rental car, we headed to Naples and Marco Island. We had friends from Ohio who now lived in Naples and were so glad to see them after many years. Art and Rosemary have had a VERY active retirement over many years, and have now settled in a beautiful area of Naples. We enjoyed a wonderful lunch of chicken and dumplings and lots of catch-up conversation. Their son Doug was visiting from Seattle, and with some kind of flu outbreak back home, he had decided to extend his visit to Florida.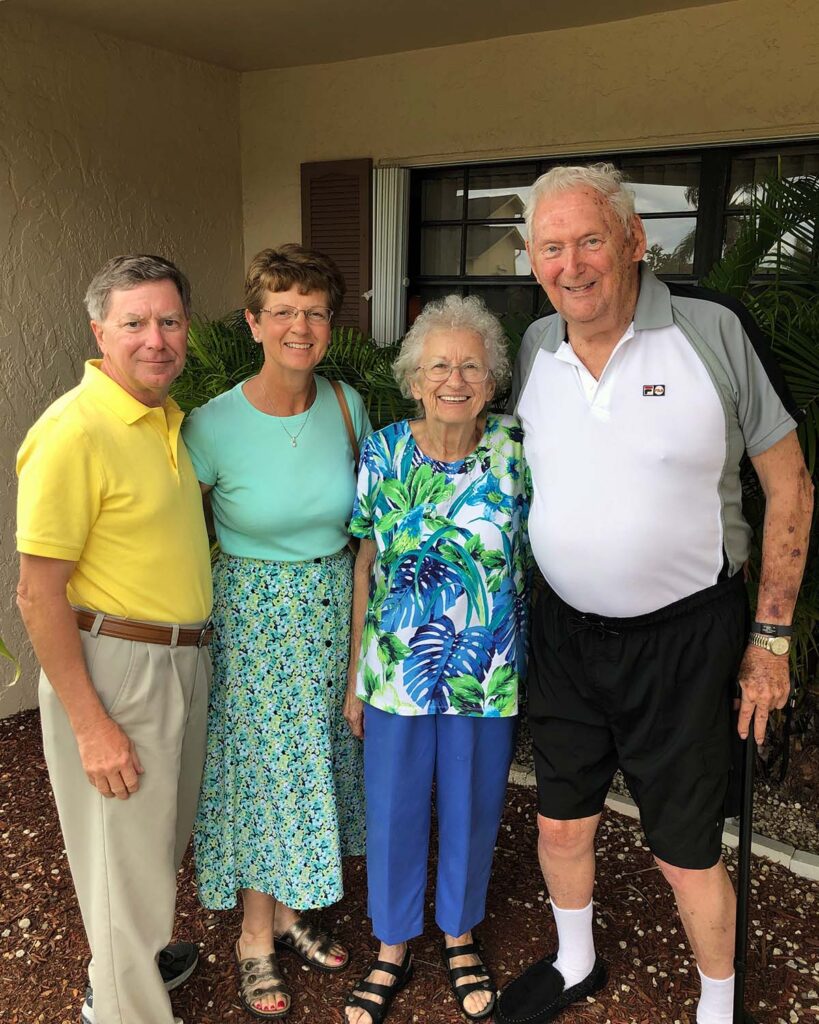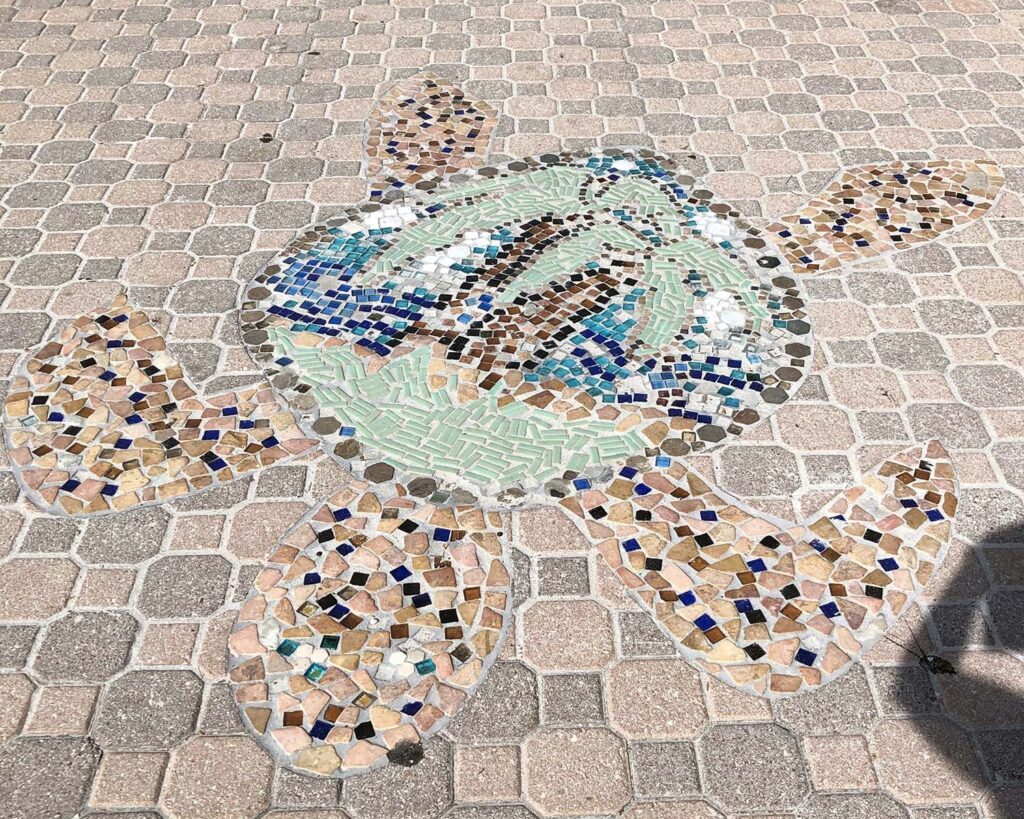 We spent the rest of the day driving around the two towns – really lovely. The beaches and Gulf waters are SO beautiful and the day couldn't have been nicer.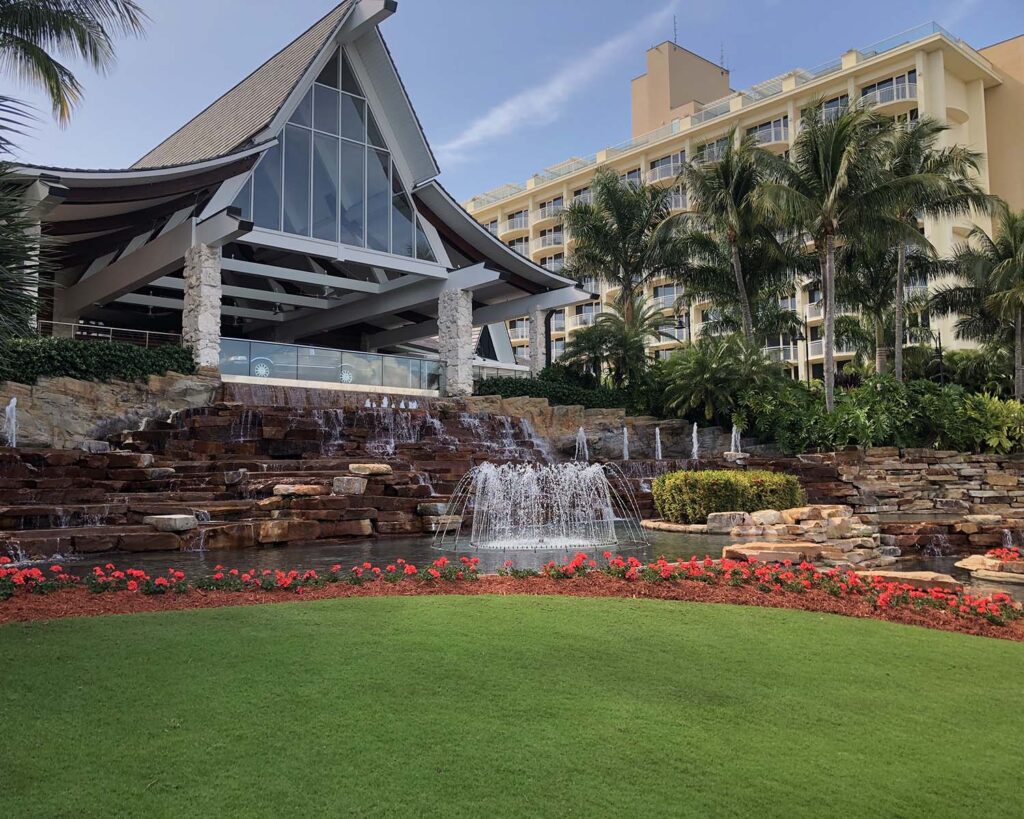 On Friday, we headed to Sanibel and Captiva Islands.  My dad had often talked about taking a family vacation there, but he ran out of time before that happened, so it was definitely on my bucket list to get there.  WOW – I am sorry we didn't get there sooner!  Sanibel is known for the shells on the beach – they get a lot of shells that wash up on shore because of the position of the island in relation to the Gulf current.  We didn't go shelling (no place to put anything else on boat), but we did enjoy the beach for a short time.  Thinking the water would be warm, we ventured out – not so warm yet!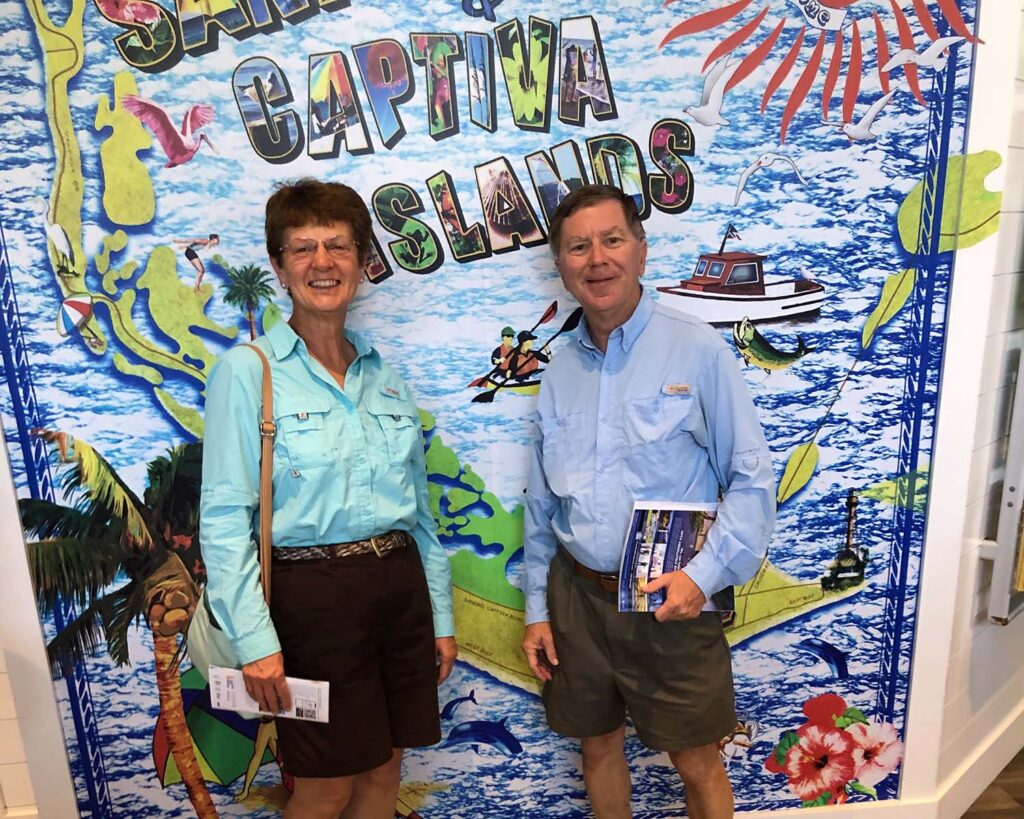 We found the J.N. "Ding" Darling National Wildlife Refuge on Sanibel.  What a treasure!  6400 acres – home to over 220 species of birds.  We got there in time to take one of the ranger led nature hikes. We learned a lot about mangroves – common to Florida salt waters – as well as several of the birds we saw and other plants growing there.  The educational center had several interesting exhibits including one about Manatees and another on recycling, which featured several "products" made of recycled materials.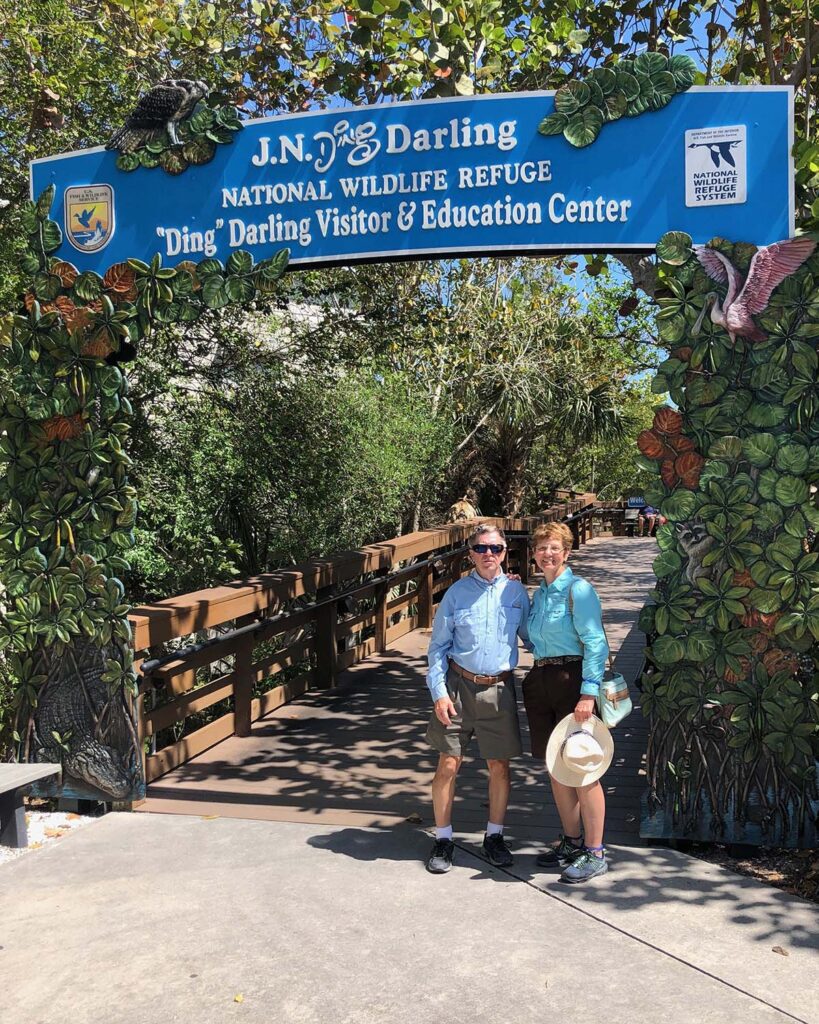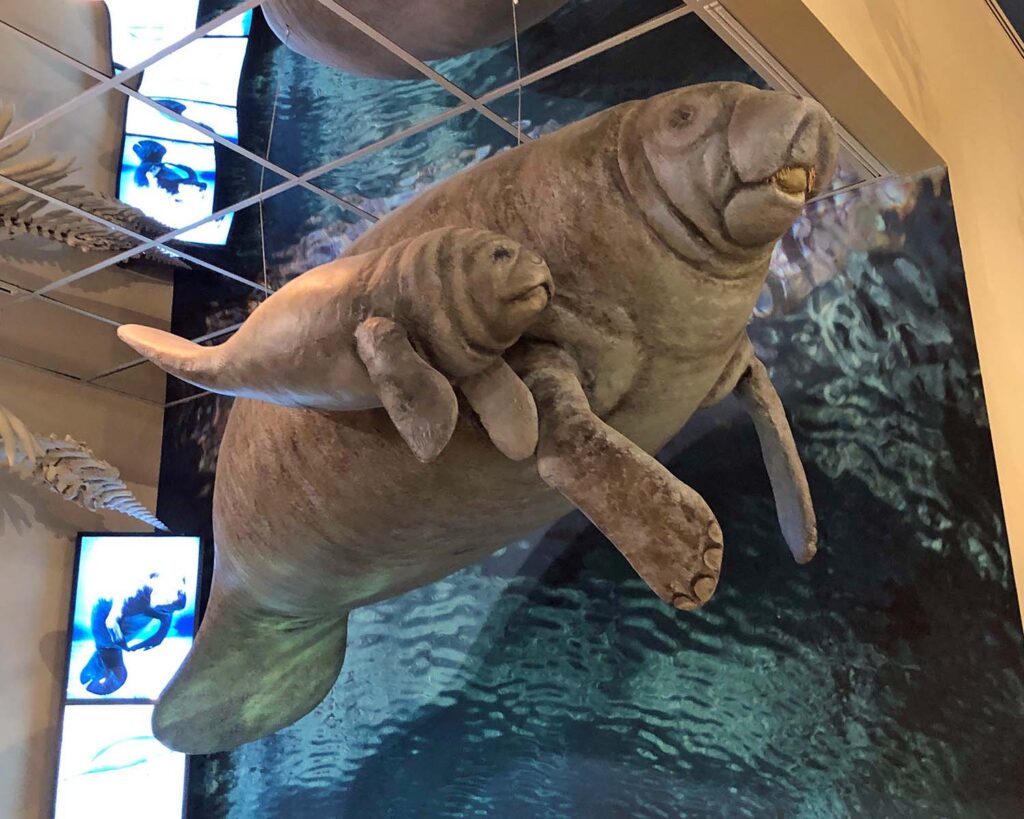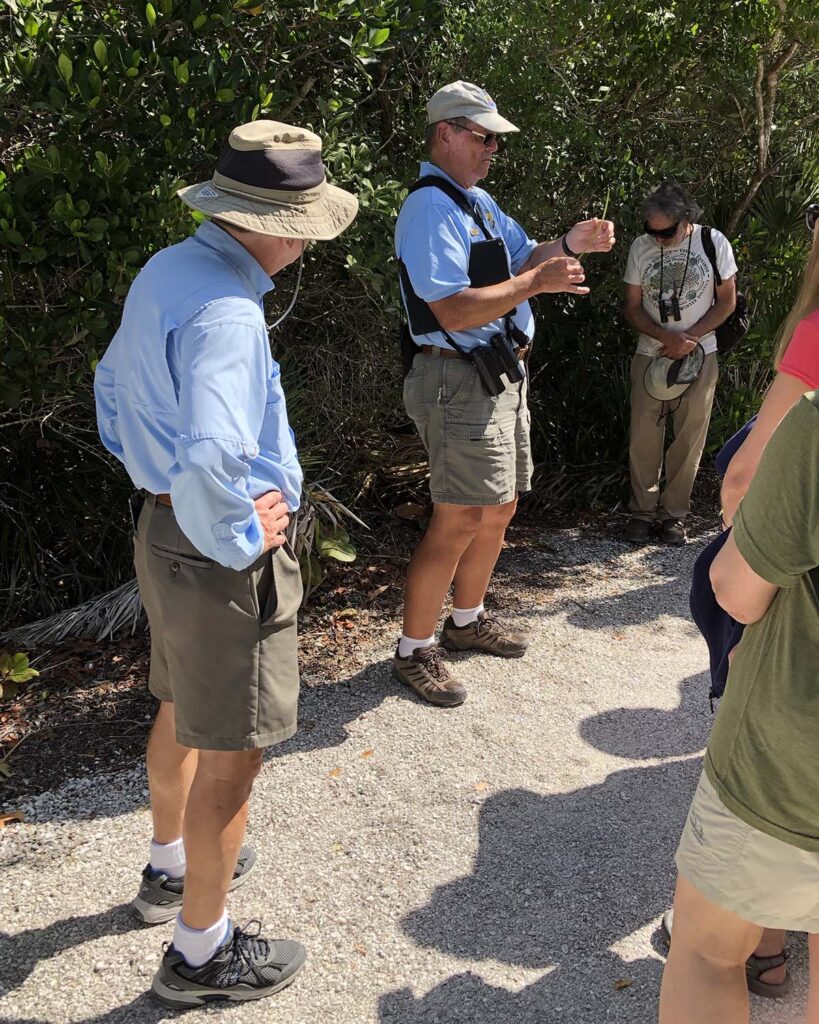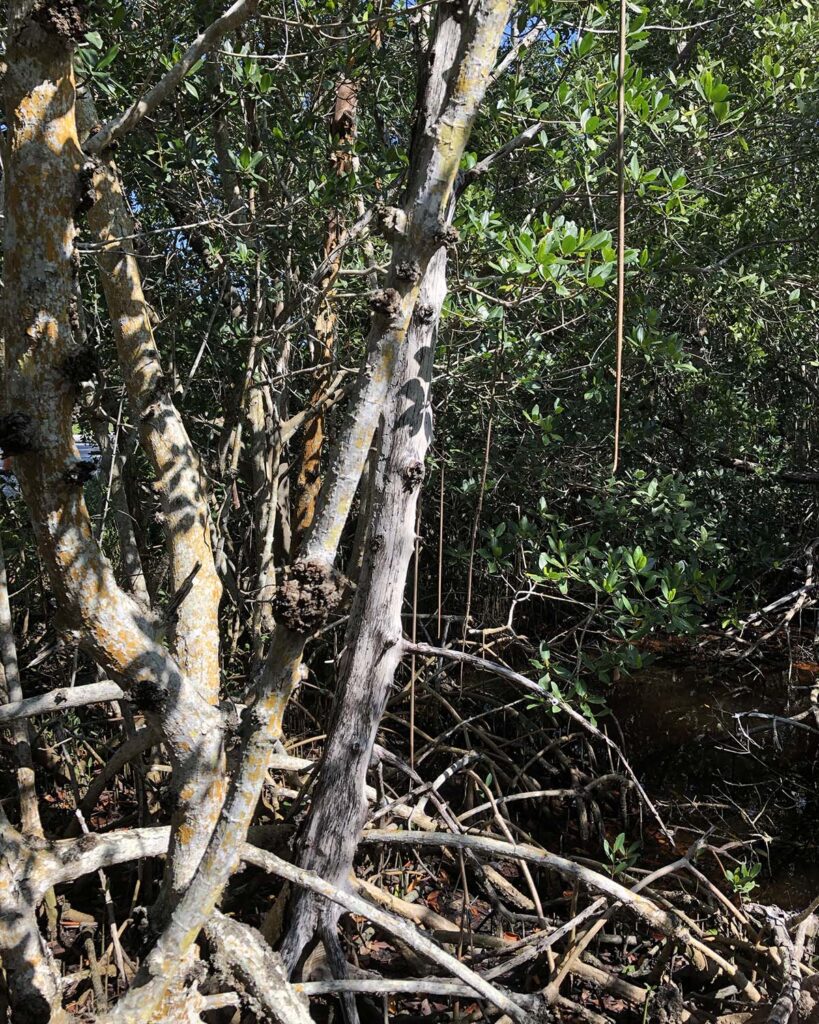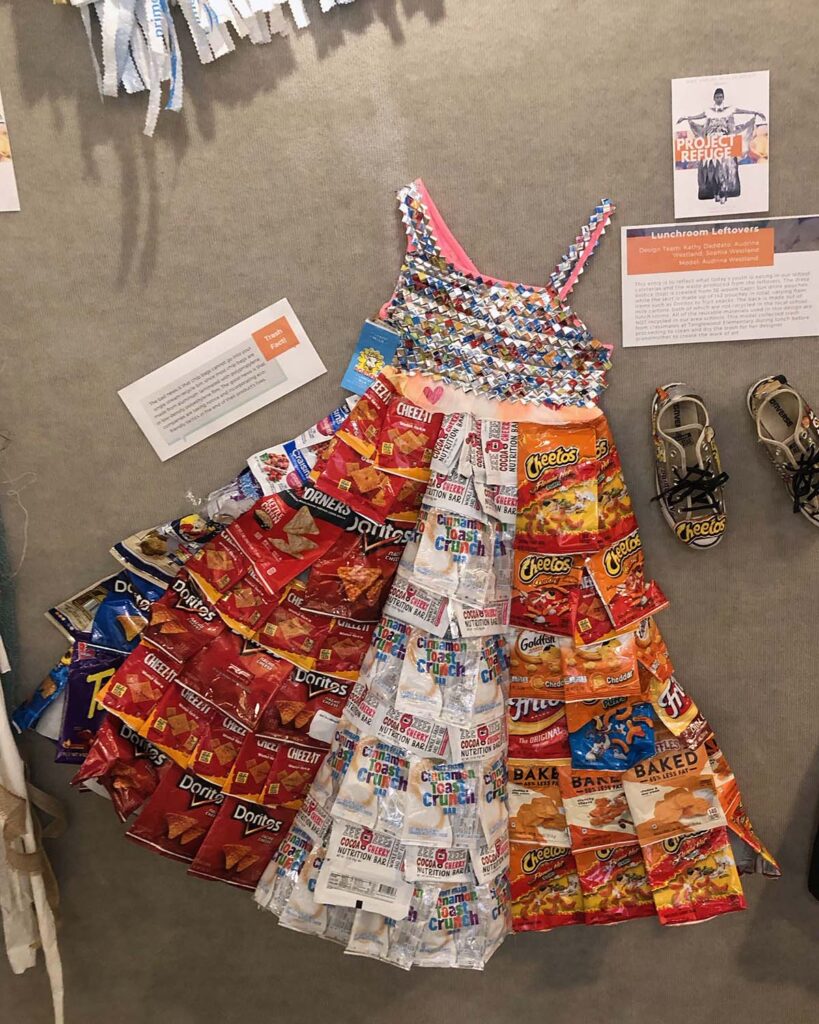 For lunch, we went to Doc Ford's, which turns out to be a somewhat famous place. It is named for a fictional character in a series of books written by Randy Wayne White. Apparently, many of the stories take place in a fictional "Dinkins Bay" – AKA the Sanibel area. The lobster roll lunch was wonderful as was the live music performed on the patio.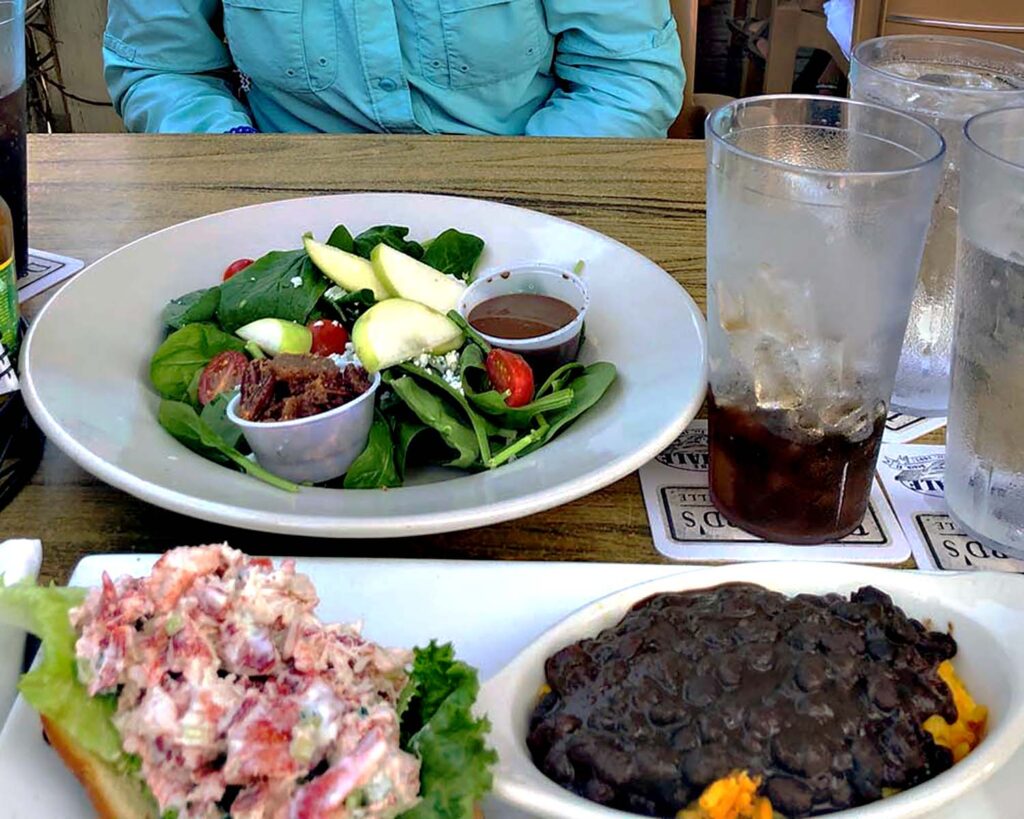 We explored more of the islands in the afternoon. Found a beautiful island church – Captiva Chapel by the Sea – on the National Register of Historic Places. Originally built in 1903 as a schoolhouse, it served the purpose of a church whenever a circuit preacher came to the area. The interdenominational church is still in use today. There is also a beautiful cemetery nearby. Cemeteries always seem to have stories to tell, and it's interesting to stroll thru and imagine the lives of those resting there.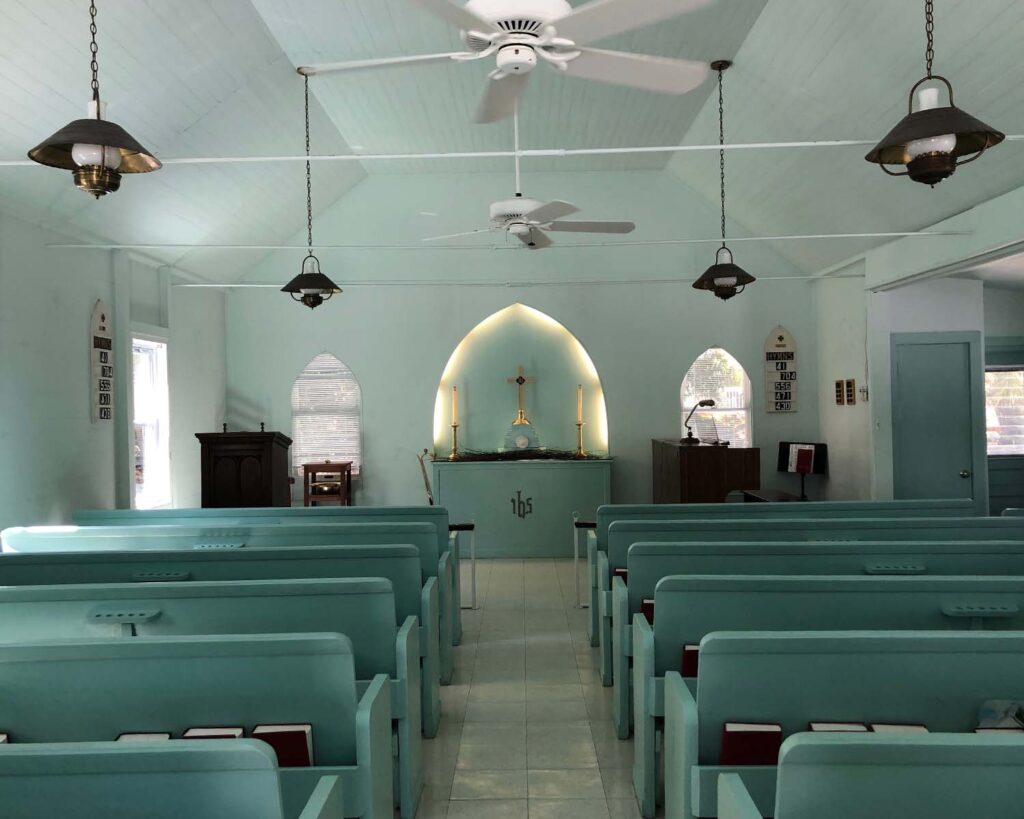 We had one more day trip.  Dave, on Adagio, had recommended Punta Gorda.  They had gone by boat, and really enjoyed Laishley Park there at the marina.  So we drove there with our bikes in the trunk.  When we arrived, we found a wonderful bike path along the water. We also found that a Grand Opening bike ride had been cancelled that morning due to increasing news about the Corona Virus.  We first explored the waterfront path and then found that the path went thru town.  We found several sign boards giving us some history of the town and then we came upon a Farmers' Market.  Sadly, there were posted signs indicating that it would be the last market until further notice.  Concern about the virus was growing and we were all wondering where this would end.