On the 25th we headed out of Orange Beach, determined to go as far as reasonable that day. We passed thru Pensacola Bay and headed thru Santa Rosa Sound. The day was sunny and warm enough in our protected helm area, and we were enjoying the moving water under our boat. We traveled 60 miles that day – almost 7 hours. We landed at Fort Walton City dock – a freebie that had electric, but no water hookup. That's OK – only staying one night. We walked thru a park and around town. Found a church for Mass that evening. Nice area.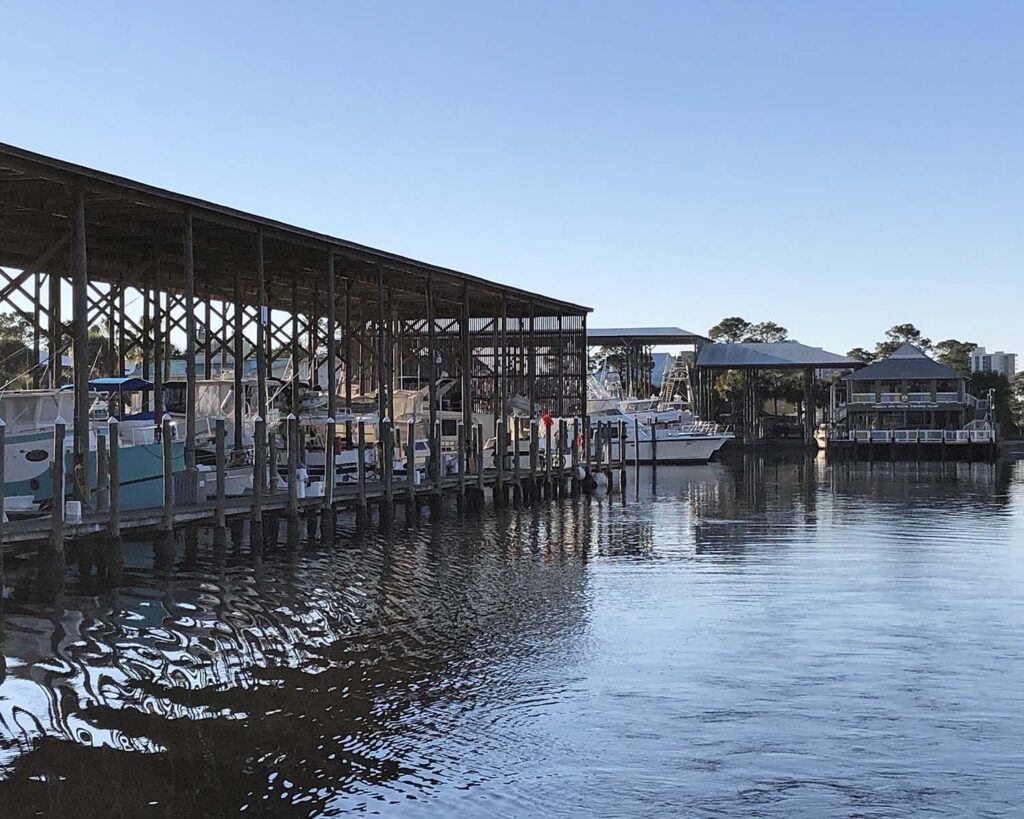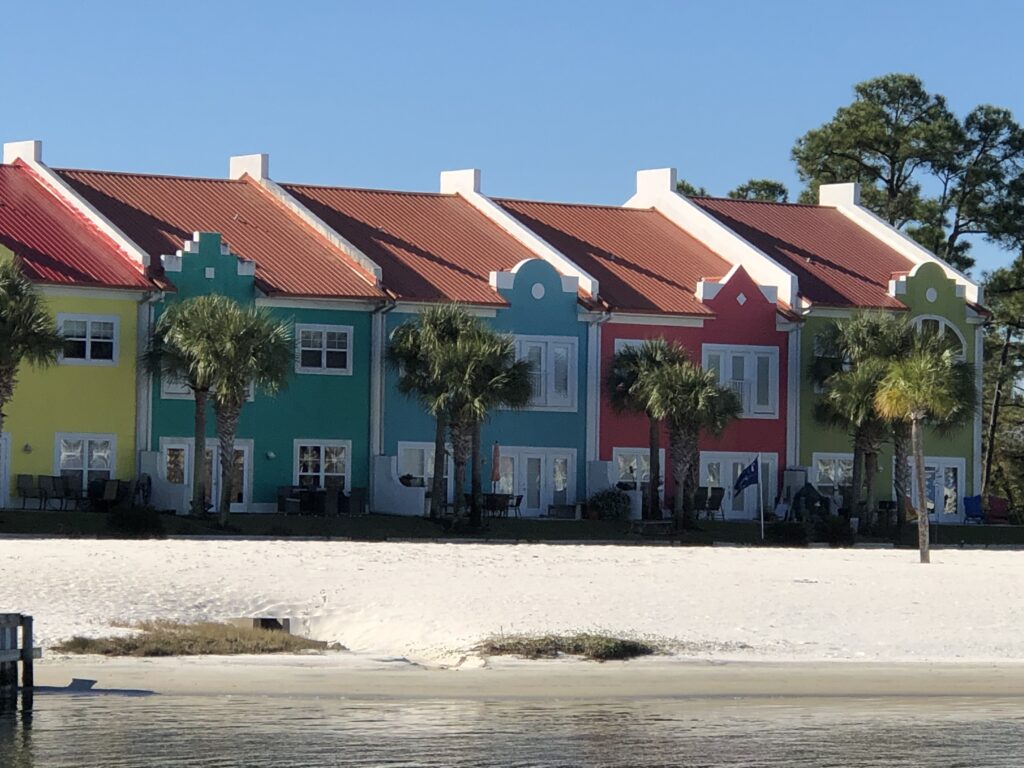 The next morning we were on our way a little after 8 am. We got all of two miles when the starboard engine temp gauge registered in the RED zone. Ed gave me the wheel and ran down to the engine room. The next thing I hear from him is "Cut the starboard engine!" Not the words the Admiral likes to hear from the Captain. He came up and said there was antifreeze sprayed all over the engine and we needed to turn around and return to the dock using only our port engine.
We returned to the City Dock and down he went into the engine room.  He determined that it was the alternator.  The fan had broken into 3-4 pieces.  It was Sunday morning; fat chance of getting anything repaired.  His phone dinged – it was a message from the Harbor Host in the area wanting to know if we were going to stop at the marina where he lives on his boat.  I replied that we weren't going anywhere, as our alternator was out of commission.  He replied "Want some help?"  That was magic! He and Ed talked.  Jack made some calls.  Called us back and said no one could come today, but they would be at the boat at 8 am on Monday.  And by the way, would we like him to pick us up for docktails? Didn't have to ask us twice. Ed worked that day at removing the alternator and cleaning up the mess.  That evening we enjoyed the company of several Loopers.  We met Amanda and Wes from Savannah, GA who were on the boat Honey Queen.  Destiny had brought us together here – we would be friends in no time at all.
Next morning, at 8, someone came to get the alternator and said if all went well, he'd be back in a few hours.  Not all went well – needed to order a part – so we enjoyed the day sightseeing.  There was a Heritage Park and Cultural Center, which gave us a great historical view of Fort Walton.  Also included in the Park were Camp Walton Schoolhouse Museum – an original one room school house, The Garnier Post Office Museum, The Fort Walton Temple Mound – the original temple mound built by Prehistoric People living there between 700 AD and 1500 AD, and a Civil War Exhibit Building. Fun facts from the Post Office Museum: 1)There was once an undersea PO for a scientific facility on the seabed off the coast of the Bahamas.  2)in 1959, a submarine fired a guided missile, filled with letter, to the Air Station at Mayport, FL 3) There is a mule train delivery route to an Indian Reservation located below the South Rim of the Grand Canyon. That was a lot to see in such a small town!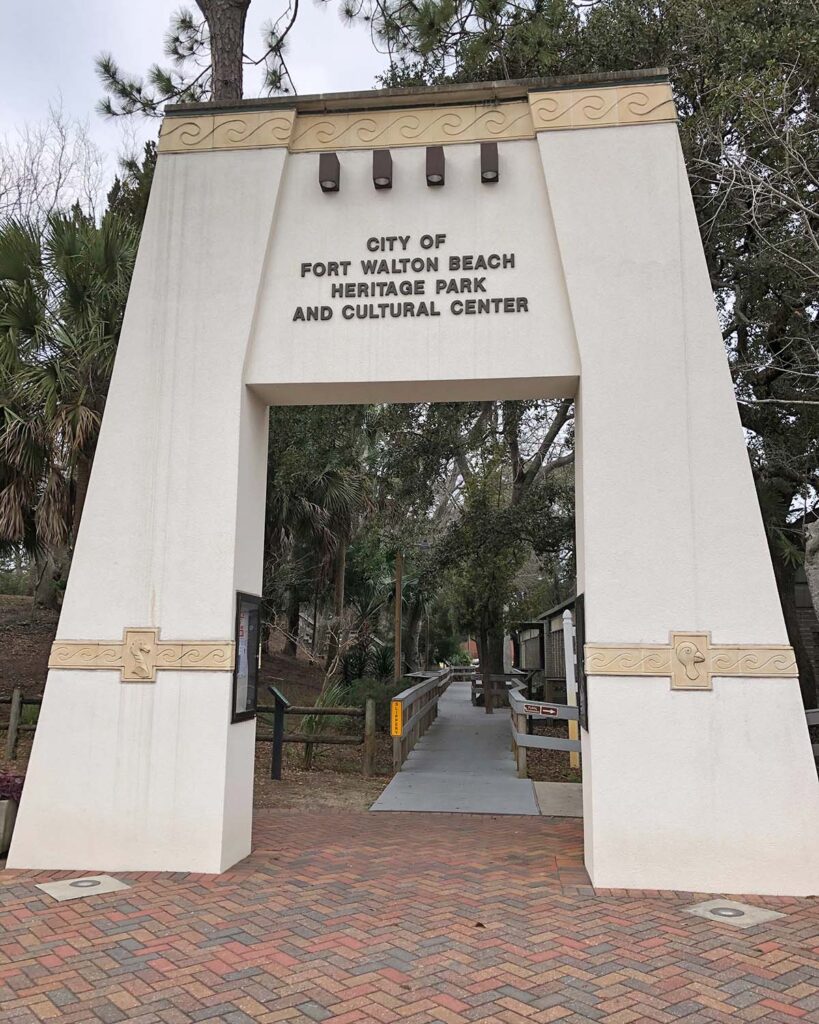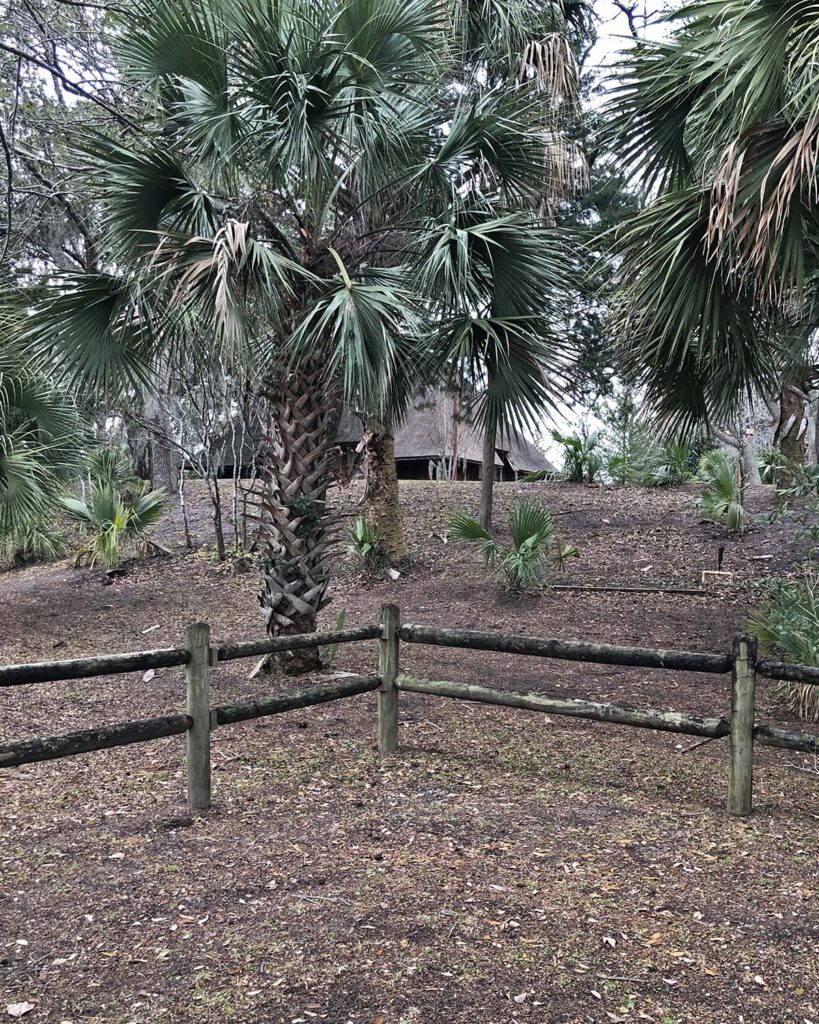 While walking in town we came across Suds-n-Cinema. It's a movie theater that also sells beer and dinner food. Great idea for Monday night entertainment, so we went. The theater had been renovated to have tables, chairs and booths. We ordered and started talking about The Loop with a Canadian couple sitting next to us. Who should come sit at a table behind us? There were Amanda and Wes along with another couple who are Looper Harbor Hosts. Been in town 2 days and we're already running into familiar faces. By the way, the movie was "Knives Out" – a murder mystery – and great fun.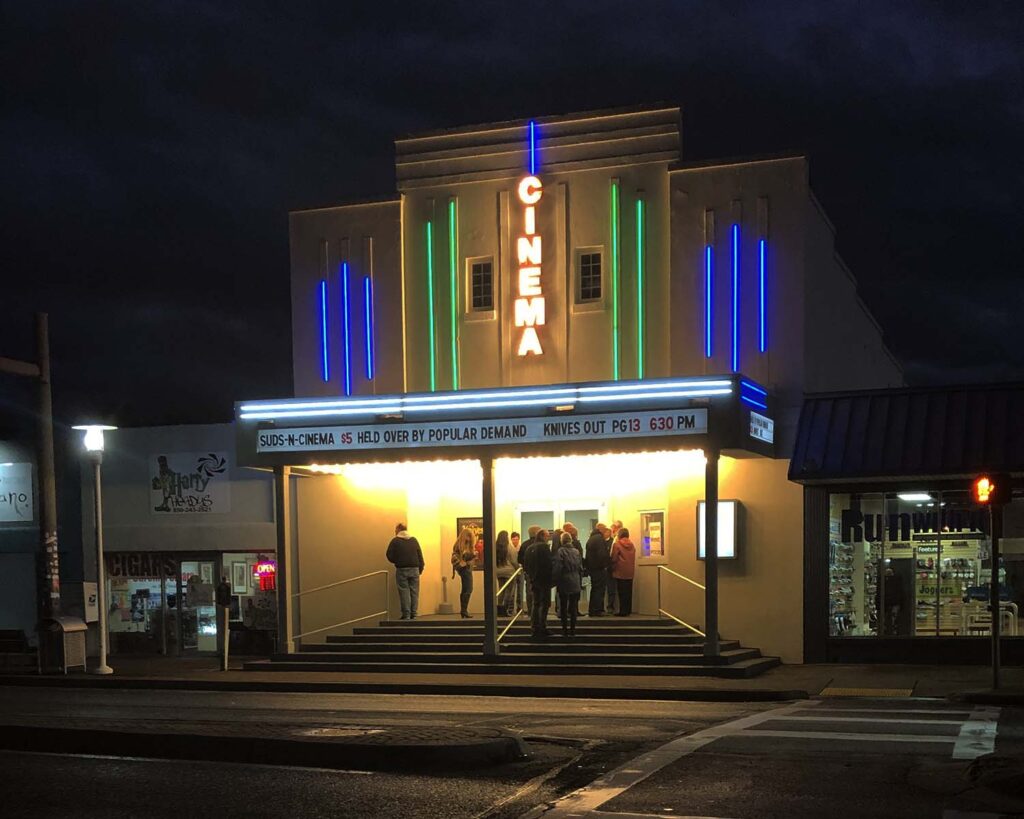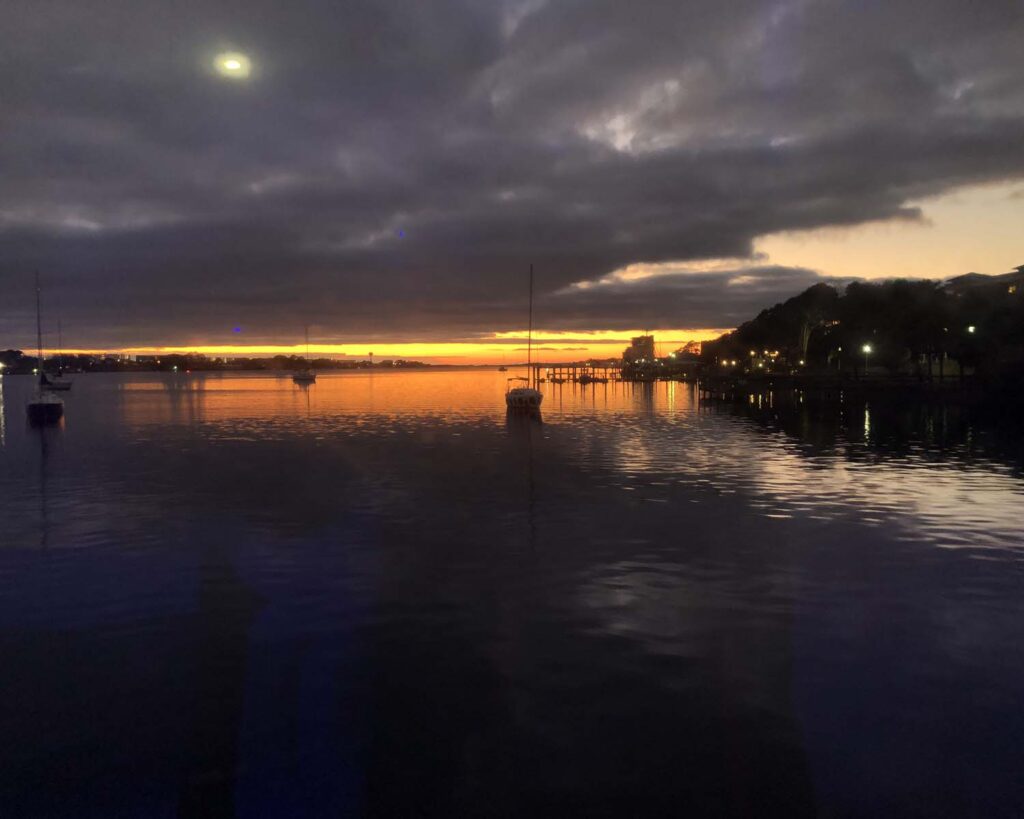 The next day we window shopped along the street and took some photos near our boat. In the afternoon, the alternator was re-installed. The only original part to it was the casing – everything else had to be replaced. We were very grateful to have it done so quickly. Harbor Hosts have a wealth of contacts and are such a great help to Loopers. Rainy weather predicted tomorrow. No go. Wednesday night we went out for Mexican – interesting restaurant décor.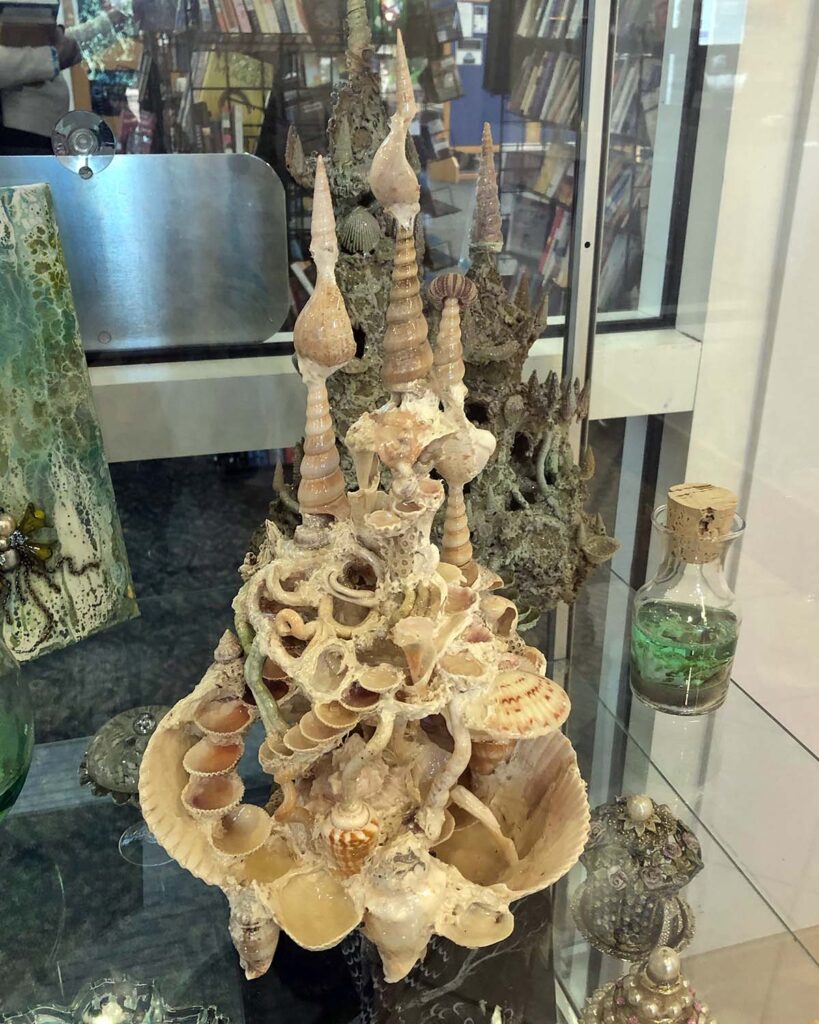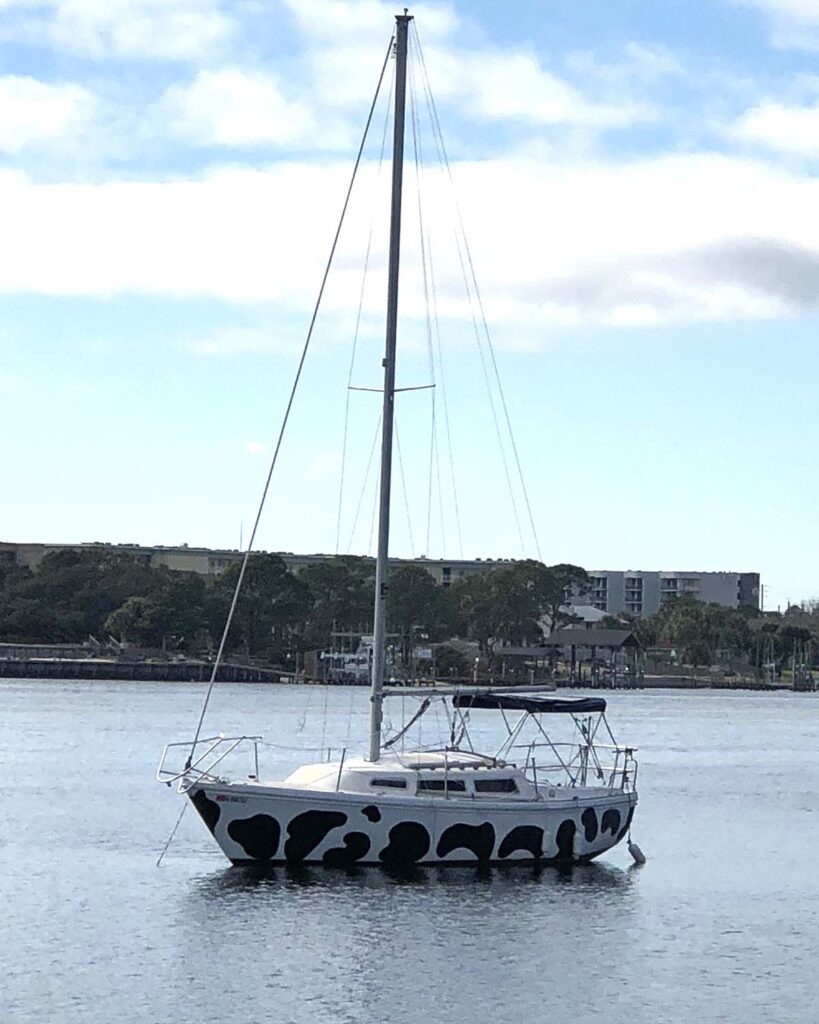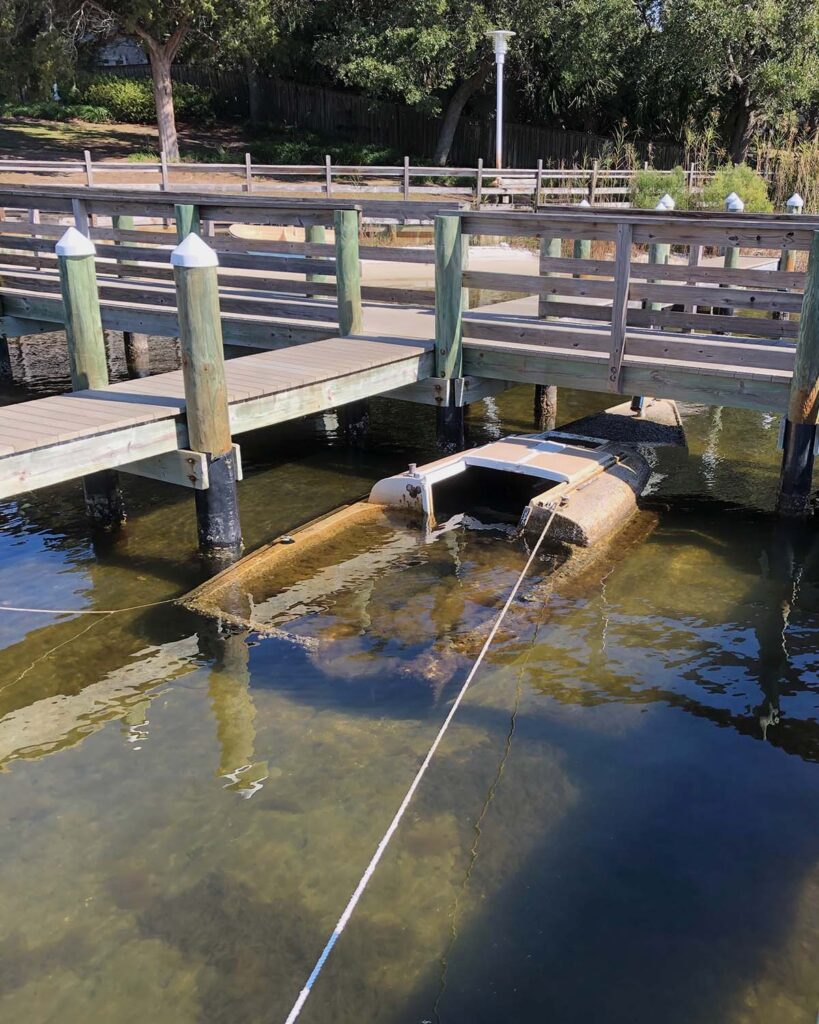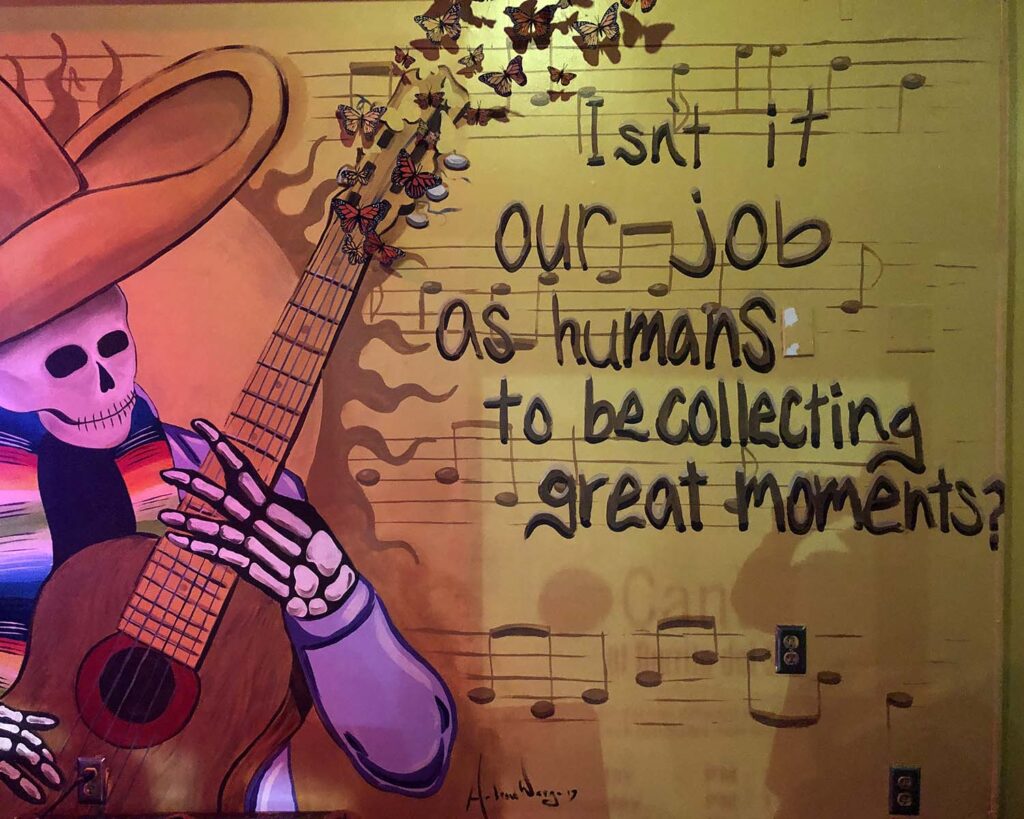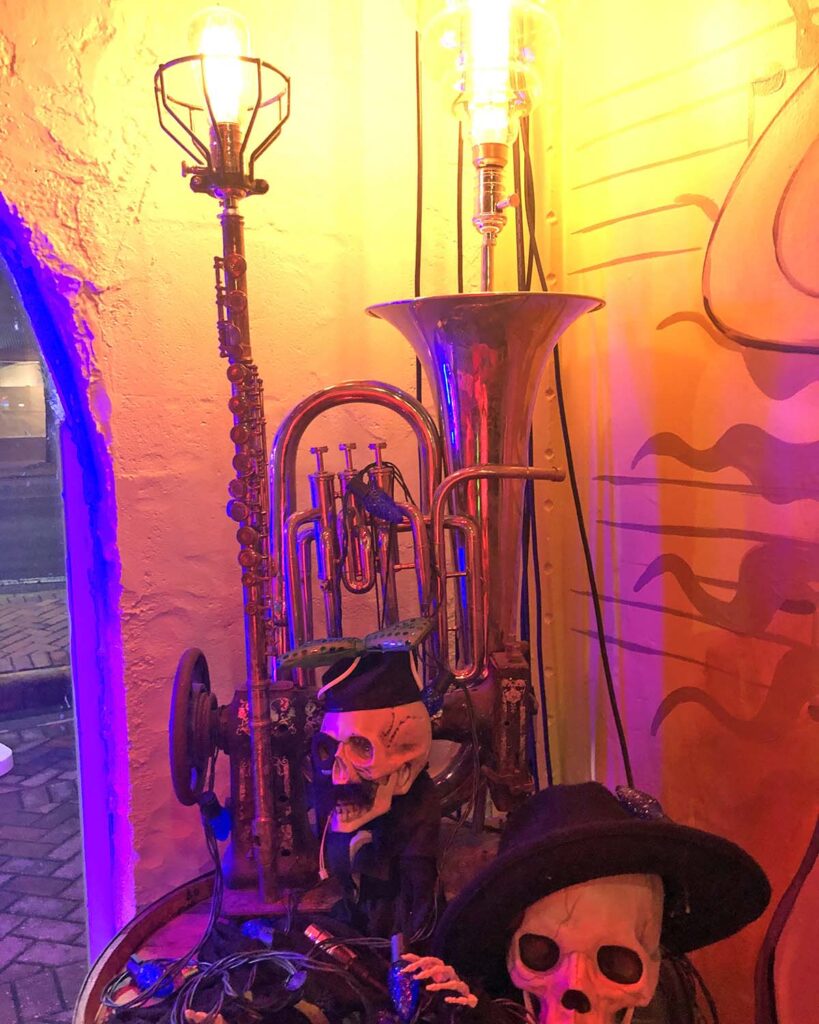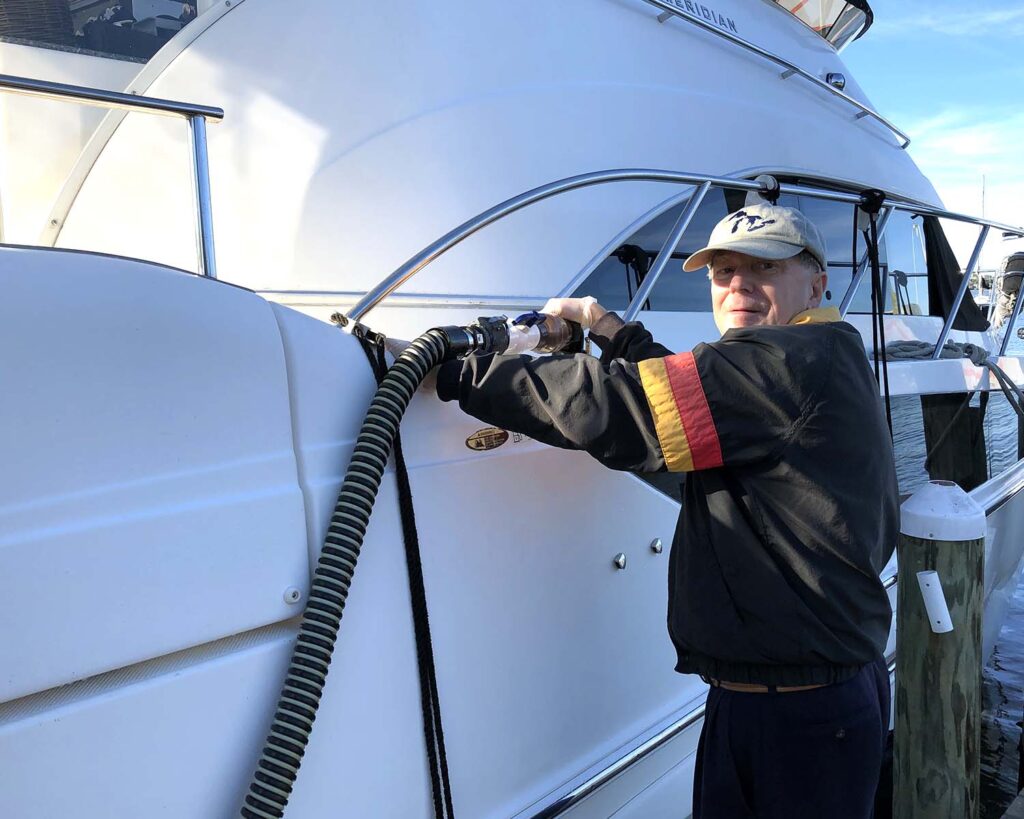 Left on Thursday, Jan 30, for Pearl Bayou Anchorage. At 12:30, we entered what is known as "The Grand Canyon of Florida." People from Colorado would laugh themselves silly to see it.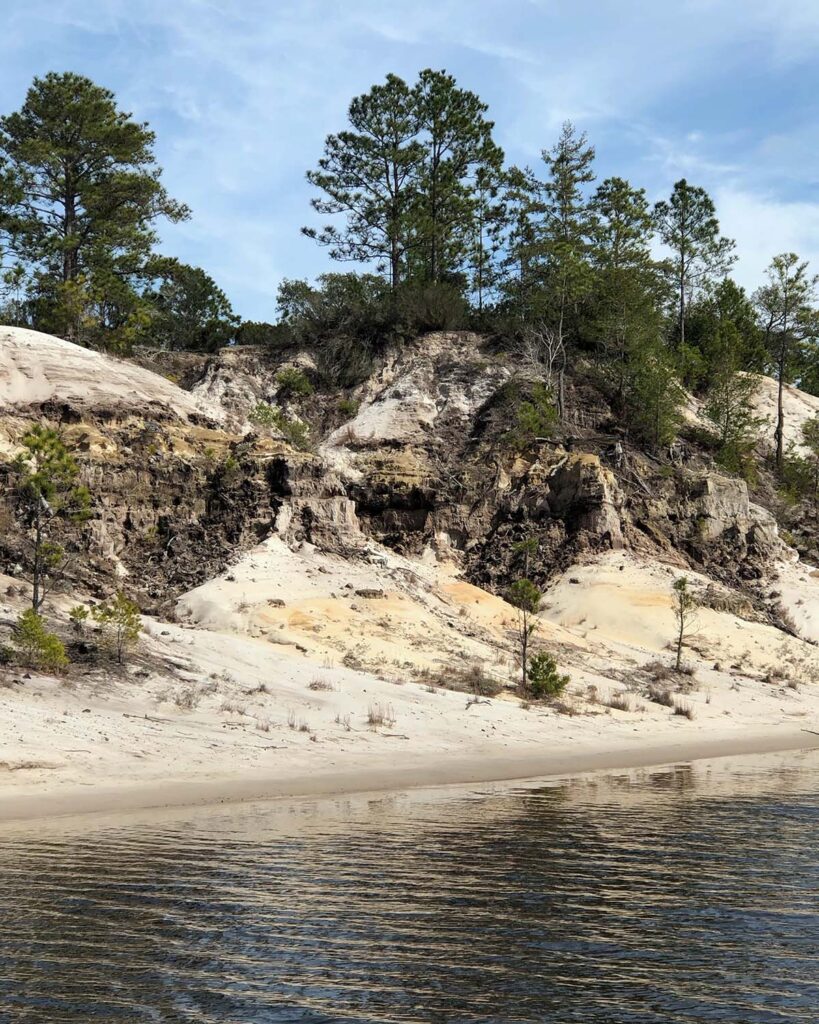 While motoring along, we kept hearing a Slap – Slap sound from the back of the boat. Thinking that maybe we hadn't properly fastened something, I went back to look. Couldn't find anything, but when I heard the sound again, I looked out the back door opening. Next to the boat were three dolphins having a great time traveling in our wake. One would jump into the air – land on its side – and that was the slapping sound we heard. I watched for several minutes and then took over the wheel so that Ed could come to see. What GREAT traveling companions.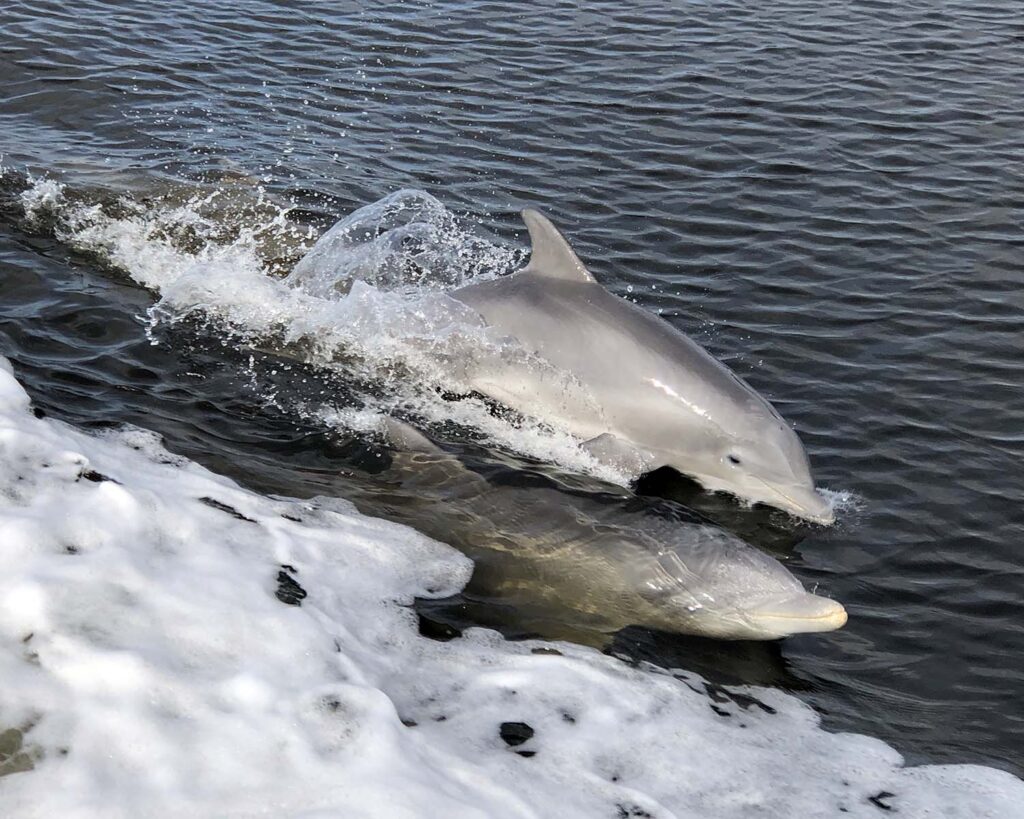 The anchorage was beautiful and located next to Tyndall military air base. We heard Retreat sound at 5 PM. Brought back memories of when each of us lived on military bases while growing up. The sound is even more beautiful over the water. Spent a calm night at anchor and left the next morning.
We were traveling through some winding waterways the next day.  About midday it started raining hard enough that we pulled over in Searcy Oxbow to wait it out and have some lunch.  While we were anchored, we saw a big barge go by.  Kind of glad we weren't on the rather narrow channel when that Big Boy passed!  After the rain, we headed out again and ended the day at Scipio Marina in Apalachicola, FL.  Honey Queen was already there. NOTE: we cruised back into Eastern Time Zone today. SO glad. Seeing dark at 4:30 pm was no fun!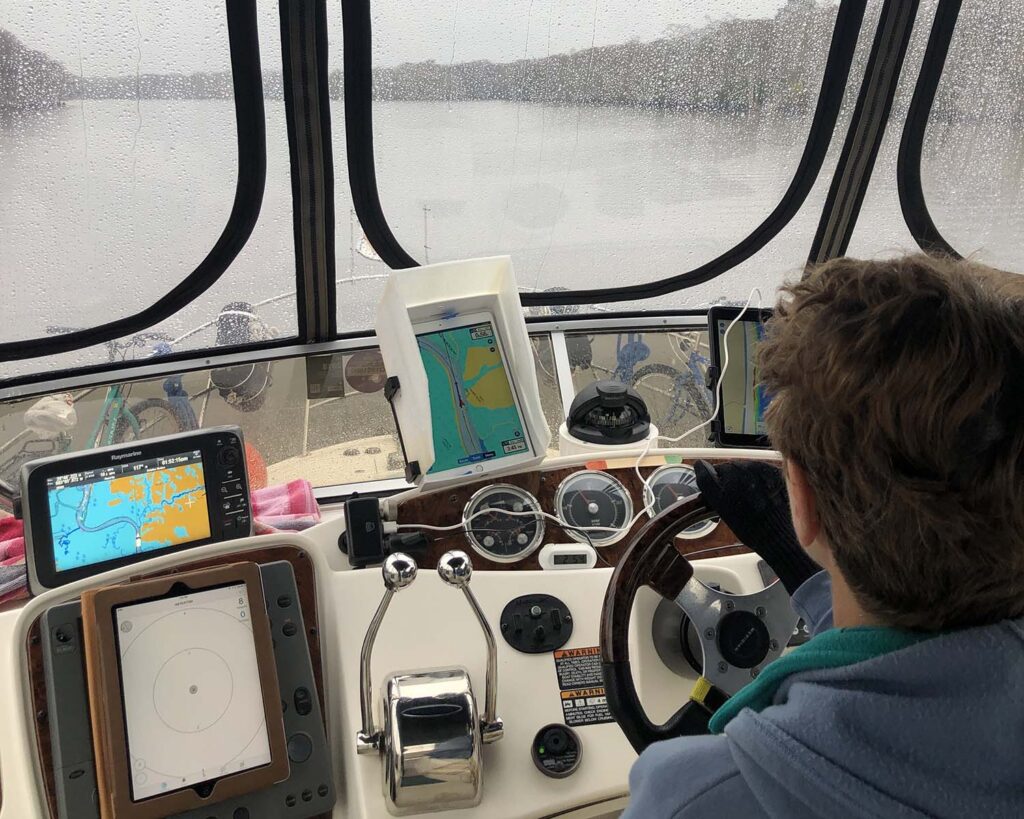 We discovered that Amanda has a real knack for meeting people with cars. They offer to driver her or loan her the car! She had already made friends with one such couple who drove us to dinner that evening. Apalachicola is yet another quaint town on our Loop – and we never tire of seeing them. Each is unique in their own way. The next day we walked around town and then later Amanda made another "car friend" and we went out grocery shopping. For the evening entertainment, we went to a Jim Croce Tribute performance. Jim Reno was the performer. The great thing about the performance was the background info he shared about each of the songs and all the photos he showed on screen. He had gotten to know Ingrid Croce, Jim's widow, and she shared many of her family photos and stories with him. Fun night! I do remember looking around the theater and thinking there were a lot of old people there. Wonder what they thought when they looked at us?? Maybe the same thing!