On the 20th, we finished our ride on the Tennessee River when we passed Grand Harbor, where we had previously stayed, and entered the Tombigbee River. We were going to stay there again, but the weather was so nice, we decided to take advantage of it and go a bit farther. We entered the 24 mile Divide Cut which is a channel with rock riprap. Riprap is an edging of rocky material placed on either side of the waterway to prevent erosion. It was not a very wide channel and we were fortunate to not meet any large boats coming toward us. Not so fortunate was to come across a dredging operation and we had to CAREFULLY cross over the dredging hoses and get past the barge. Got thru OK. Headed to Bay Springs Marina. It's a family owned place and everyone pitches in. Nice place.
In the morning we called the next lock and were told if we could get there in 20 minutes, he'd put us in ahead of a tow that was coming down river. We were almost there when the lockmaster called us and said the tow had sped up and the Captain wouldn't wait for us to go thru. Wish we had gotten the message while we were still in the marina, but instead we had to anchor outside of the lock and wait for an hour. Once inside, we noticed that there were leaks in the walls, shooting out water onto the boat. If it had been worse, I don't think I had enough fingers "to plug the dike!" We ended up following that tow thru three locks – had to wait at each of them! On this day we went thru Whitten, Montgomery, and Rankin Locks.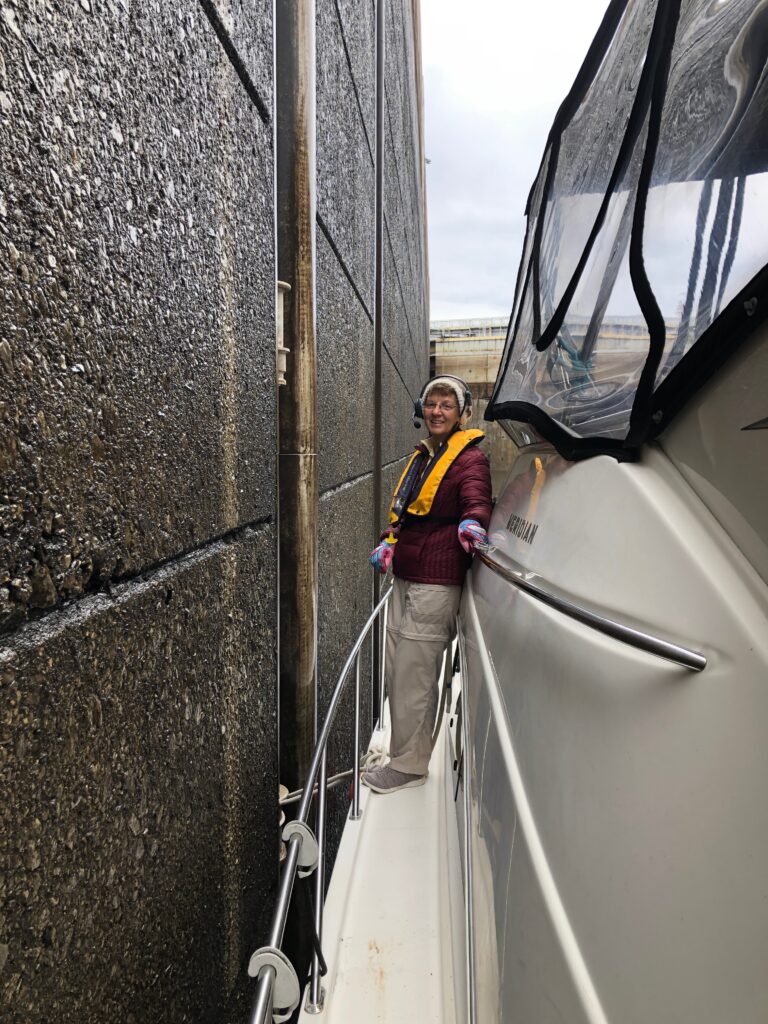 By the time we had gone thru the last lock, there was quite a collection of boats and we all seemed to be headed towards MidWay Marina.  Some were Looper boats, and it was great to have the company.  We had lost many of our traveling companion boats when we took off for Chattanooga, so it was good to find some Loopers again. Time again for docktails in the boaters' lounge and meeting new friends.  At this location we met BackAtcha, Fish Viscious, Latitude Adjustment and Club Ed. (We should have thought of that name!)
The next morning it was white outside – not snow, but fog. We stayed put and later made a trip to WalMart.  The next day was a repeat – more fog.  On Saturday evening we found a small church in town.  Turns out it was the Feast of Christ the King which was the patron saint of this particular church.  They had a potluck dinner after the service and invited us to stay. Nothing like the good home cooking of a church potluck dinner.  It wasn't a big group, so everyone knew we were visitors – we had lots of people to talk with about our Great Loop Adventure!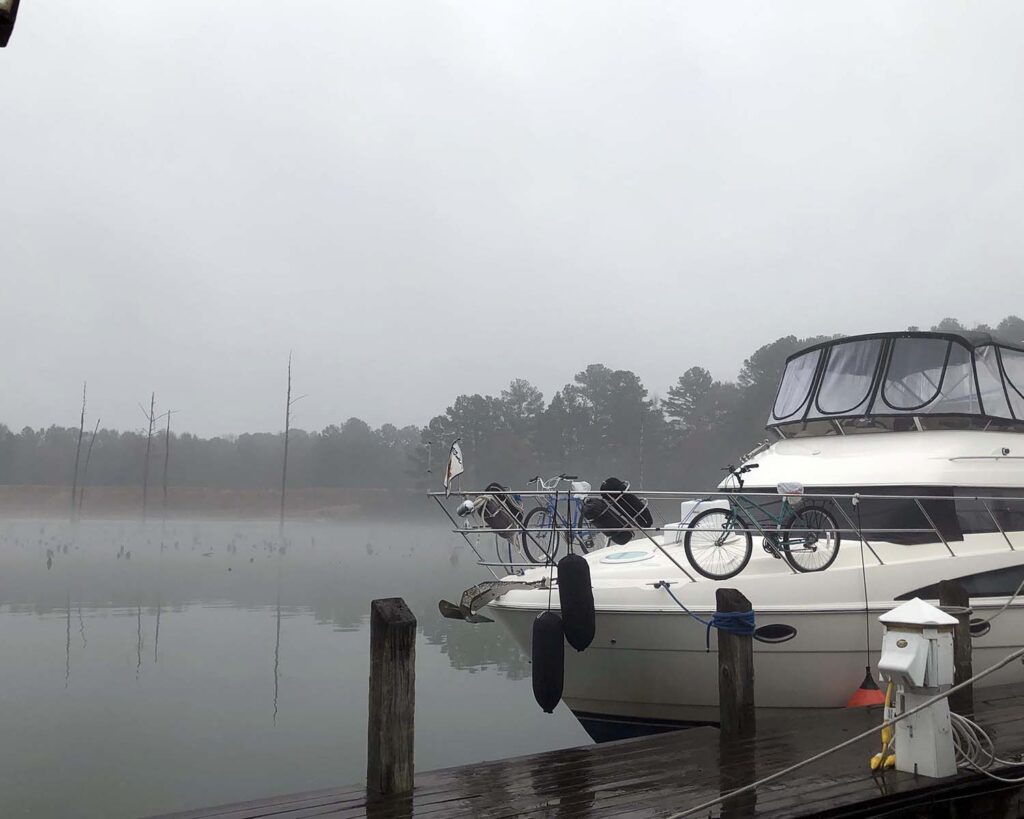 On the 24th, we headed out early to get thru the Fulton lock. There was still a bit of fog, but visibility wasn't a problem – at first. It was cold, and we were bundled up in fleece vests and coats, hats and gloves. Got to get SOUTH! The first lock was just a short distance, but as we traveled, the fog became a little more dense and we had to really look with the binoculars to see where to enter the lock. Got in safely – we were all by ourselves. After we were lowered 25 feet, the doors opened and we couldn't see anything beyond the lock. The lock master radioed us and said he didn't have any boats approaching, so it was OK to stay in the lock for awhile. We took him up on the offer and waited about 40 minutes until the fog lifted. The rest of the day was sunny and our enclosed helm was warmed like a solarium. Altogether there were four locks this day: Fulton, Wilkins, Armory and Aberdeen. We ended the day at Columbus Marina.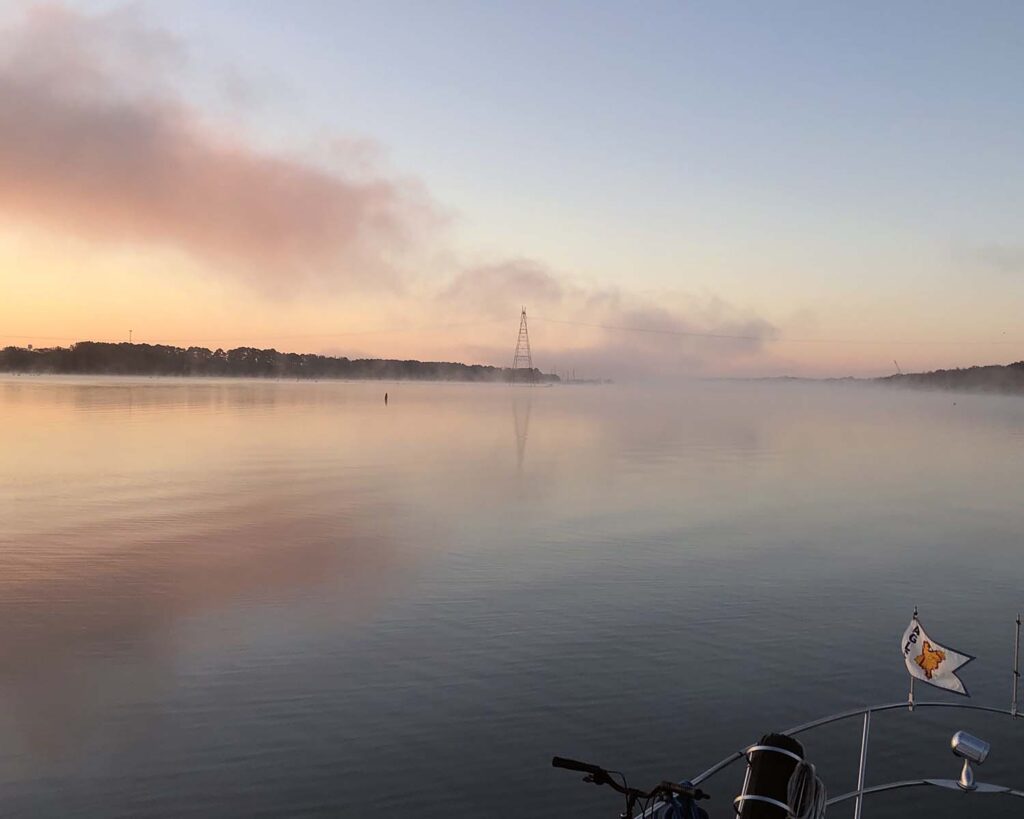 On the 25th, the sun showed itself again. We headed out early for the Stennis Lock. These cold, early mornings are not feeling much like a pleasure cruise, but it's our best chance to get thru a lock before a tow boat comes our way. When we came out of the lock, there were huge blobs of foam in the water. Looked like some heavy duty laundry had been done! We had only one more lock this day, the Bevill. Traveled to an anchorage that afternoon at Sumpter Recreation Area. We were able to dinghy to shore and walk thru the park area. Nice to get off the boat and stretch our legs.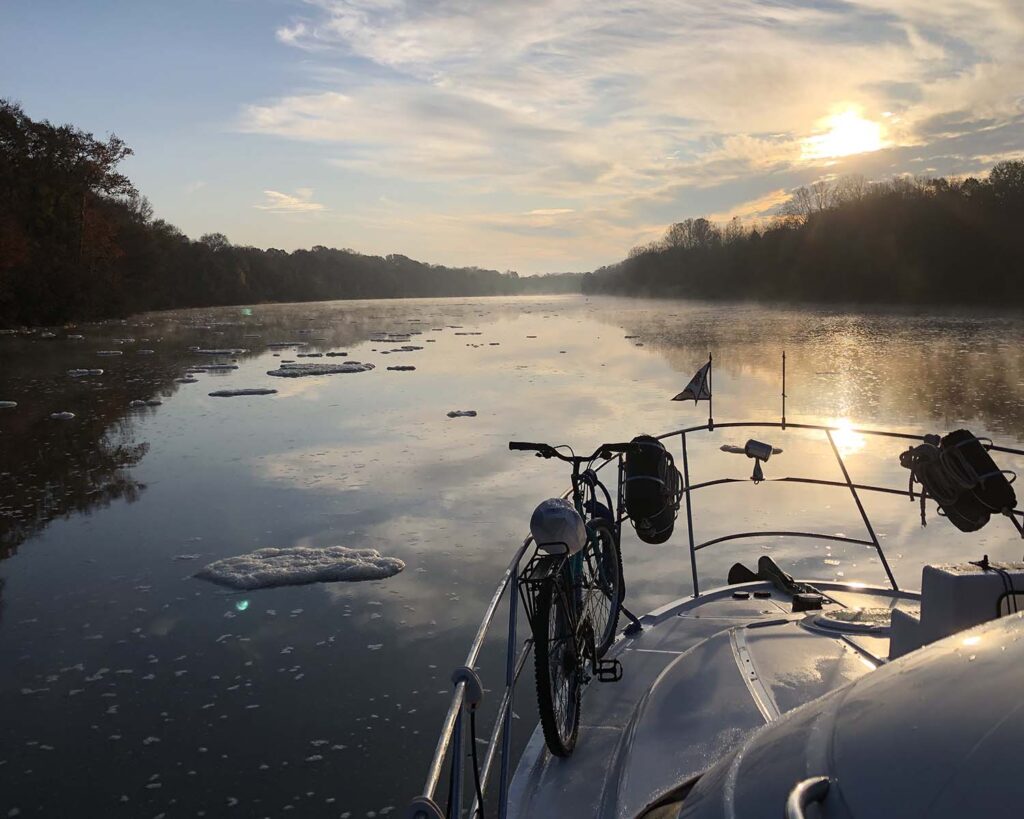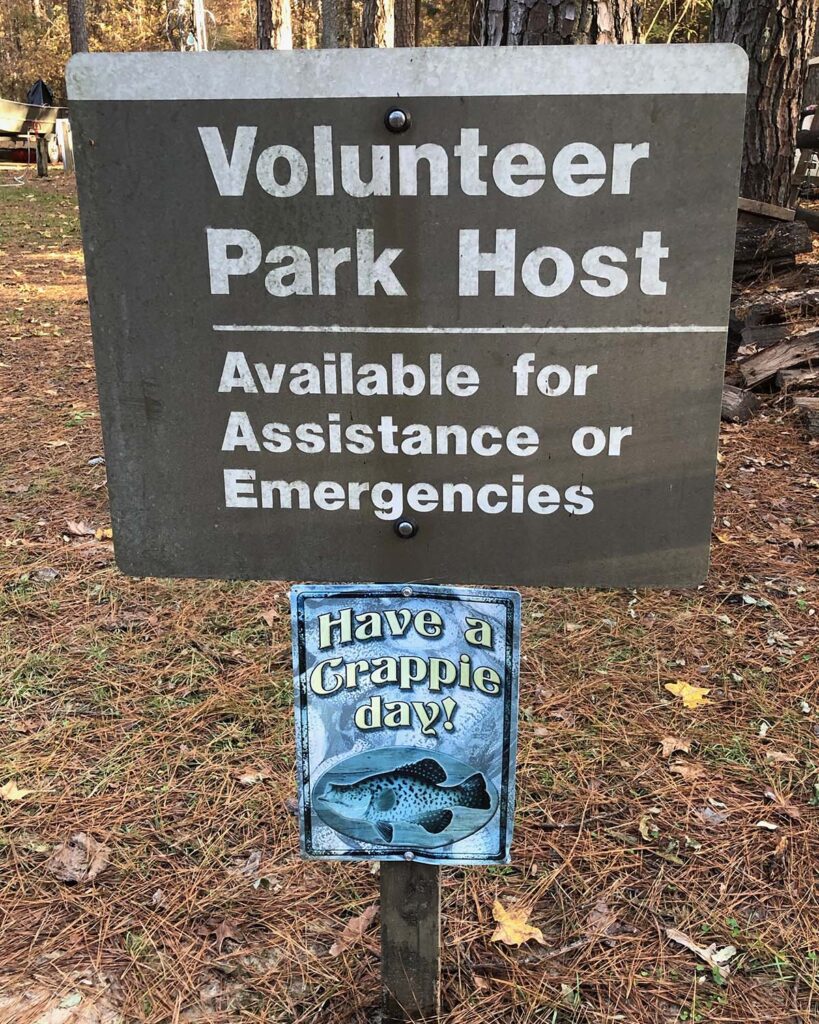 We were up early on the 26th. On this morning we were treated to a beautiful sunrise! We went thru the Heflin Lock and Dam and shortly afterwards we saw the White Cliffs of Epes. These stretch for about one mile and are made from layers of the Selma Chalk Formation. Next stop: Demopolis Marina. Interesting entry into the marina. This marina is a fuel stop for many of the tow boats on the river. There are huge pillars along the fuel dock, and boats have to maneuver around them and make a 90 degree turn to get to the marina. Always something new to experience on this trip! We saw BackAtcha again at this marina – always nice to see a familiar face. We were coming up to Thanksgiving Day. It was time for a little R&R for a couple of days.