From Stuart, we made the last Left Turn of our great adventure. We started heading up the east coast to close our Loop. Listening to some radio chatter along the way, our ears perked up when we recognized a voice. It was Renee from Shoreline Traveller. We had traveled with them down the rivers and visited them in Marathon. Now they were just a short distance ahead of us. We snapped a photo as we went passed them – never know WHEN you'll see Looper friends again.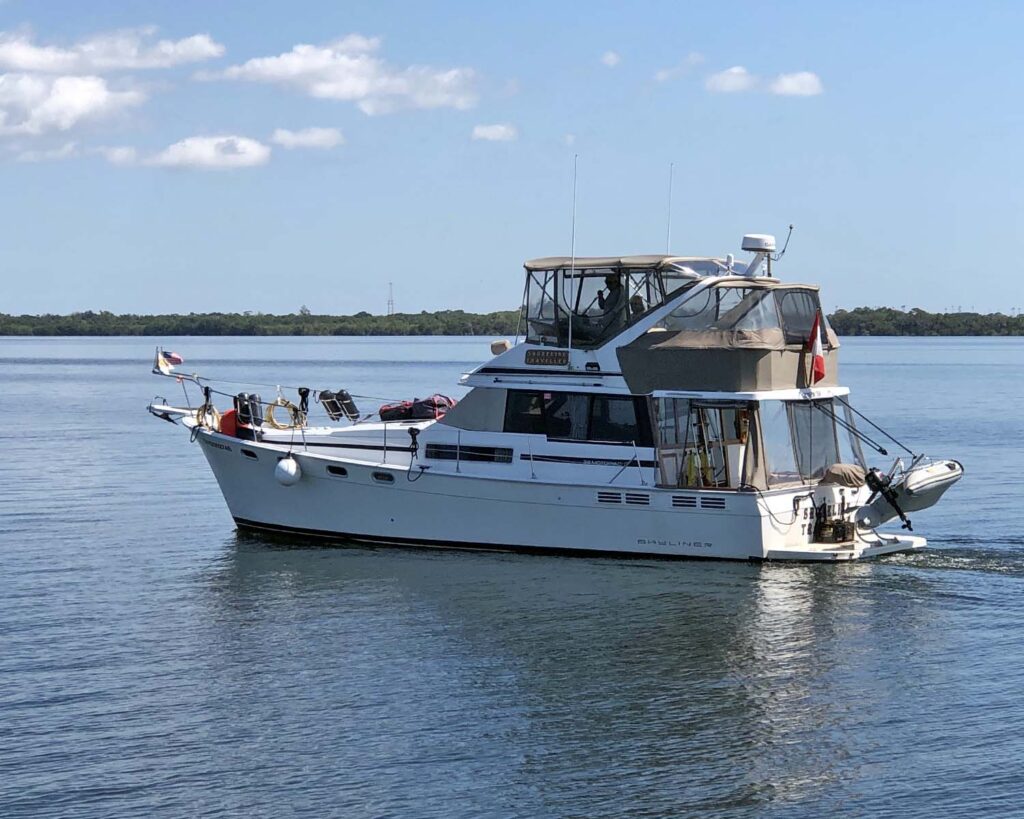 First stop was an anchorage in Faber Cover in the Fort Pierce area. This was a unique anchorage. When we entered, it was like parking the boat in a cul de sac. There were homes entirely around the shore of the cove. Several boats were anchored in the cove, which turned out to be a nice anchorage.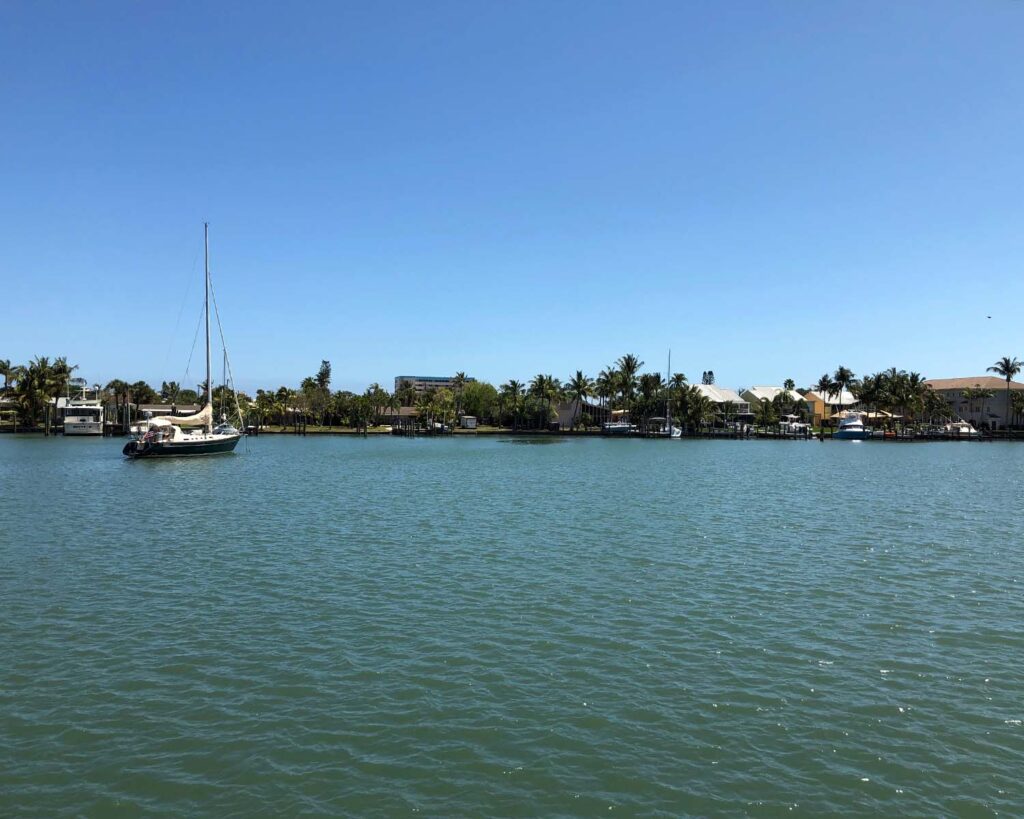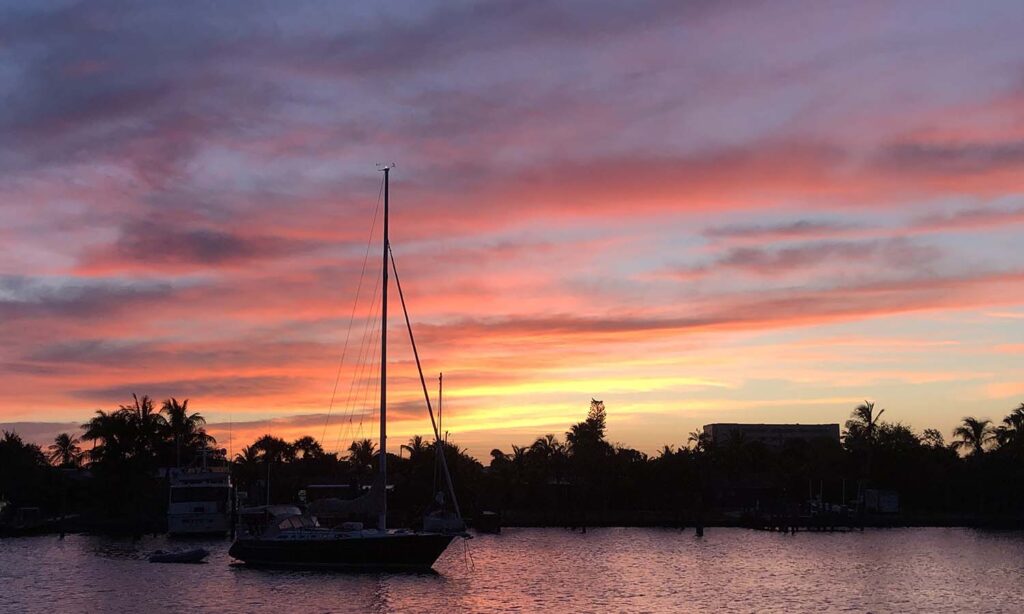 Next morning we headed out EARLY to Melbourne Harbor Marina and once again caught up with BackAtcha – our long time neighbors in Orange Beach. They had been in Melbourne for so long, that Chris had taken a job. The restaurant at the marina was taking advantage of the down time to renovate the interior. Chris is an engineer and building contractor, so he started working on the project. We stayed to visit with them – and their dog Winston. Serenity Blue and Spinning Dreams III came into the marina after us. It got to be quite the Looper Village!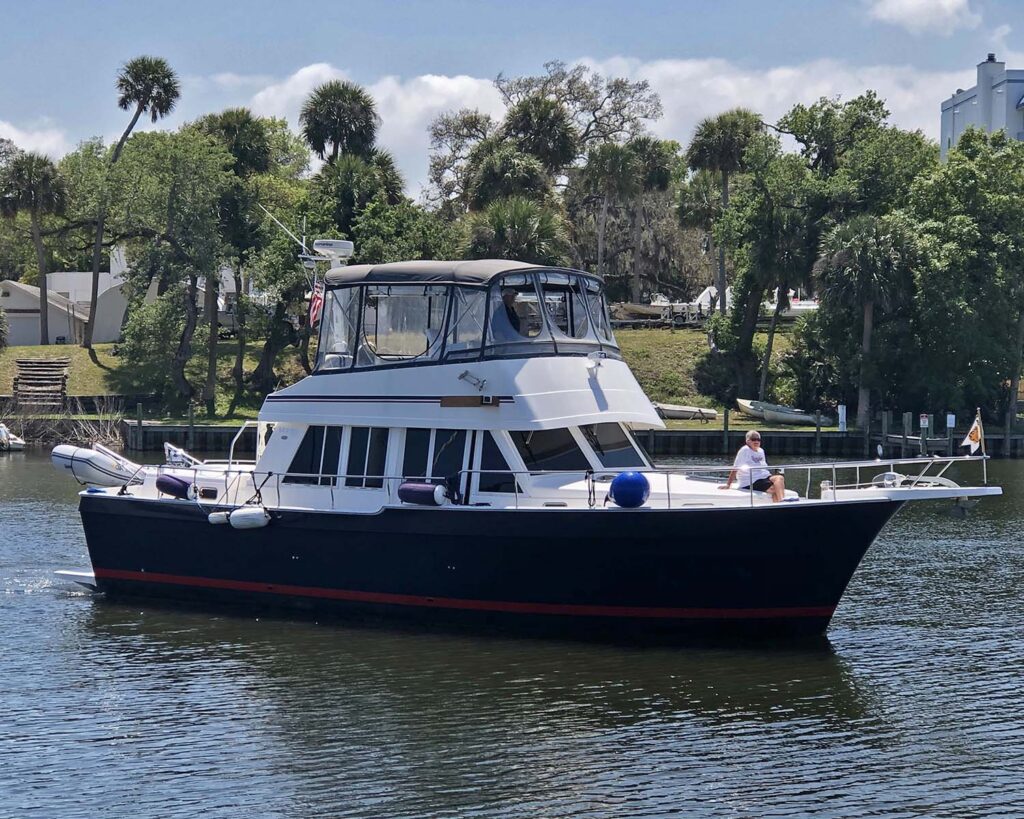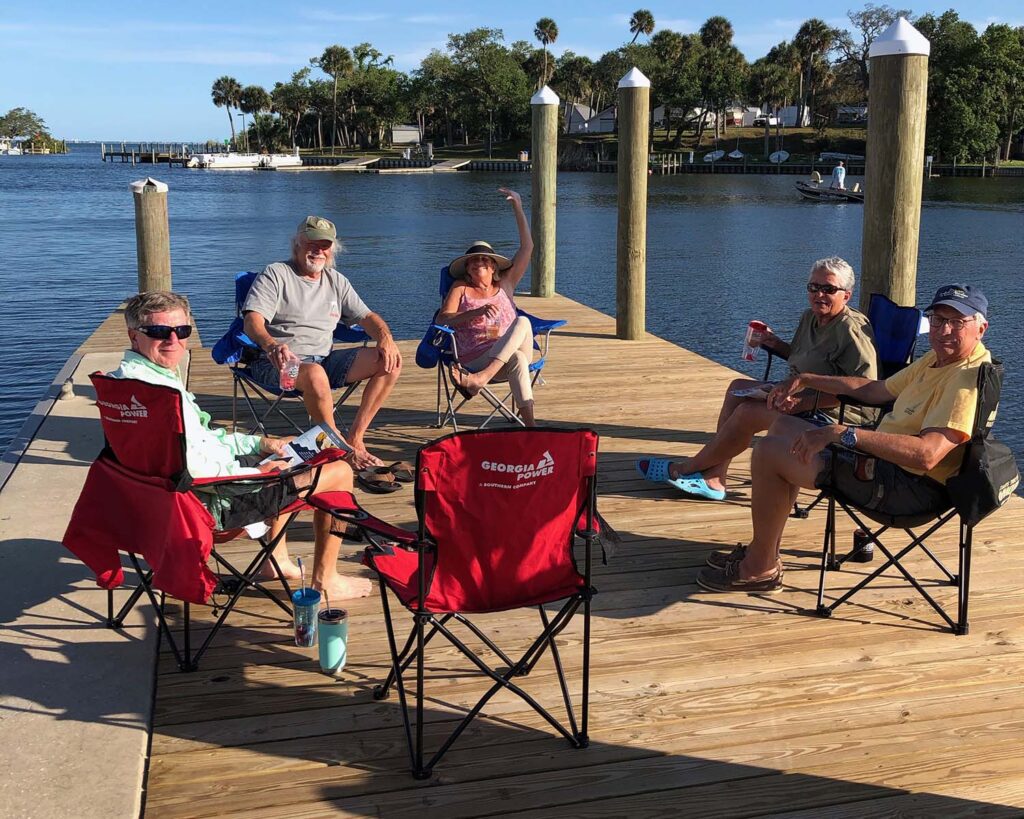 When we started the journey in March 2019, we followed Wild Goose out of Beaufort. Steve and Jeri were our first Travel Buddies who were so kind to sort of take us under their wing and get us initiated on The Loop. I found out they were very close to Melbourne and gave them a call. They had finished their Loop and were acclimating themselves to land again. They came over to the boat for lunch and we had quite the reunion – but forgot to take any pictures!
We went into town to see what we could see – only from the outside.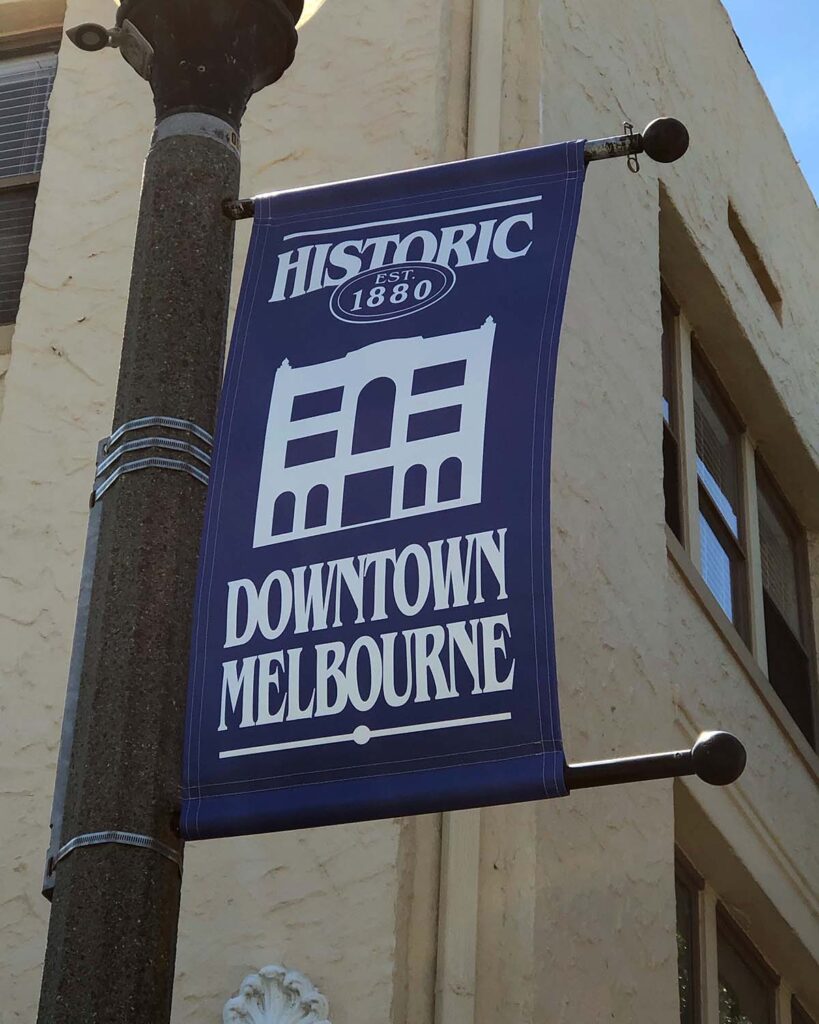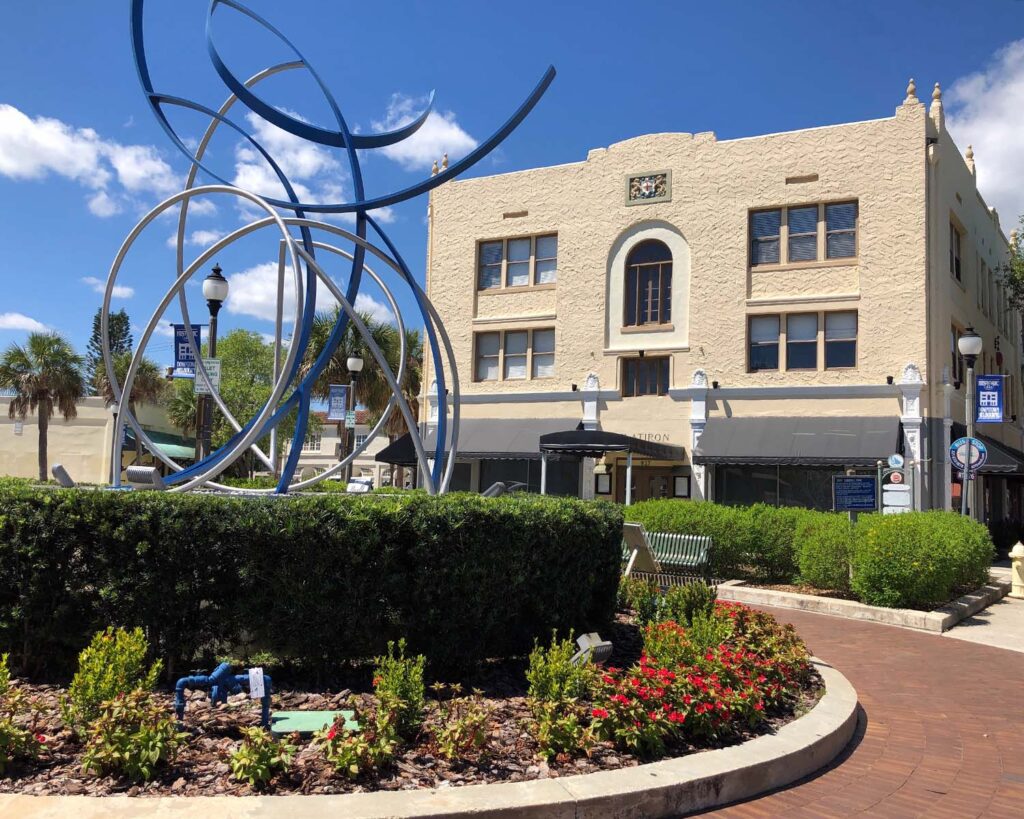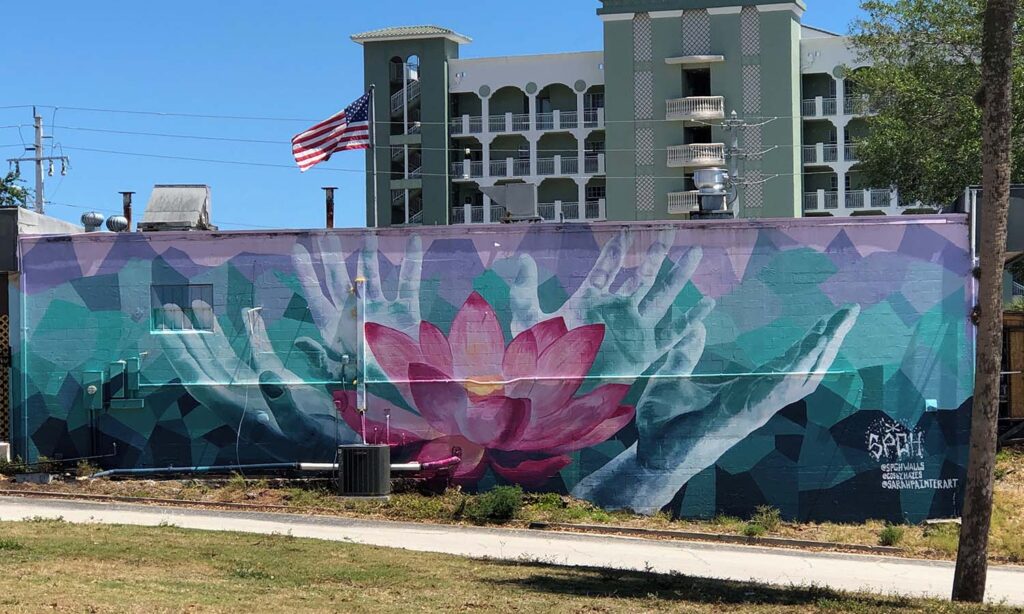 On Thursday, we borrowed kayaks from BackAtcha and paddled up the creek where the marina is located. It was a beautiful day and we heard that manatees were frequently in the creek. We did see a manatee and were so excited, even though it was a brief sighting. On our return trip, we came across a young couple and told them about the manatee. They told us that up the alternate branch of the creek, there were SEVERAL manatees. So off we went, and sure enough, we came across them. What a treat to see them munching on green plants in the water. Our only regret – no phone and no camera! Concerned about maybe getting them wet, we had left them on the boat. 🙁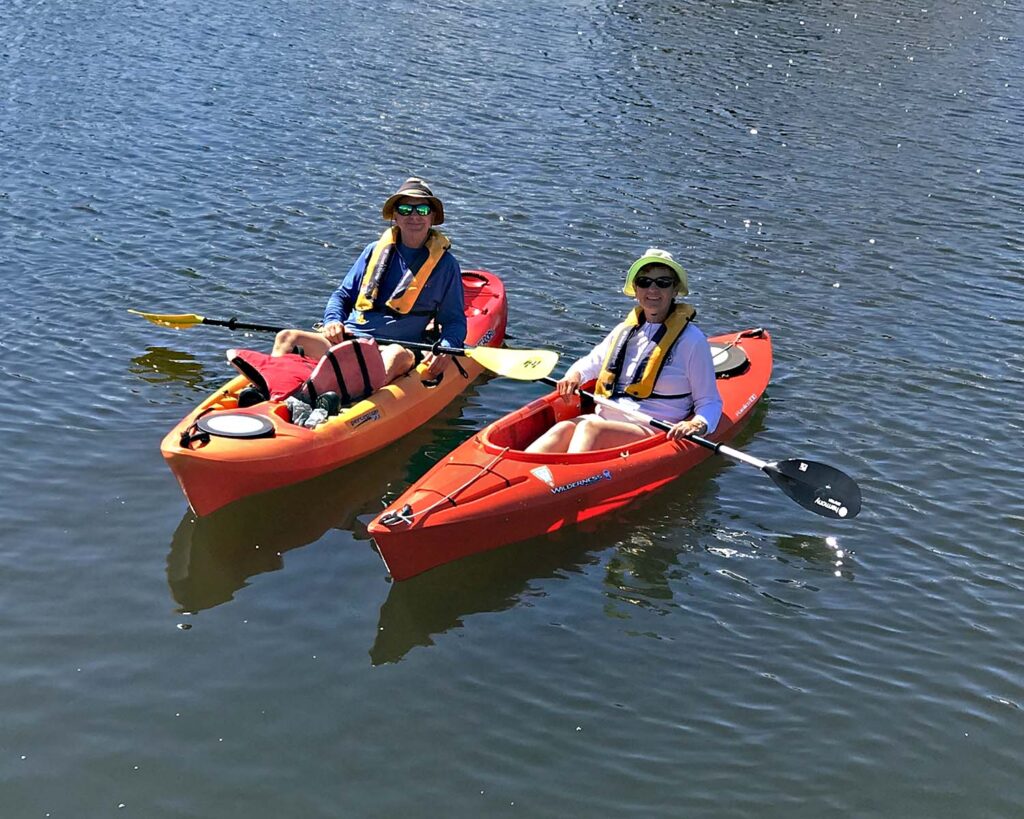 We discussed our options from this point – no one had answers for what the future would hold. We decided to go up to Fernandina Beach where Ed's brother Chuck lives. We figured if he got sick, we would be there to help take care of him, and he could help us if one of us got sick. So, our next stop was New Smyrna Beach. We had info that there was a free wall there in town. We headed out, and as we approached, we kept trying to figure out where this "wall" was. We did see a sailboat tied to a "wall" adjacent to the park. We pulled in front of it, but we had a big challenge. This wasn't a straight wall. This was a half circle that extended from the park sidewalk out into the water. Who in their right mind would design a curved wall to serve as dock space?! We didn't like it, but we found a way to make do and tied there for the night. We got off the boat to walk around town, and found that there was one floating dock about a 100 yards ahead of us. It would hold 1, maybe 2 boats, but it was already occupied. We did inform boats back at Melbourne so that they would know what to expect.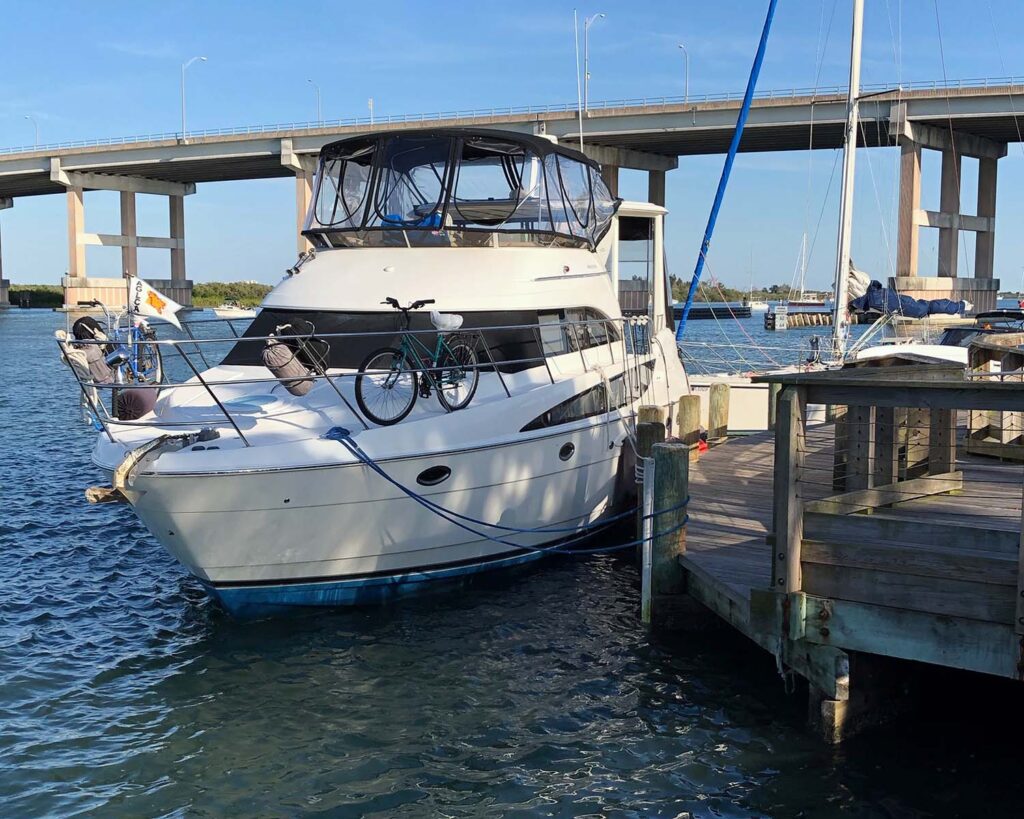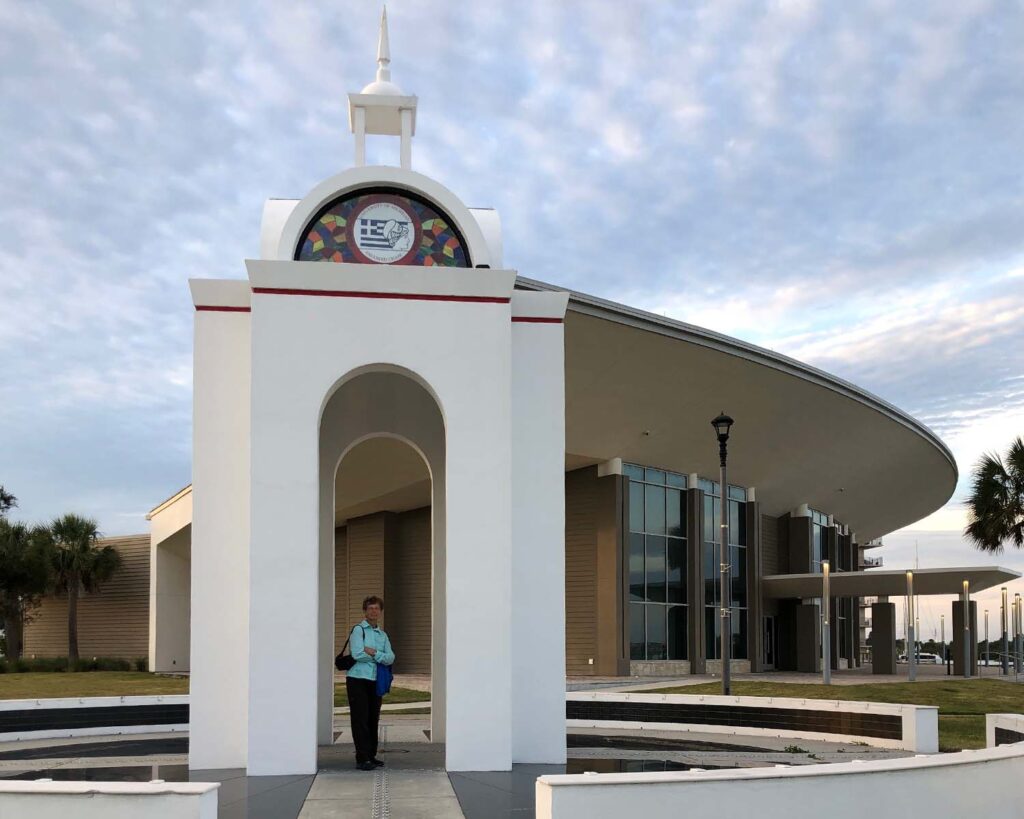 Next day we headed to St. Augustine. We had been there many years ago, and were sad to think about nothing being open when we got there. We approached the town, passed under the Bridge of Lions, and tied to a mooring ball in the north mooring field of the city marina. We were moored adjacent to the Castillo de San Marcos, the oldest masonry fort in the continental US.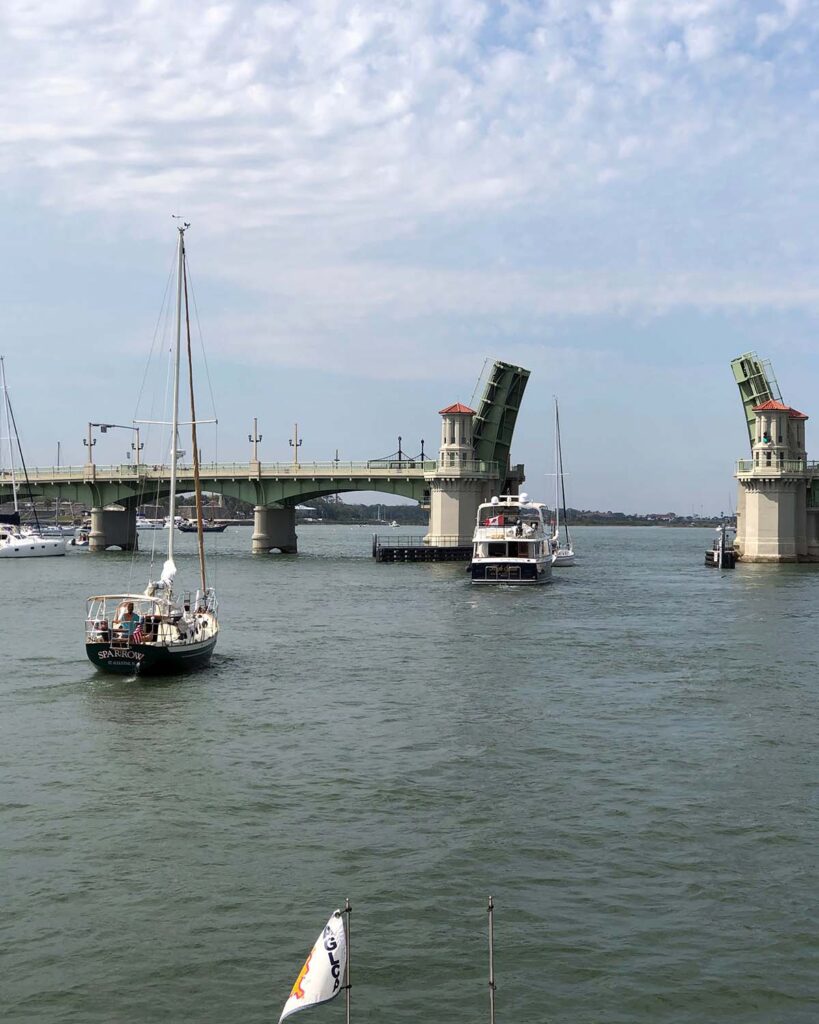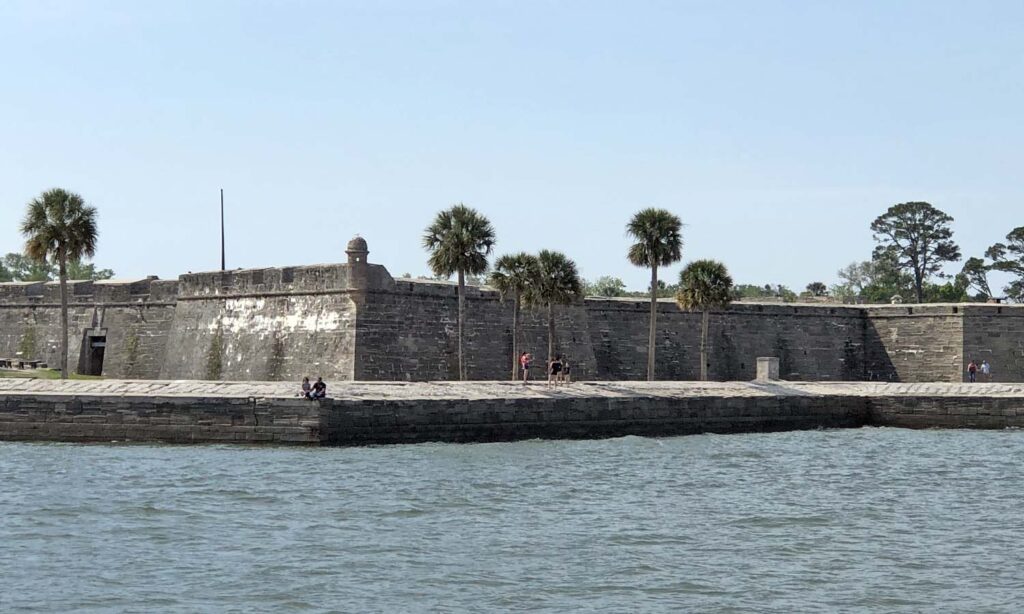 We took the dinghy across some choppy water and went ashore to explore the town. It was SO empty. We walked the streets, went to the college campus, saw the outside of the Cathedral of St Augustine. Then we found a small restaurant that did gourmet grilled cheese sandwiches. We got our takeout meal and went back to the boat to enjoy it.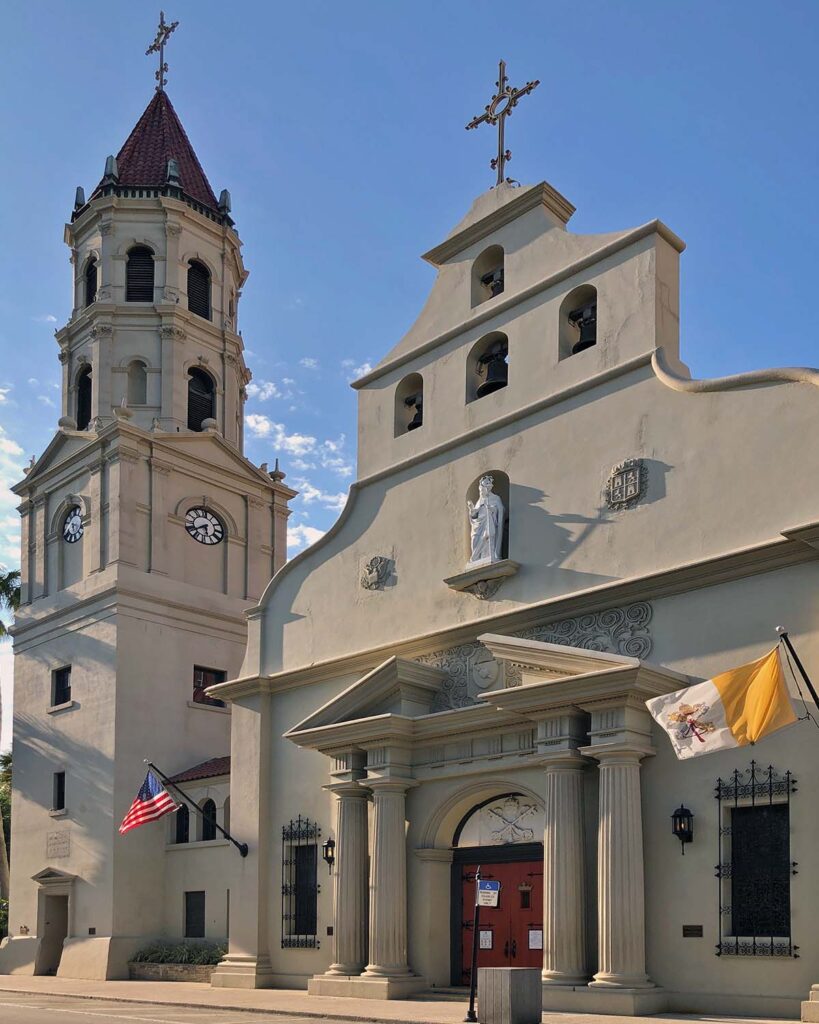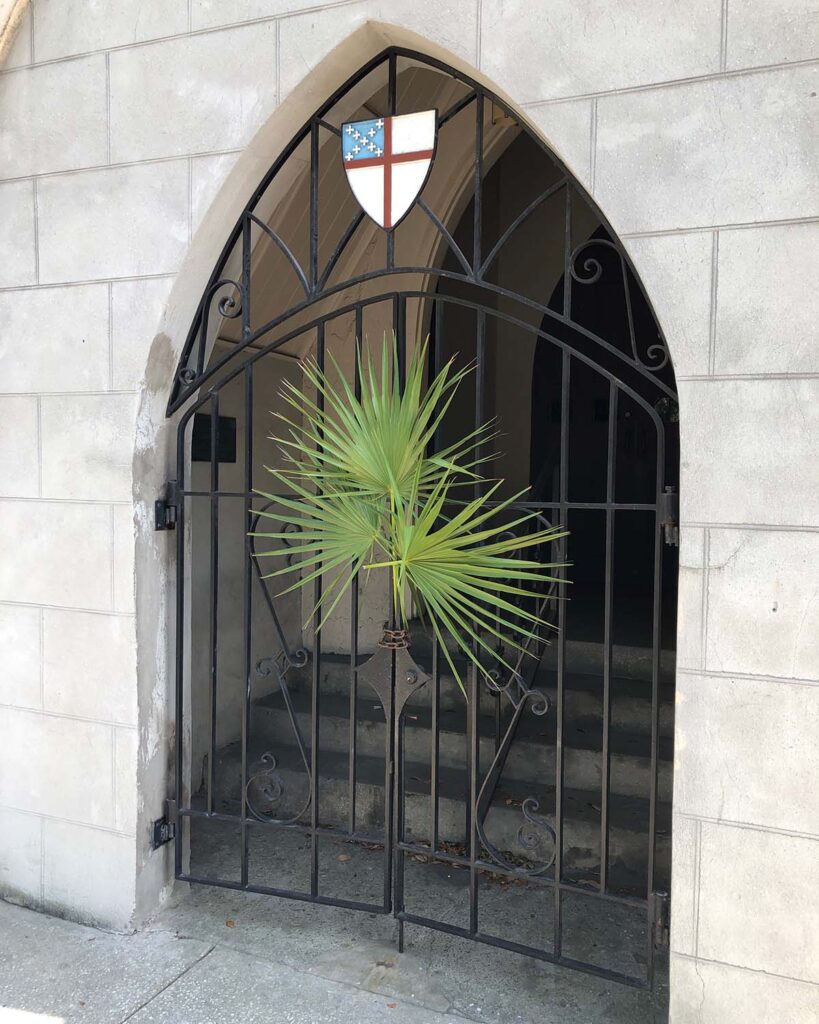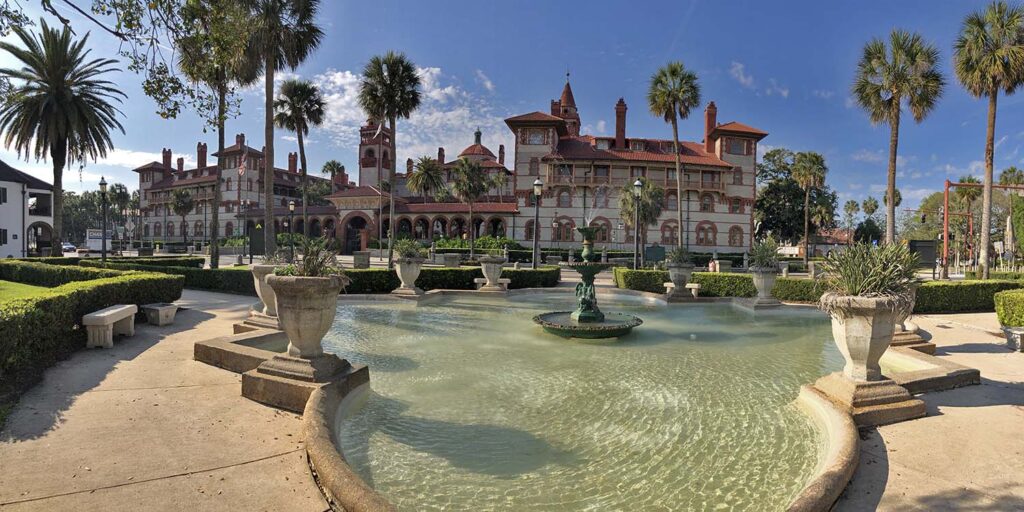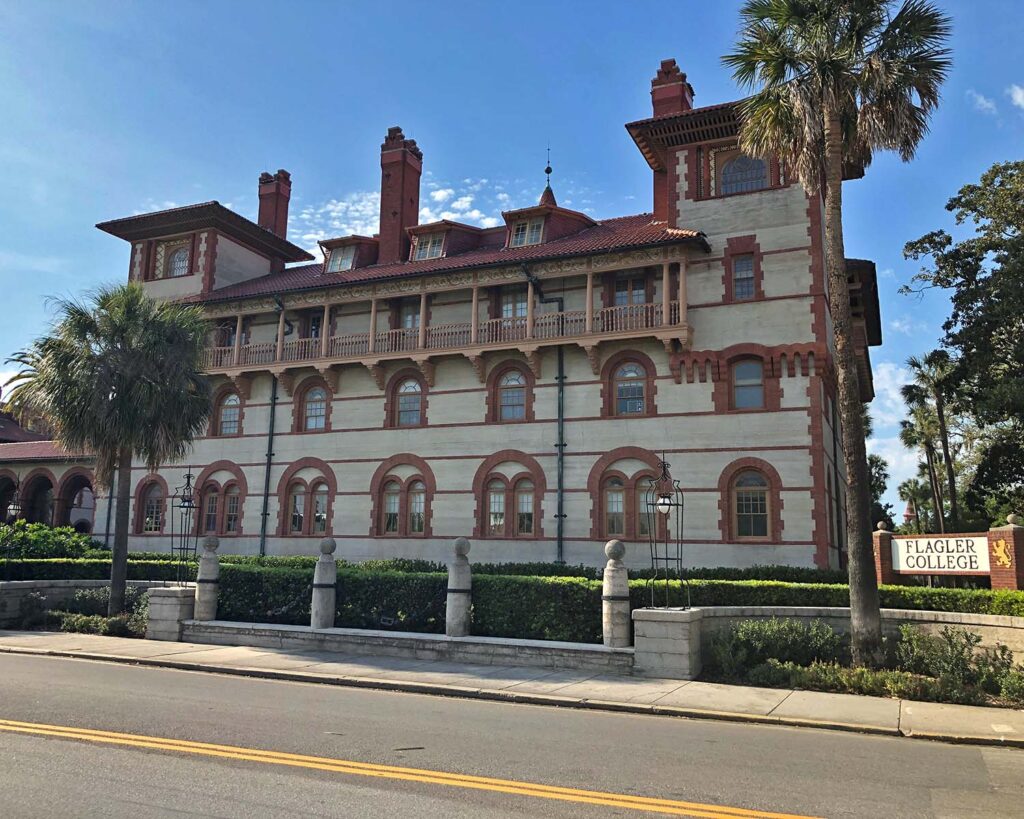 While eating, we noticed a boat slowly motoring through the mooring field. After years of being wedding photographers, we knew a wedding when we saw one! There was a couple with an official, a photographer, a daughter and a couple other people on the boat. They were having a sunset wedding on the water. We watched for as long as they were in view – never know what we'll see on this trip!
We headed out early the next morning; this would be the last of three long days of travel – about 70 miles to go. We worked our way thru the ICW, passed Nassau Sound and then the final leg towards Fernandina. At that point we got a phone call from Chuck. He said to look on the A1A bridge. He was up there to see us go thru – holding a flashing light so that we could locate him. Then he went to the Amelia River Golf Course on the river, and then to the overwatch of the newly reopened Fernandina Beach Marina. Nice to have a welcoming committee when coming into a port.