At Isle of Hope, we had moved IN to our inside spot during slack tide, and we knew we would have to move OUT at slack tide. Checking the tides for Tuesday, high tide was late, about 12:30 PM, so we'd have the morning to do whatever. We awoke early, about 6:20 and looked out – water was as still as could be. We hadn't thought about leaving at low tide, because we thought we'd need help again, and the staff didn't come to work until 8. But if we were moving FORward, it would be much easier than the day before. The decision was made to leave NOW. I don't remember when we have ever gotten ready so fast to leave a dock. A friend was there to help with lines and OFF we went, shortly after 7 am.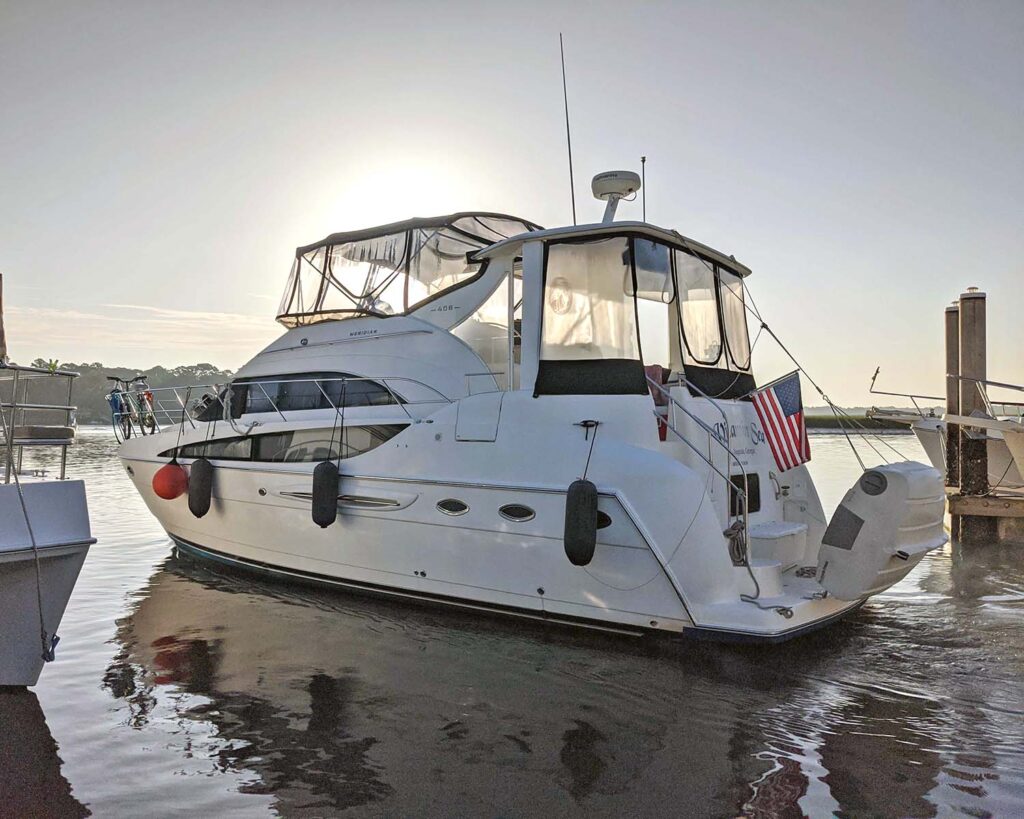 It was another hot and muggy day, but we opened almost every window we could to catch whatever breeze might blow. We were on a rising tide, so we didn't have any problems with water depth, and 27 miles later we saw the lighthouse at Harbour Town in Hilton Head – home of The Heritage golf tournament. We called the marina to let them know we wanted to get fuel. Their response was that another boat was taking on 2000 gallons of fuel (yes, you read that right), and it would be awhile. Oh well, we'd get it when we left in a few days. Ed drove the boat right into our slip – no current, no wind — wish every docking could be so easy.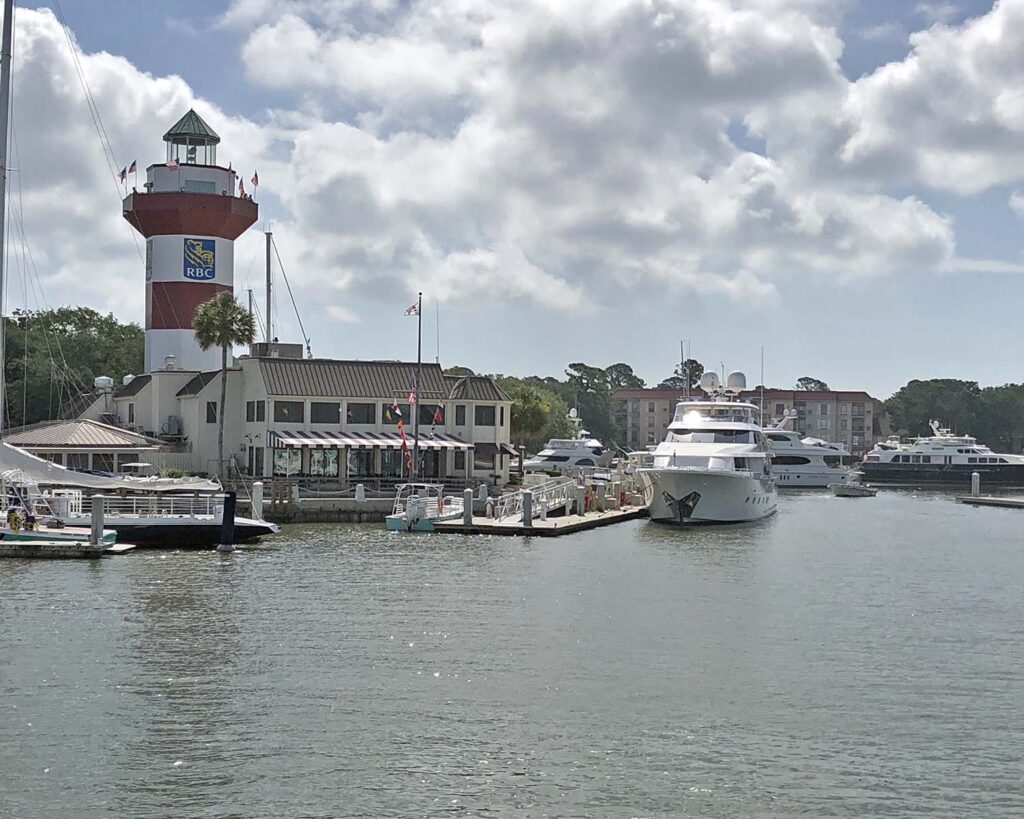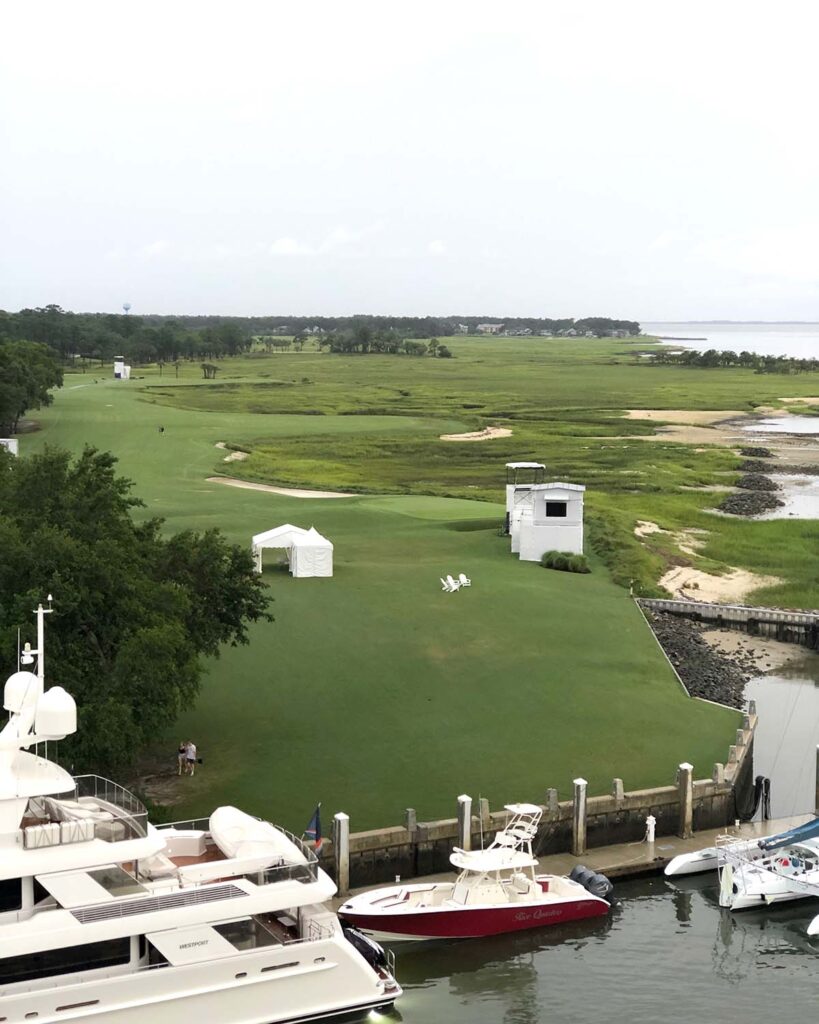 From the boat we could see that the harbor was bustling with people – not 6 feet apart, and not a mask to be seen. Did they hear about the Corona Virus in South Carolina? The dockhand had all the paperwork we needed to check-in, so we didn't even have to go to the office. THEN, he asked the question – "Do you prefer red or white wine?" WOW – each boat is greeted with a bottle of wine from the marina. We had picked a pretty classy joint for our last Hurrah before we would cross our wake.

The next few days were sunny, hot and muggy. We hadn't been on this boat in really hot, humid weather. Last summer we were in Canada, and the temps were SO much more pleasant, This was just reinforcing our decision that it was TIME to head home.
So what to do? We first walked around the harbor area just to see what was there. We found an ice cream shop and shared a very refreshing Root Beer Float – JUST the thing for a hot day.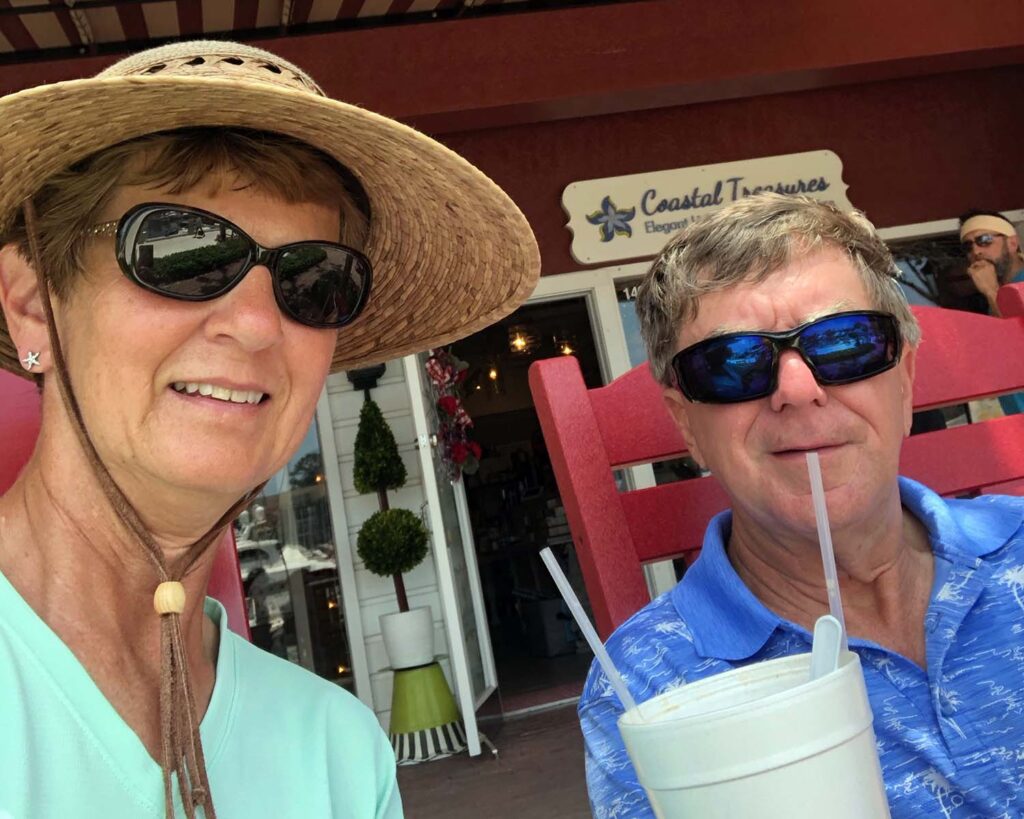 Hilton Head has wonderful walking/biking trails, so we did both.  There were so many cyclists on the paths, that we decided biking would be easier than trying to walk.  We biked to the Stoney-Baynard Ruins.  These ruins are on the site of what was the Braddock's Point Plantation in the first half of the 18th century.  The shape of Hilton Head Island resembles a side view of a foot, and this plantation was the entire "toe" of the island.  Sea island cotton was grown there.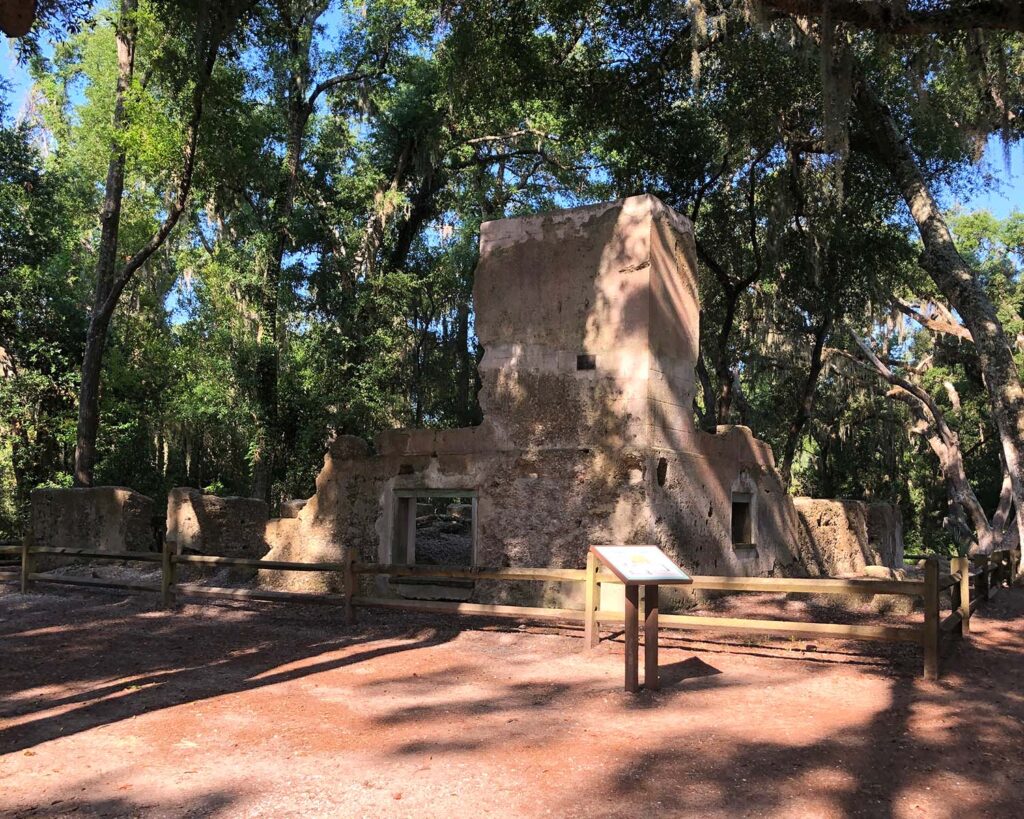 During the Civil War, Union troops invaded the island, and the main house was burned. Outbuilding materials were salvaged for other uses. Over the next many years, the forest reclaimed the land. In 1956, 5280 acres in this "toe" area were purchased for the development of Sea Pines resort community. The land on which the ruins stood was established as permanent open space.
We rode to other areas of the Sea Pines area and then also rode our bikes on the beautiful beaches. We passed birds and alligators and even checked out the local cemetery – where so many stories could be told.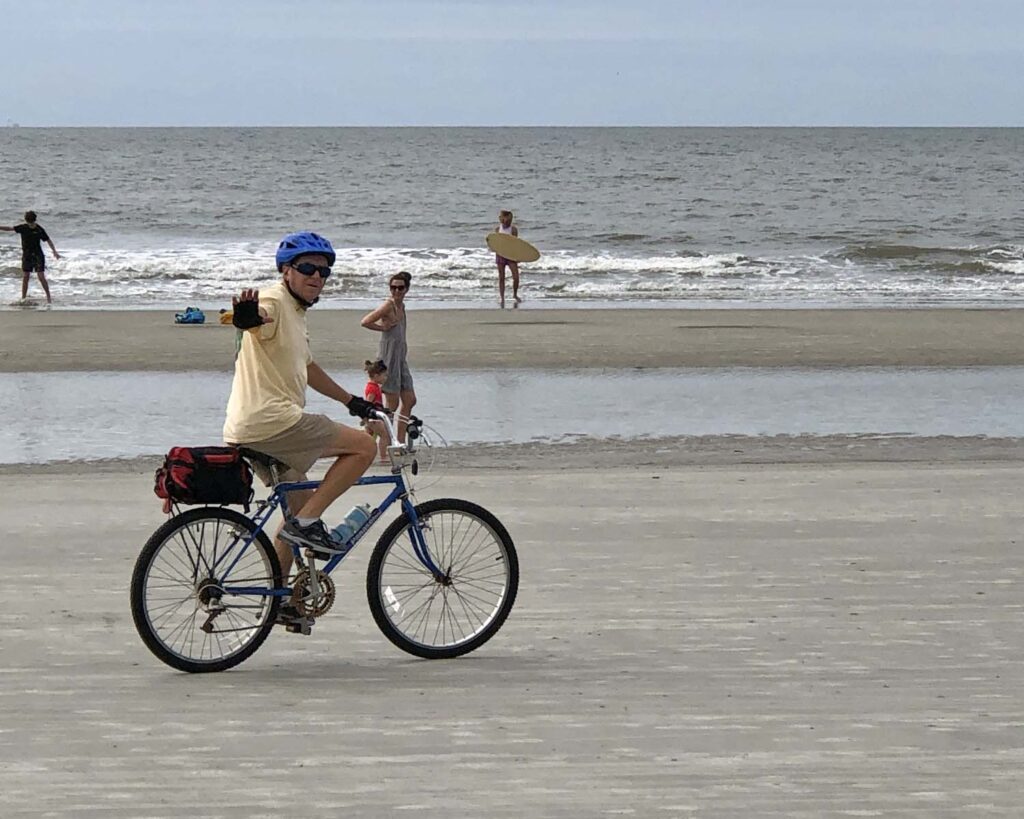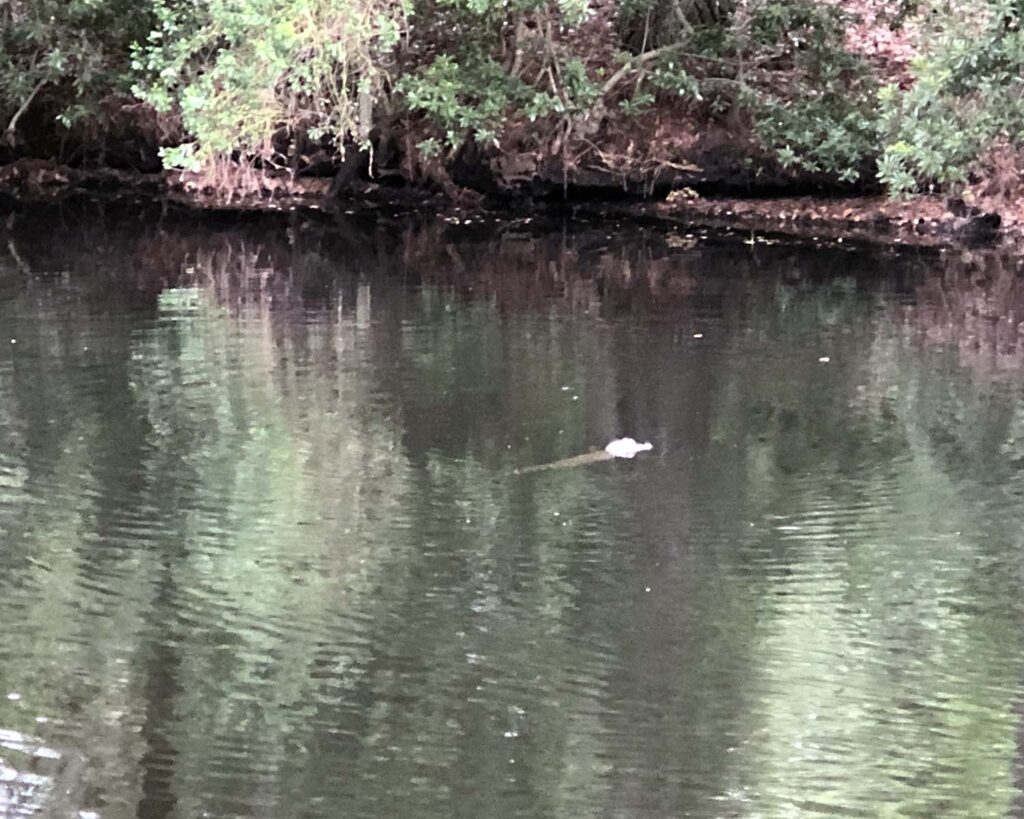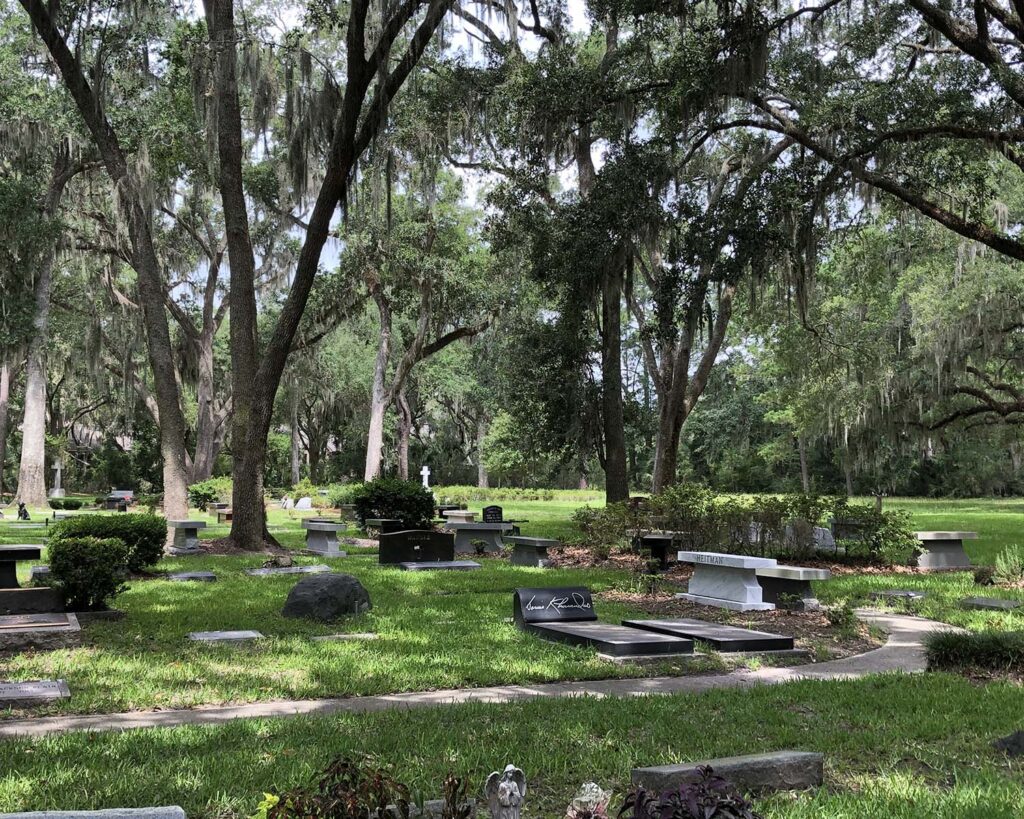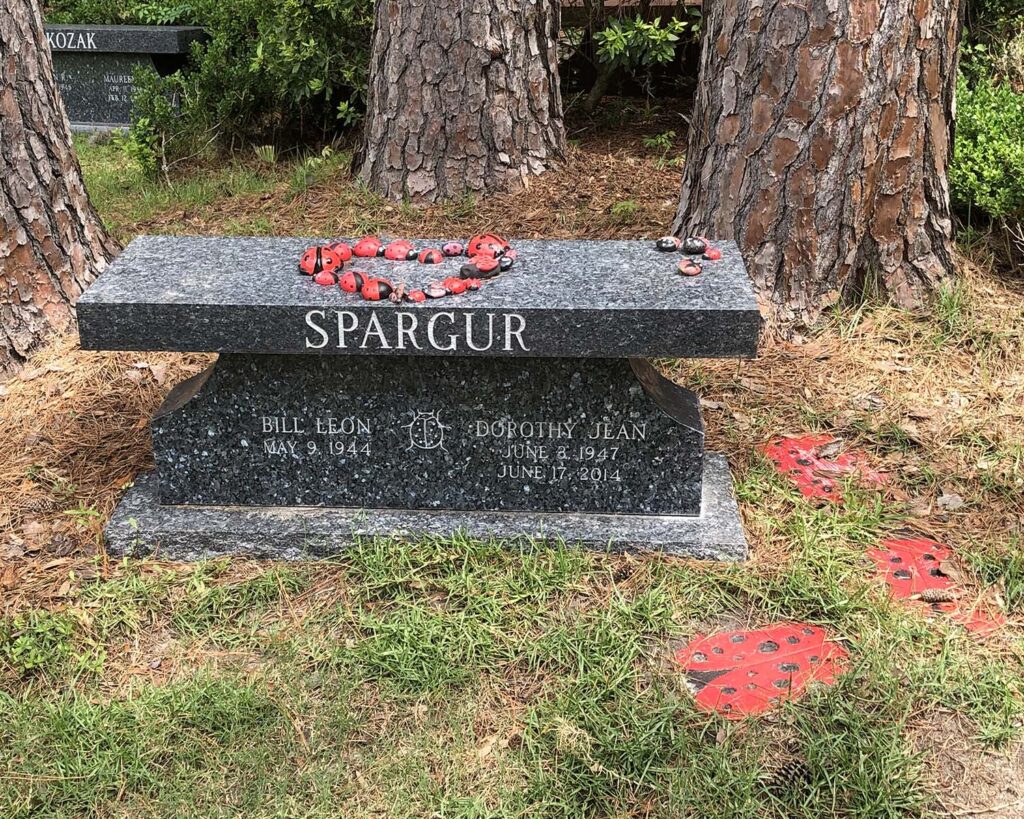 Many of the live oak trees were preserved on the island when all the building began. One of them, the Liberty Oak is adjacent to the marina and right next to where we were docked.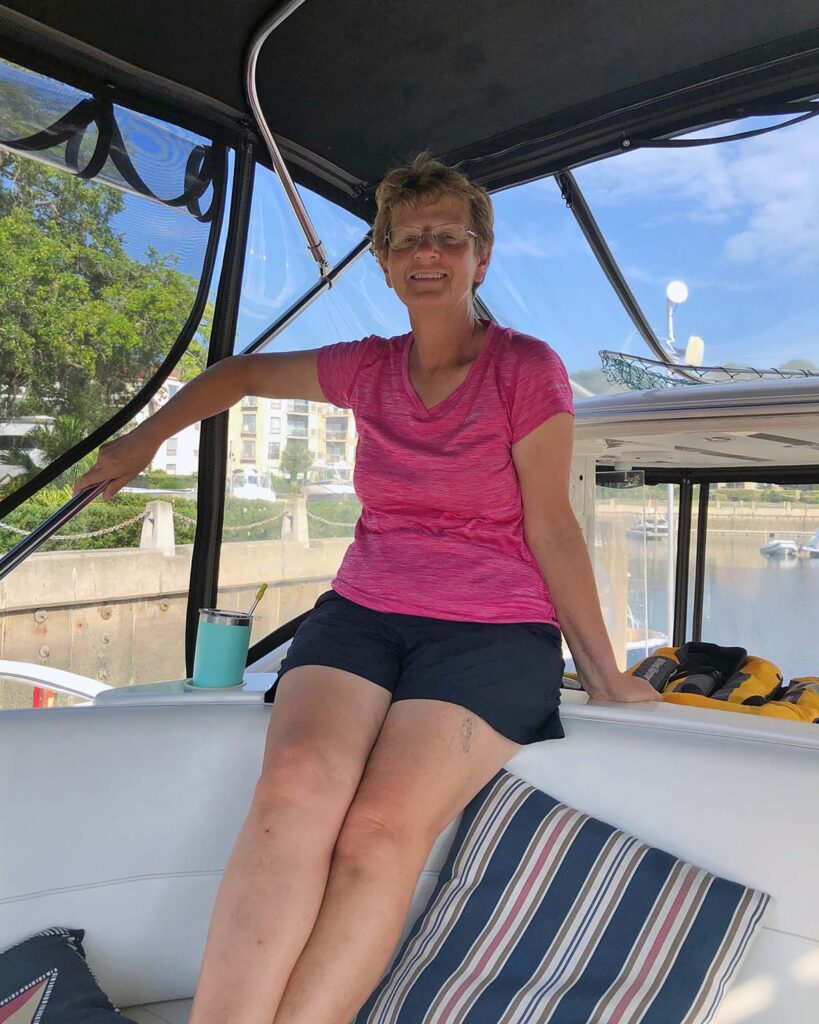 We kept looking at weather/wind apps each day, and every time we looked, it was something different. We planned to leave Saturday, but then Friday looked better. Friday morning we looked again, and there was a doozie of a rain storm coming from the north by mid day. We estimated that we would be driving right into the rain by the time we got to Beaufort. We decided to stay with our plan to leave Saturday. Sure enough, the rains came to Hilton Head and what a downpour it was. Water was coming into our helm area from places we didn't even know could leak! Looking at the weather apps again after the storm, conditions had changed and now Saturday was iffy for leaving Hilton Head. What to do?
We can't control the weather, so we went out for dinner, climbed the interior of the lighthouse which is also a museum with LOTS of documented history, then we enjoyed one of the most incredible sunsets we had seen on this trip – and you KNOW that we have photographed many. The sky was STUNNING! After that, we laundered some very wet towels that we had used to sop up the interior of the upper helm, and then we went to sleep. What would be, would be. In between fitful moments of sleep, I did a lot of praying that the winds would be calm enough in the morning for us to leave.