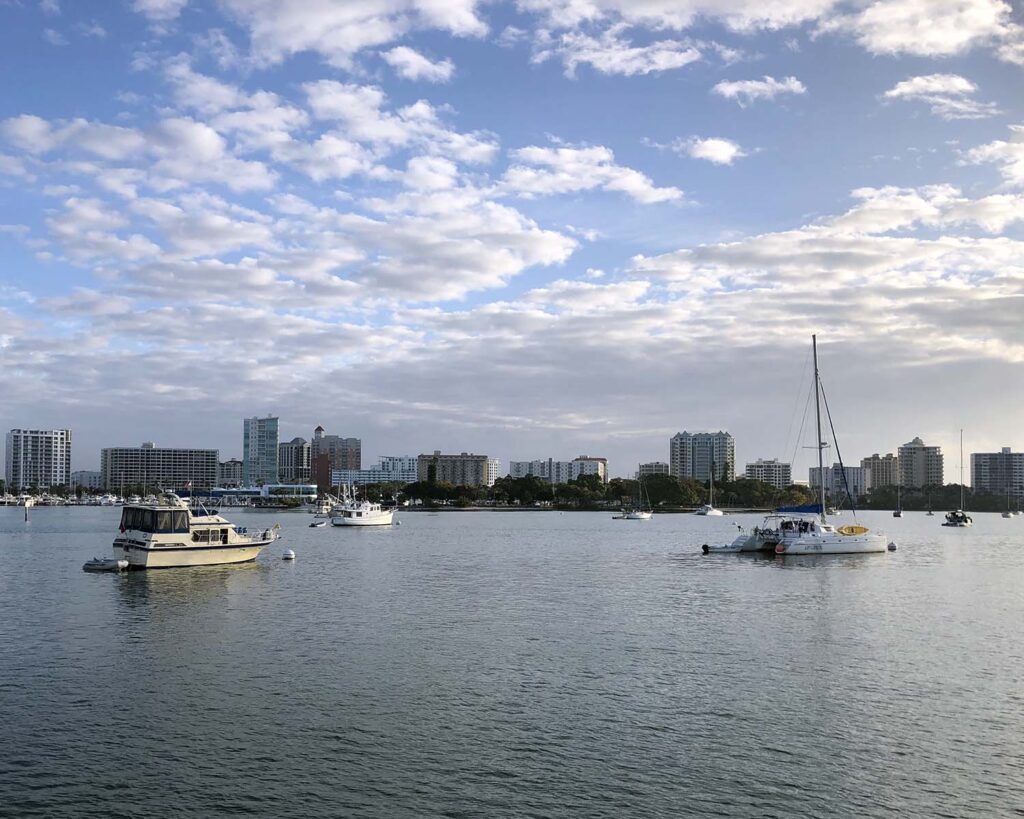 We unhooked from the mooring ball in Sarasota – reversed the process – and headed South.  Low winds, mostly sunny, and a comfortable 72°.  Throughout the day we traveled thru Siesta Key, Venice, Manasota Key, Boca Grande – all places that had lots of houses on the water which means there were LOTS of No Wake zones.  We have to reduce our speed to about 6-7 mph in those zones, which makes for some long and SLOW stretches of time.  We did see lots of beautiful homes, but after awhile, one "million $ home" looks like all the other "million $+ homes!"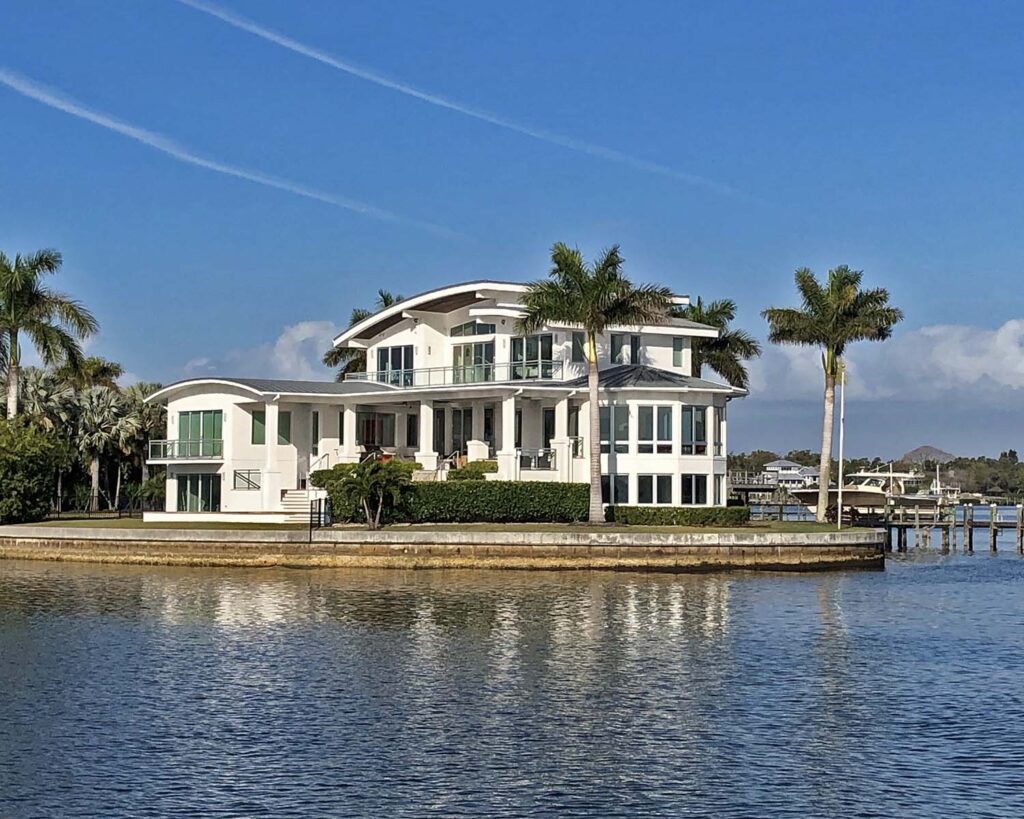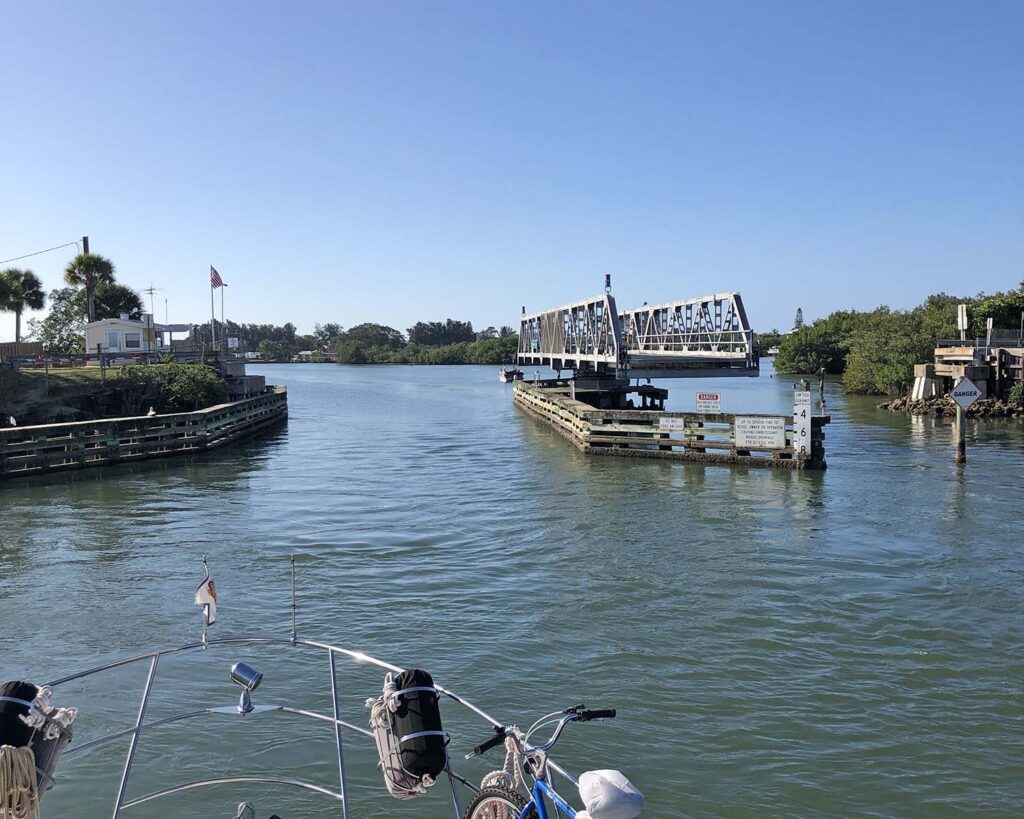 Our destination was Cayo Costa State Park in Pelican Bay. We heard that it was a fabulous anchorage – we'll see. On the way down, we checked on NEBO and found that Adagio was already there. We had traveled with them in Michigan and some down the river. We love to catch up with boat friends again.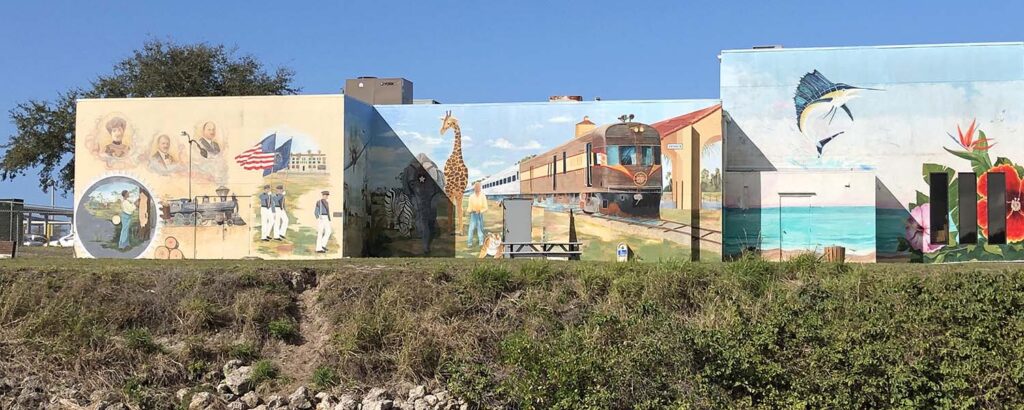 As we always do, we had read a lot of info about today's route and the anchorage. Seems that the entrance to the anchorage has some shallow areas and some comments gave VERY specific info about how to get in without running aground. Stress level ticked up a few notches. When we got to the entrance, we made note of various markers and then got lucky. A sailboat was approaching from the south and going into the anchorage. Sailboats have deeper drafts than our boat. IDEA – follow that boat! We did just that, going rather close to the shore of the island and the many people there in the sand. As long as the sailboat didn't hit bottom, we felt we'd be OK. We radioed Adagio to get their location, and headed that way. We were surprised that there were LOTS of boats here, but there was also LOTS of space, so it didn't seem crowded. We anchored and then made plans with Adagio to dinghy to the park. On the way over, we saw Sequel, Canadian boaters we last saw on the Tennessee River. Of course we went over to say hello – eh?
There was a path thru the park that led to the Gulf side beach.  It was lovely walking along the path and the beach was beautiful. Didn't bring our bathing suits, but we did walk along the shore.   It was an "ahhhhhh" type of excursion.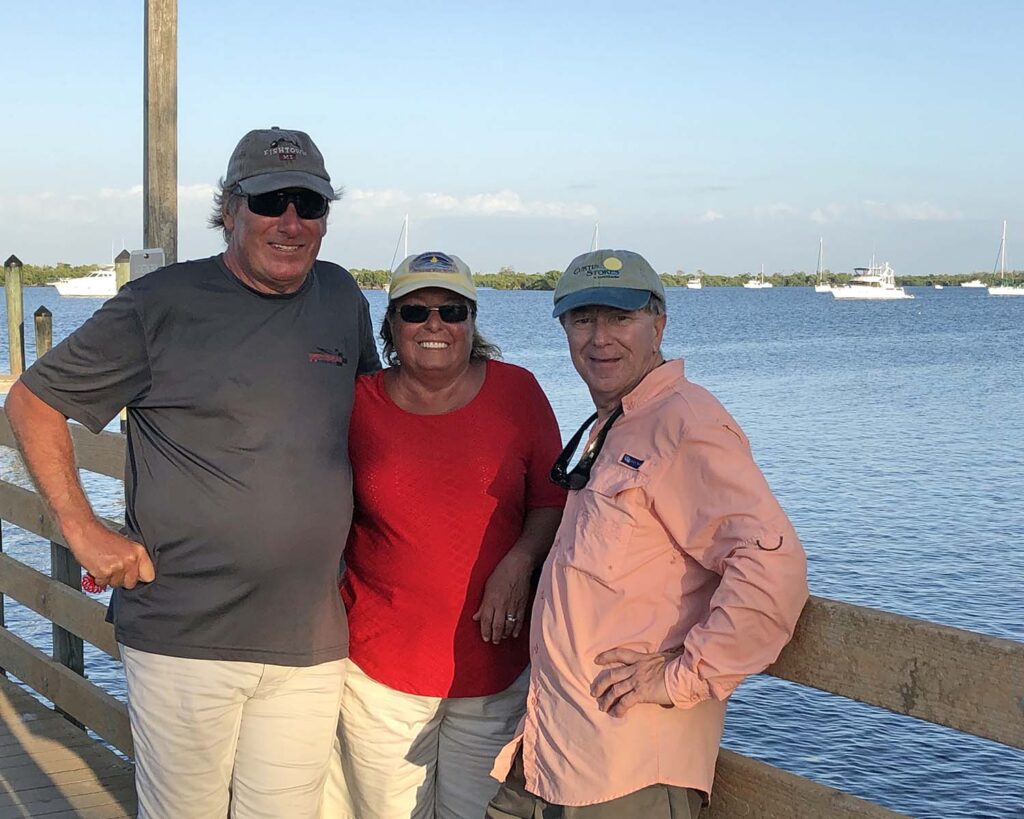 It was so quiet on the water that night and the stars were brilliant. We took out the bow lounging pads for only the second time on this trip and layed down to look at the stars. They were beautiful; then the clouds came in. But it was fun while it lasted.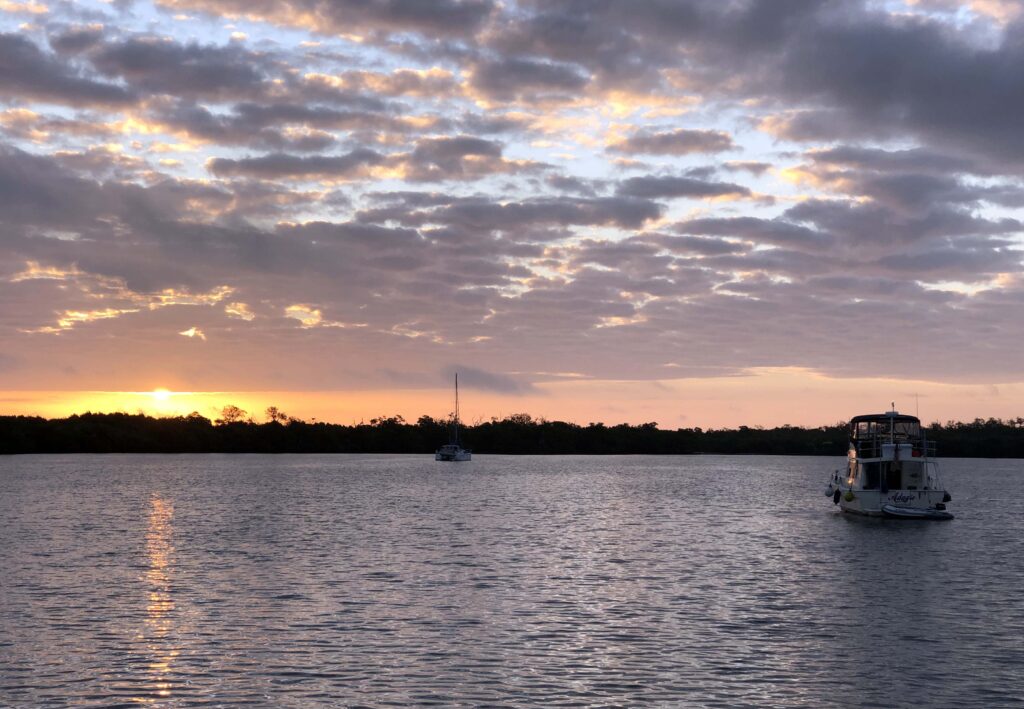 We had to cut the time there short as there were high winds coming in later in the day – like you've not read that in this blog before! Along with Adagio, we were getting ready to pull up anchor when we were hailed by name on the radio. Surprise, surprise. Jerry from Whisky Business was on a skiff and motoring towards us. We hadn't seen him since Michigan and the rivers. He has a condo at a nearby marina and when he saw our two boats on NEBO, he just had to come say hello. We chatted for a while; then he went over to Adagio and chatted some more. What a great start to the day!
We followed Adagio out of the bay. This time we got even closer to the shore, but no problems getting back to the ICW. The plan was to follow them out and when we reached Cabbage Key, they were continuing, and we were going there for lunch. This is the restaurant that was supposedly the inspiration for Jimmy Buffet's song "Cheeseburger in Paradise." We got there a little early, which was good. We were the first big boat to be coming in and there aren't a lot of dock spaces for larger boats, so we got lucky.
The inside walls and ceiling are COVERED in $1 bills.  It's a custom to put your name on a bill and tape it to the wall.  It's estimated that at any given time there is about $70K hanging.  Whatever falls off during the year is gathered and donated to various charities.  Considering the Florida humidity, lots probably falls, but is soon replaced with new bills. The cheeseburger was OK – the shrimp was much better, and the atmosphere was great. A man stood up while everyone was eating and announced that it was his wife's birthday, and asked us all to sing Happy Birthday!  What a Hoot.  Had a great time.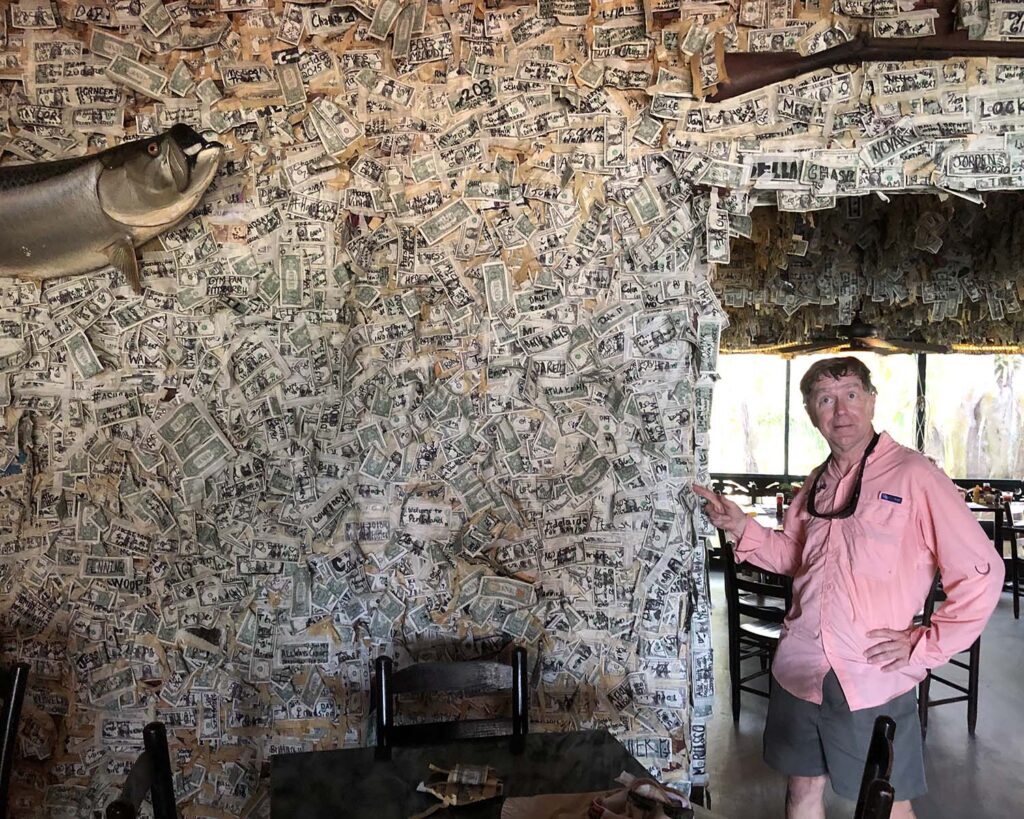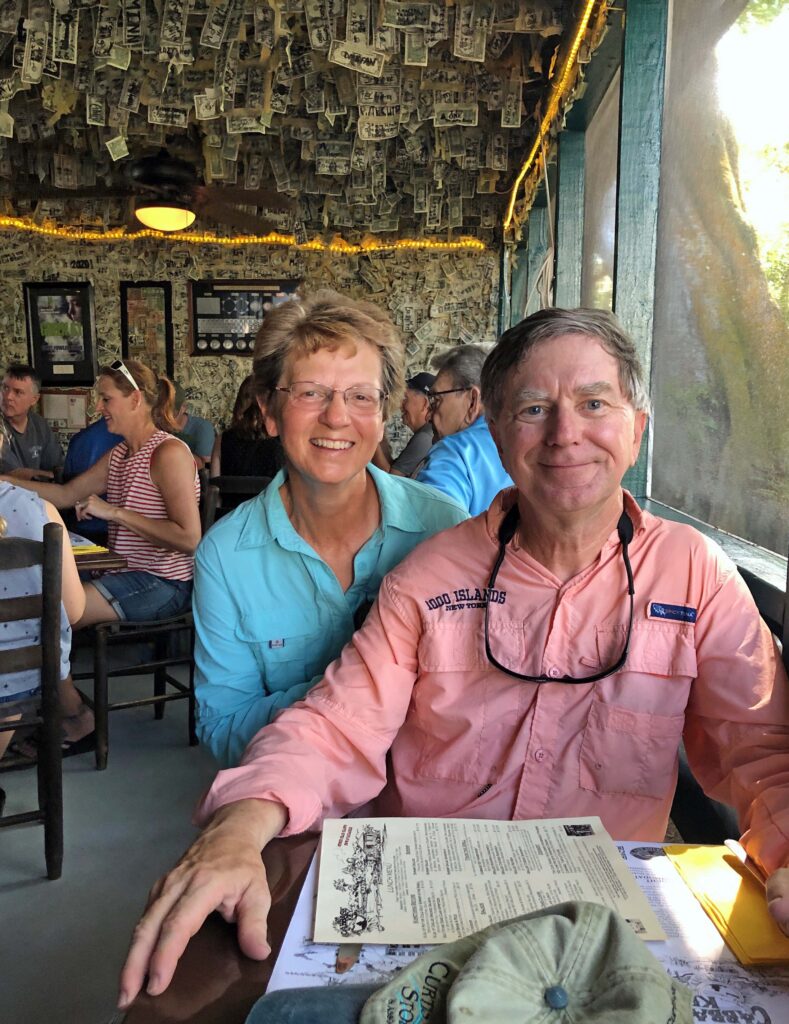 After lunch we went to explore the island a bit. Walked down some pathways and saw some lovely flowers and some turtles along the way. When we returned, the crowds were waiting to get in and the boats were PACKED into the docking area. We actually had to wait a bit for some other boats to leave before we could exit. Definitely worth the stop – a Looper Favorite.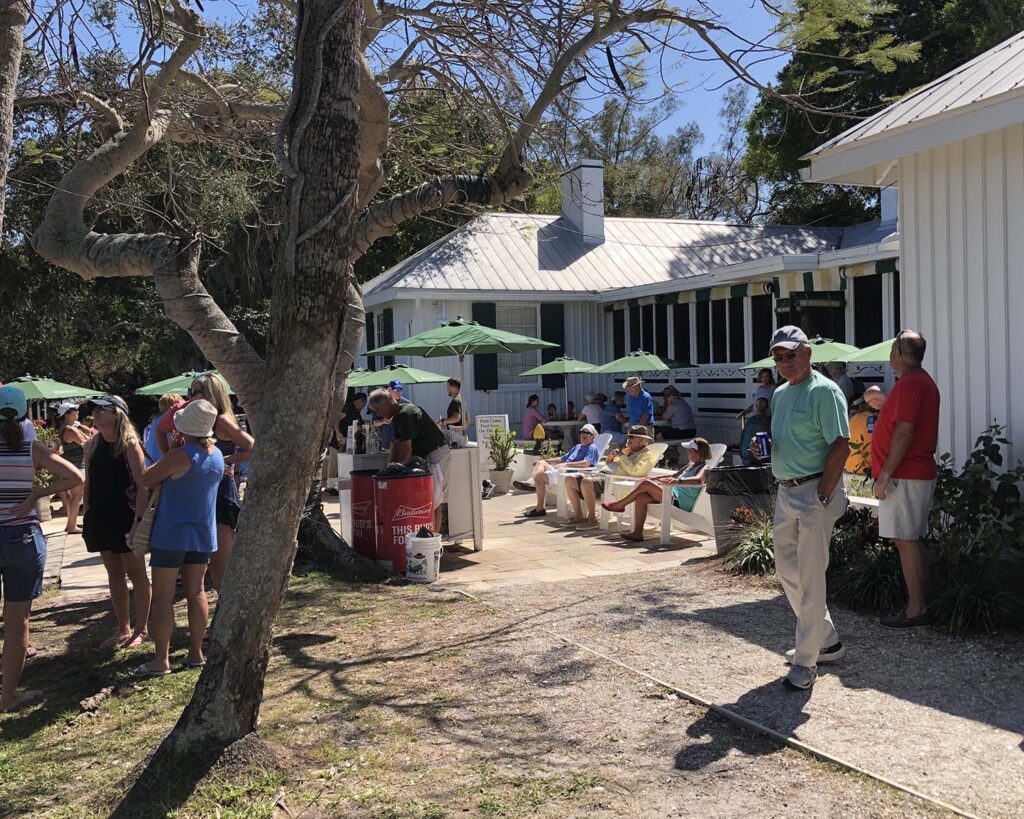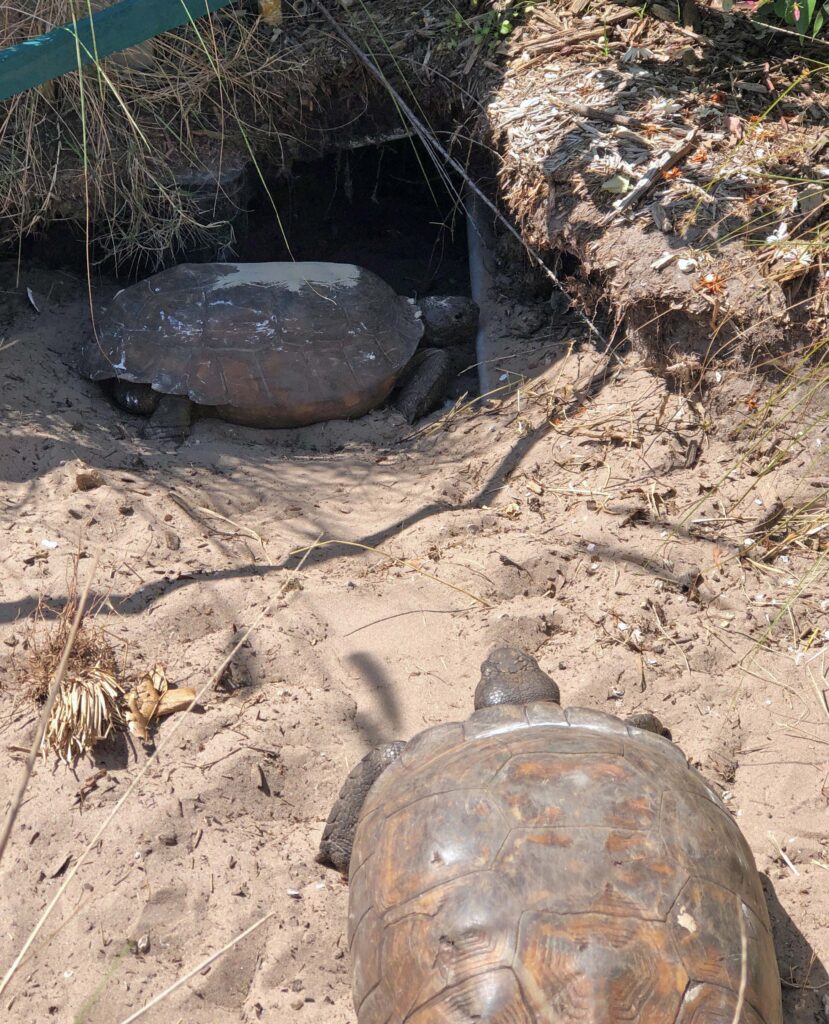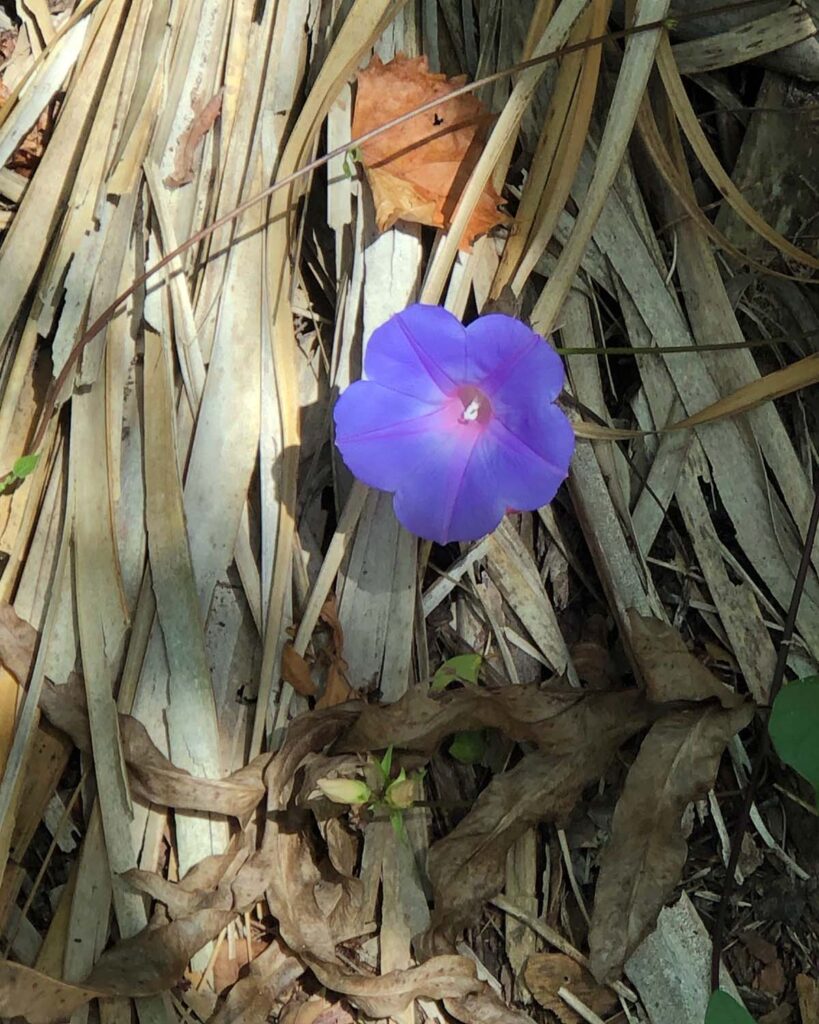 On to Fort Myers. The waterway opened up after we left Cabbage Key and the Crazy Boaters came out from everywhere.  No longer in the No Wake zones of the housing areas, the boats were ZOOMING past us – left and right.  At one point, we had two pass us on either side and when they met in front of us, and one of them hit the large wake of the other, the smaller boat went up in the air and we expected it to capsize. Fortunately it didn't, but the afternoon continued like that.  This was all before we got to what is known as The Miserable Mile just outside of Fort Myers. There are so many boats in a narrowed area that you have to constantly watch for other boats, kayaks, paddleboards, and fishing boats all around you.
As we got near the Yacht Basin Marina, I started to pass around another boat.  Turns out it was As You Wish; boaters we had last met in New York and they were in our group when we took the Statue of Liberty photos.  They told us that the picture we had taken of them at the Statue was so good that they are now featuring it on their new boat cards!
We got to the marina, fueled, and then went to our slip. It was as far a distance as they could have put us – not a great location. But that's a story for another post!