Vitamin Sea is a 2004 Meridian 408.  Meridian Yacht Company produced three series of boats, Sedan Bridge boats, Aft Cabin Motor yachts, and Pilothouse yachts.  Vitamin Sea is one of the Aft cabin series.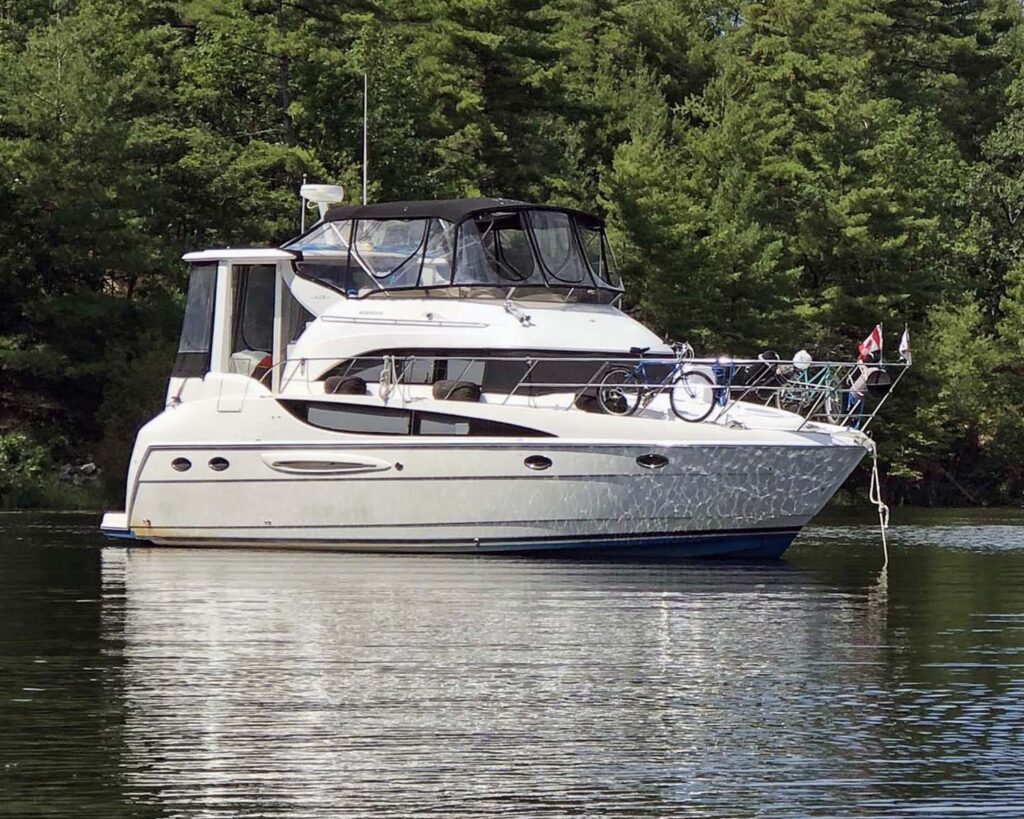 When Kathy and I decided to go on this journey we began looking at boats online, about every evening for almost a year we "cruised" yacht broker websites looking at boats. You think car shopping is confusing, try shopping for a live aboard boat. My RV friends can relate. There are so many styles and lengths of boats it is overwhelming.
Early on we joined the America's Great Loop Cruisers Association (AGLCA) so we could attend their Rendezvous, which consisted of meeting and informational sessions for current Loopers and aspiring/planning Loopers. One of those speakers said when boat shopping, make a list of must haves for your boat and a list of would be nice items. Our list of must have items consisted of full walk around decks (important with the number of locks we intend to go through), stairs instead of ladders, two complete heads (bathrooms) cabins separated (for visiting guests), a complete galley, adequate sized salon (living room), and twin engines.
Most Rendezvous afternoons consisted of a boat crawl, where current Loopers would open their boats to show them to us uninitiated. This was the best for us dazed and confused wannabees. I had produced a checklist to record the pertinent information on each boat we toured; must have items in the left column, nice to have on the right. This was the best way to keep us organized. (We both fell in love with a Navigator 44 – more on this in another post)
More searching on the web, narrowing it down with our broker, we found the Meridian line of yachts. Harmony was docked in Beaufort, South Carolina. We both felt good about her and decided to pursue the offer. The next time I have a complete day to kill I'll write about the boat buying process.
Back to Vitamin Sea – a 2004 Meridian Aft Cabin Motor Yacht. She is 40 feet long and consists of a fiberglass hull that has a beam of 14' 3", a draft of 3' 8" and a displacement of 29,000 pounds, with a bridge clearance of 16' 9". Propulsion power is by a pair of turbocharged Cummins BTA 5.9 370hp engines, electrical power is from an Onan 11.5 kw generator.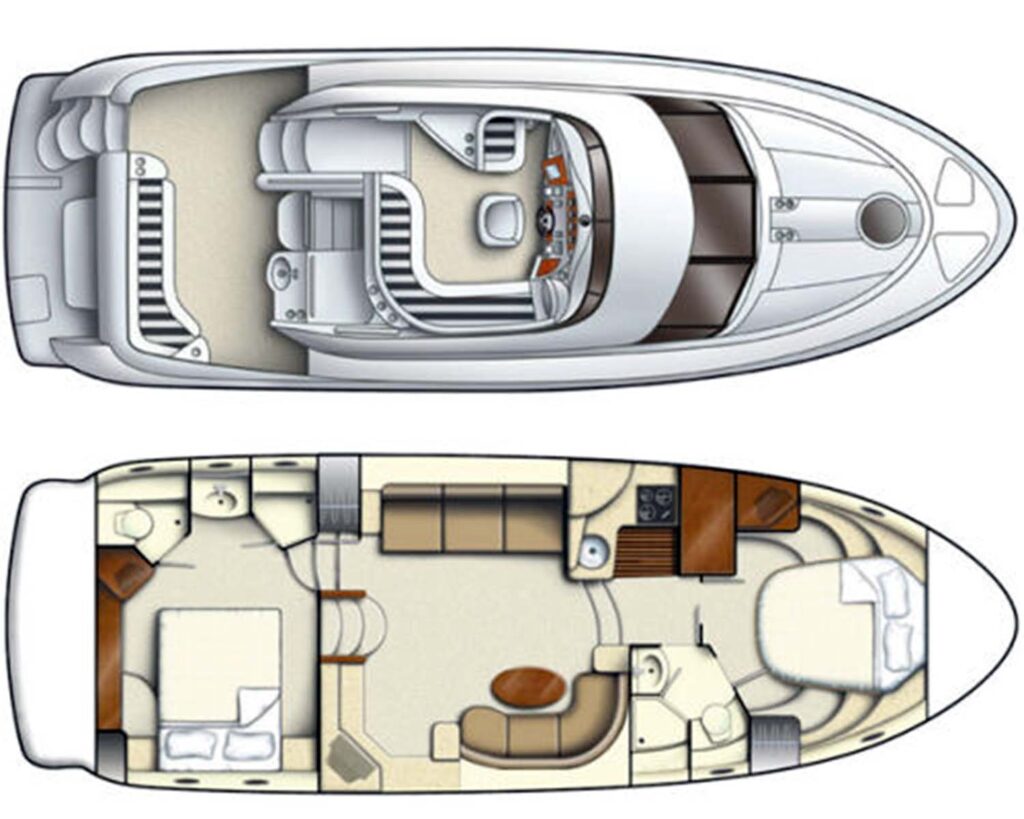 Entry to the boat is from a rear swim platform for floating docks and a pair of side doors for fixed docks. Up five stairs from the swim platform brings you to the enclosed rear lounge. Up three more stairs is the pilothouse or helm station. With wrap around seating and the captain's chair, there is room for up to eight people along with a refrigerator. Down three stairs, from the rear lounge, through a sliding door brings you into the full width salon, consisting of a convertible table, an L-shaped couch on one side and three recliners making up a sofa on the other. Going aft you're in the owner's cabin with separate head and shower. Going forward you pass through the complete galley to the queen sized bed guest cabin, including its own complete head. The galley has an oven, three-eye cooktop, microwave and refrigerator/freezer. Under the galley stairs is the combination washer/dryer and vacuum system. Below the salon floor is the engine room: all mechanical systems, fresh and black water tanks, Vacuflush toilet units, battery charger, water heater, fire suppression system, along with the engines and generator.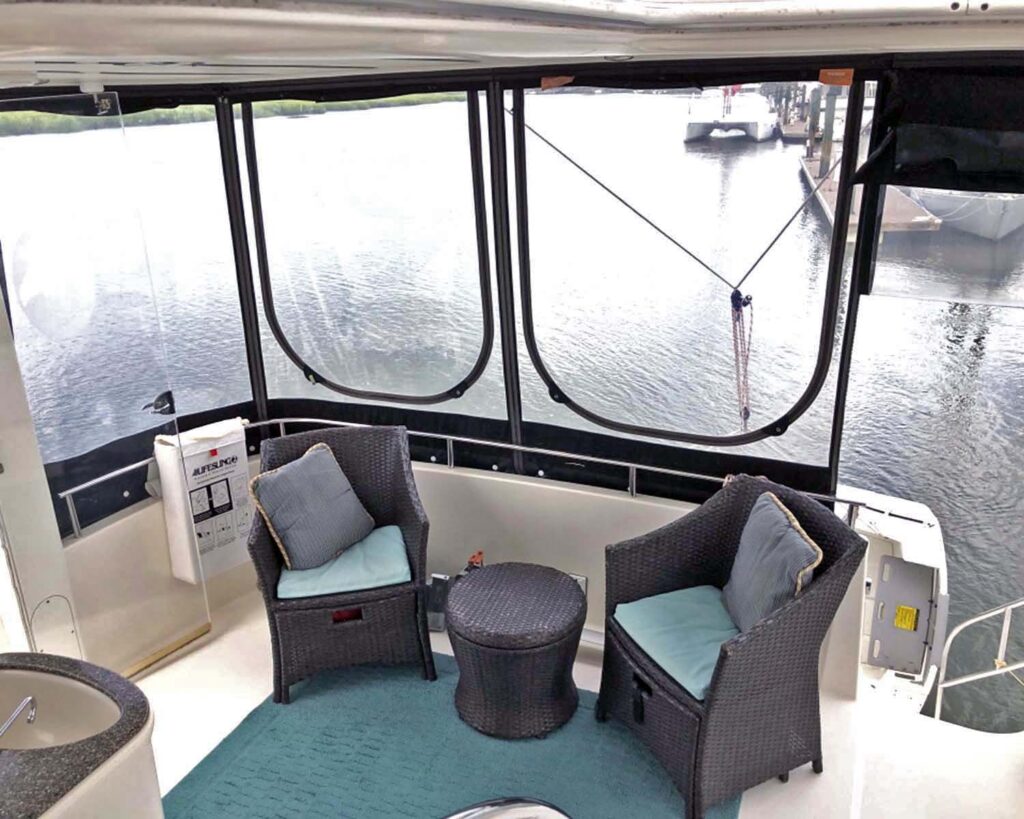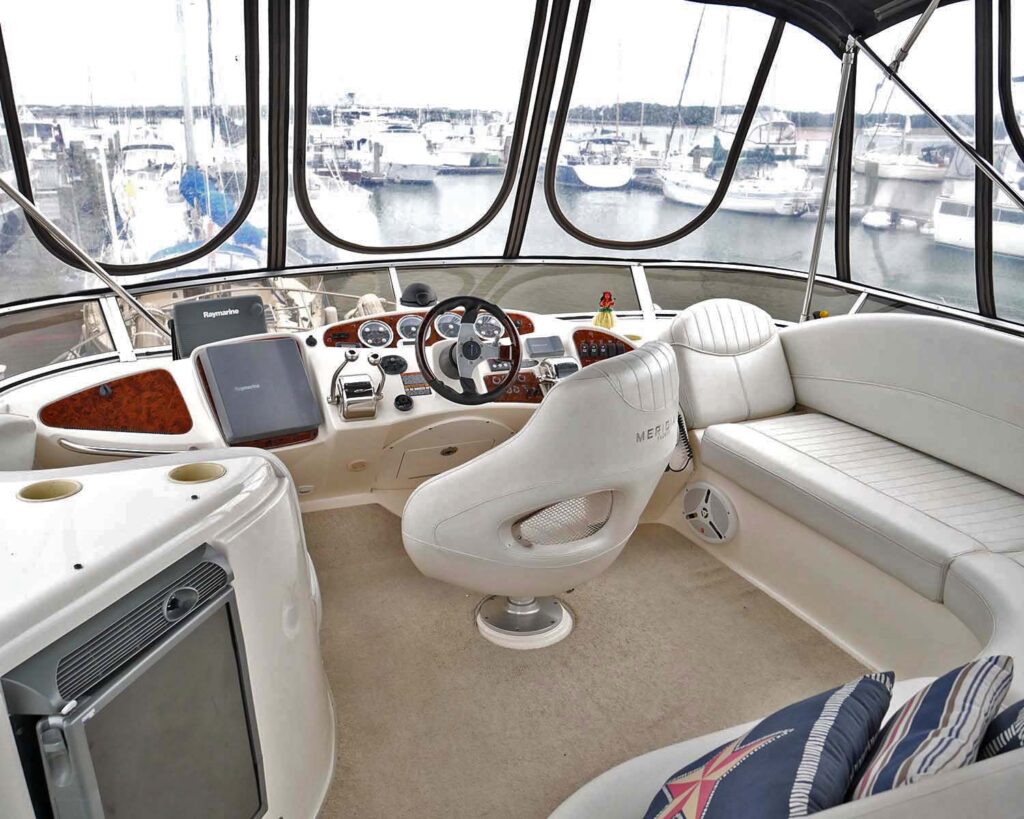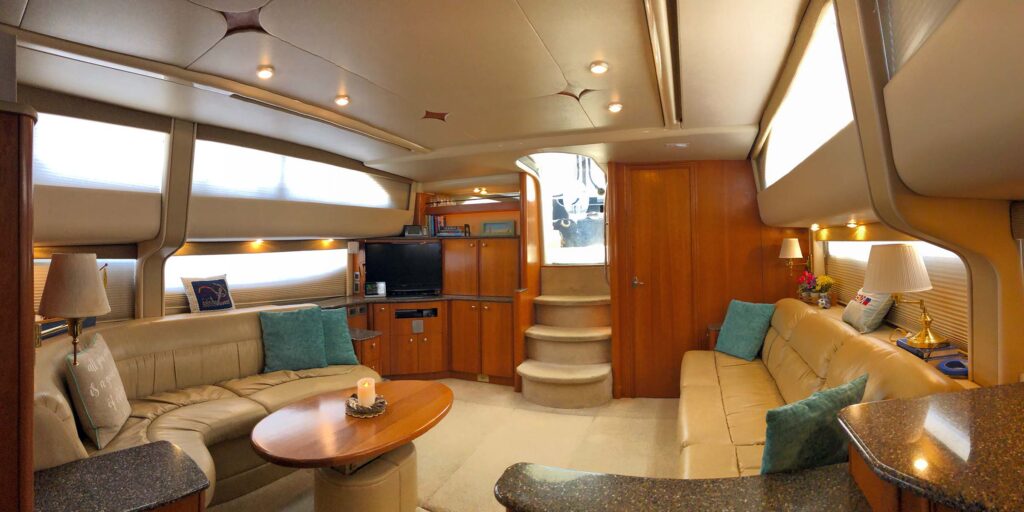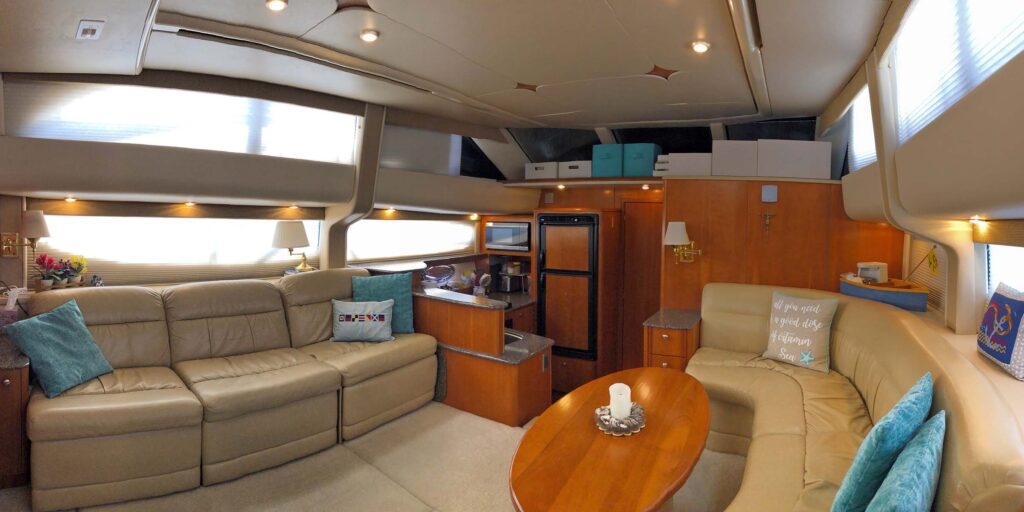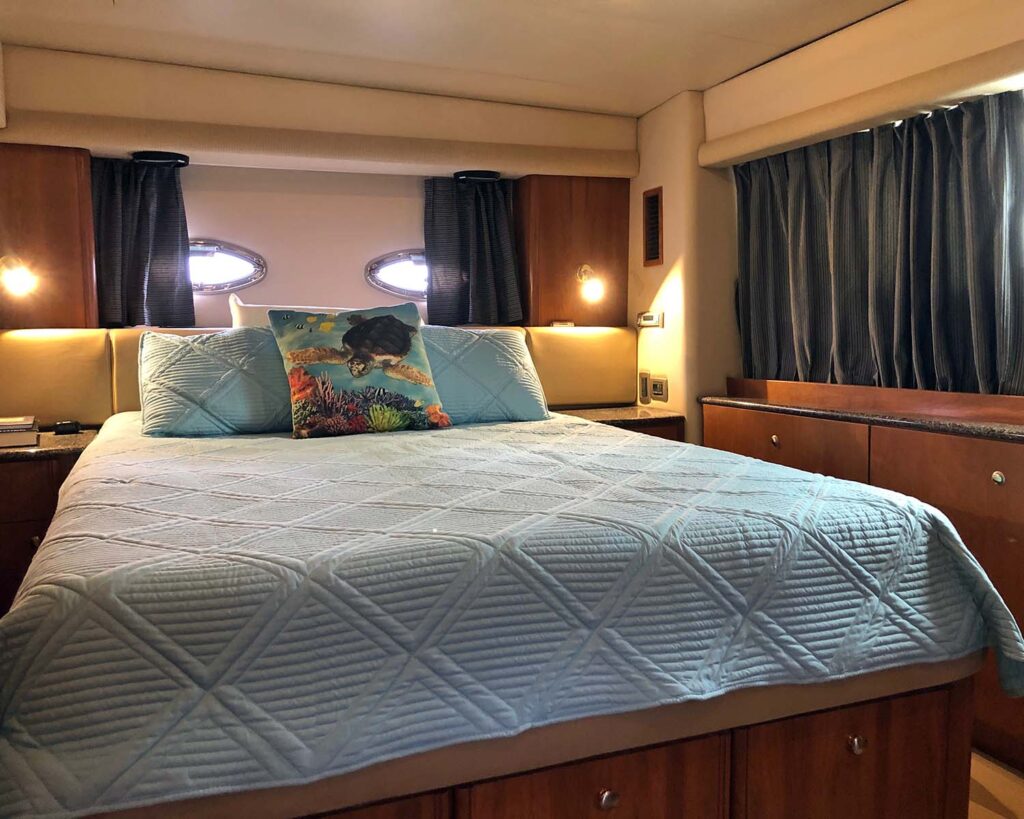 We did get what we thought were must haves – full walk around decks, stairs, two complete cabins and heads, a galley and a comfortable salon. My only reservations on the Meridian 408 were the over sized engines for the sometime slow speeds of the Great Loop.