We left the next morning to join Honey Queen over at Twin Dolphin Marina in the Manatee River at Bradenton. We had to cross Tampa Bay to get there. It was a fairly easy ride of 25 miles. As we approached the Sunshine Skyway Bridge, we noticed Coast Guard boats in the vicinity. We found out that a Navy ship was coming in that morning, and the bridge area would be completely closed off to other traffic when the ship came near. Good thing we left early enough to go thru the bridge before it was closed.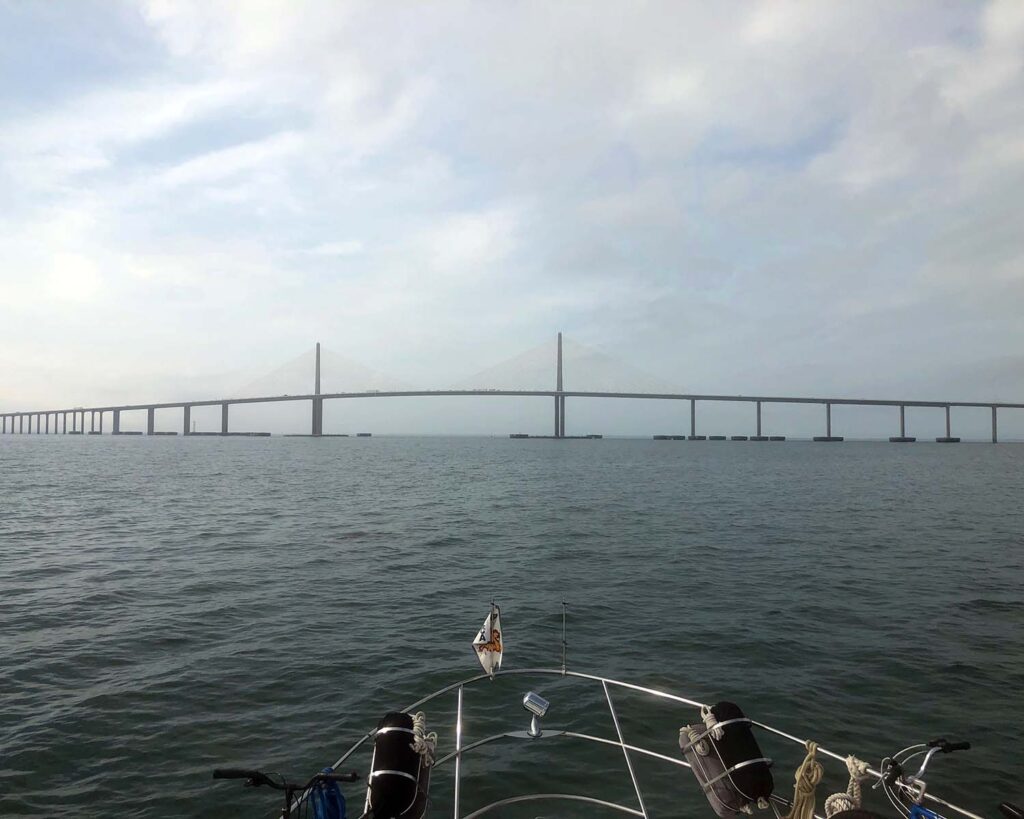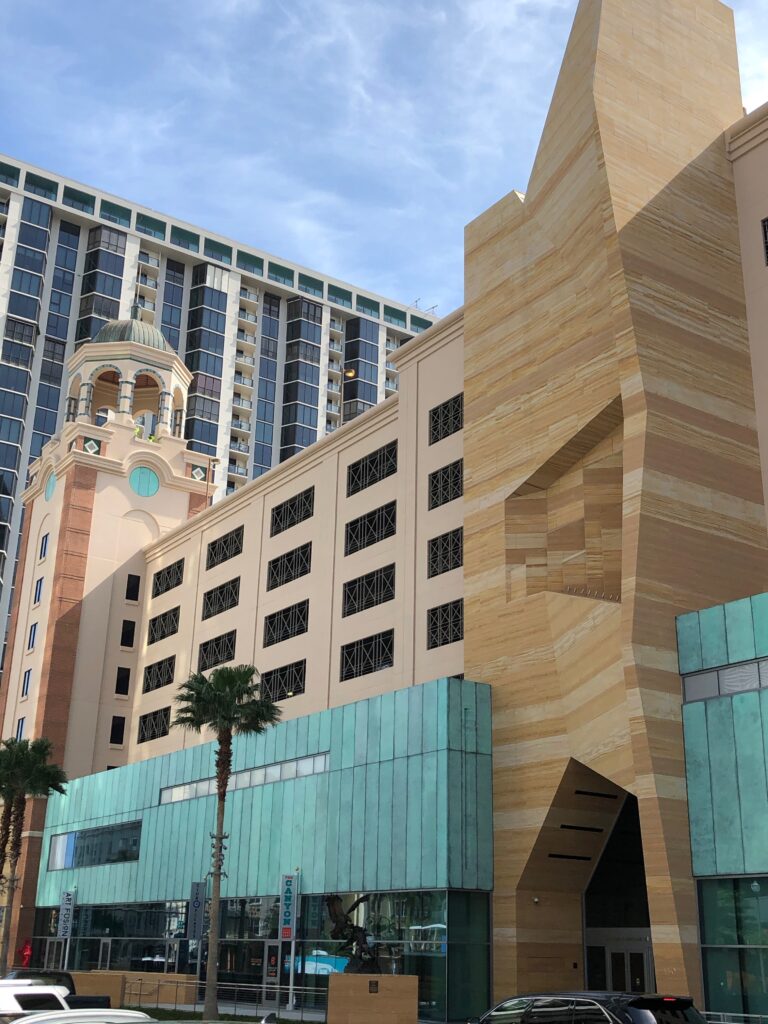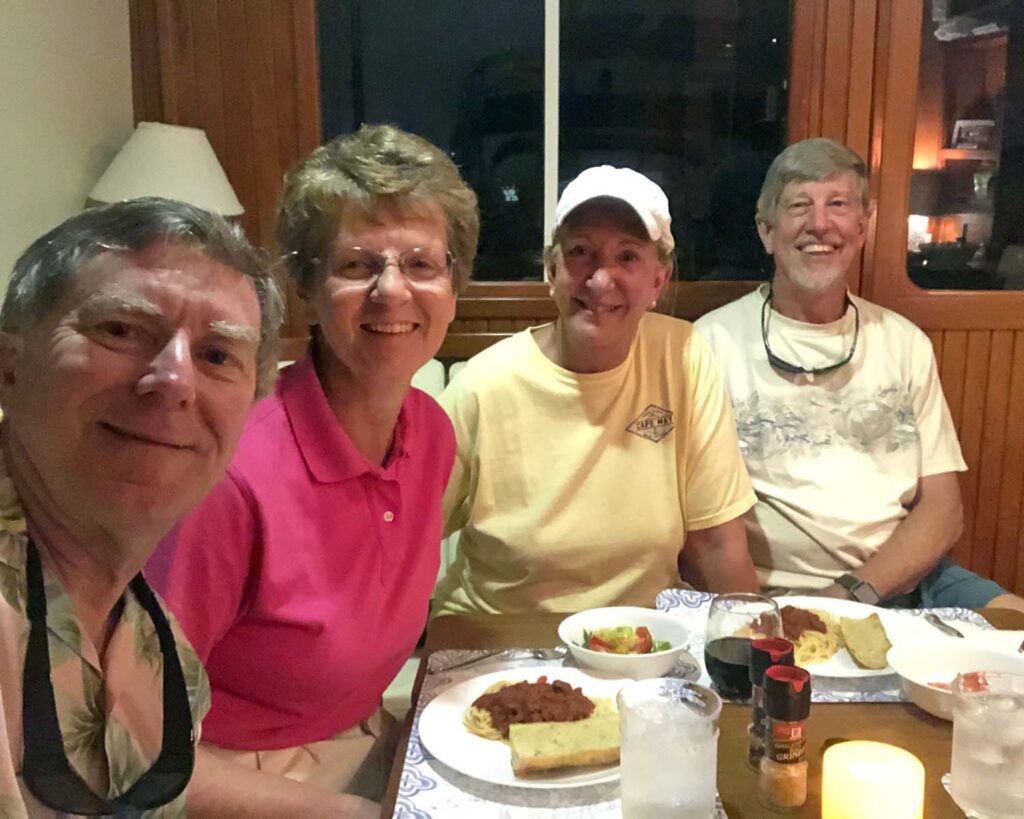 On Saturday, we went to a Farmers' Market for fresh fruits and veggies. Then we walked to an area of town known as VOTA – Village of the Arts. We didn't go into any of the houses/shops – too early to be open – but just seeing the houses and outside artwork was an experience.
Later in the day, Amanda came through with another car she borrowed from fellow Loopers on Southern Cross. One of the dockhands had told us about a manatee viewing area by a power plant at Apollo Beach about 30 minutes away. Off we went. The area has a large boardwalk out to the area and several exhibits inside and outside. We didn't see much in the way of manatees; mostly just a few snouts coming up for air, but the exhibits were informative. Being mammals, the manatees have the same scheme of skeleton and organs than humans have. An X-Ray of one of their front flippers looks like the bones of a human hand. Hope we get to see some along the way – more than just snouts!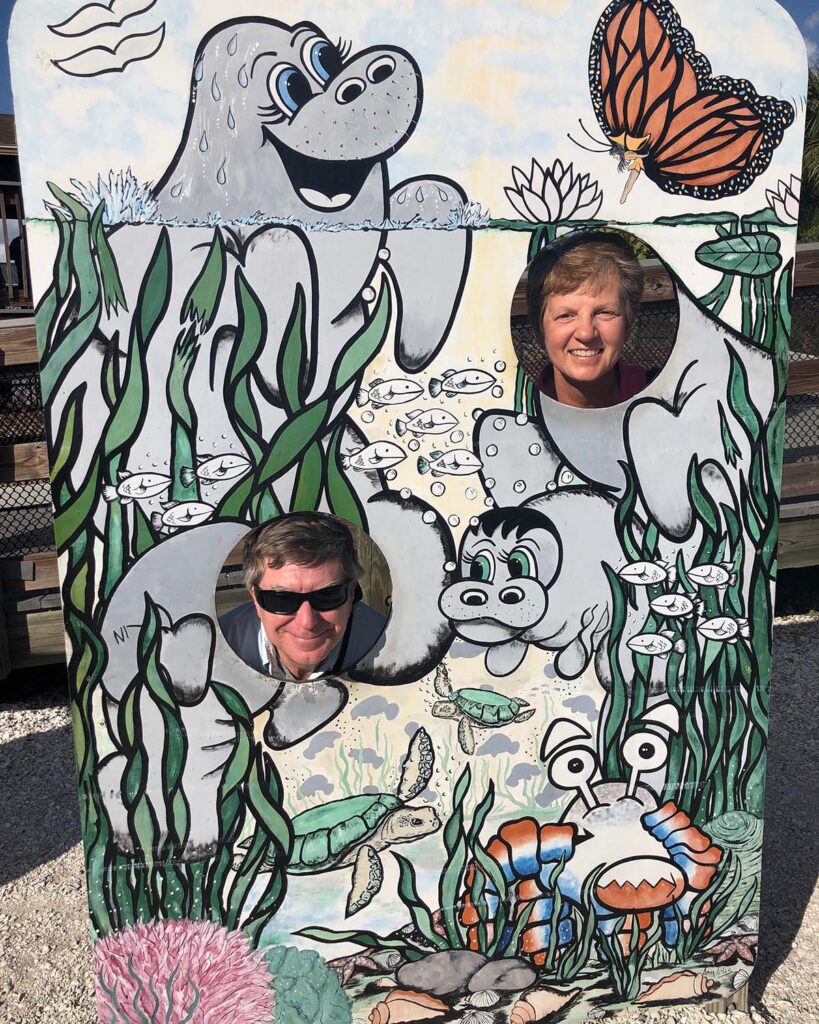 Ed used to work out of Bradenton when he was with D & S Color. A friend of his who was also with the company came to visit us on the boat. Chris and Ed had a good time catching up with each other. Two photographers on board and do you think either of them thought to mark the occasion by taking a photo? Hence, we don't have one. 🙂
Saturday evening we had dinner with Honey Queen and Southern Cross at the Pier 22 Restaurant at the marina. We had met Southern Cross at Port Orillia marina on the Trent-Severn waterway in Canada. Bradenton is their home port. On Sunday we did some pool time at the marina – ahhhh – then I went on the bike to get some things at Walmart and Ed did more boat stuff!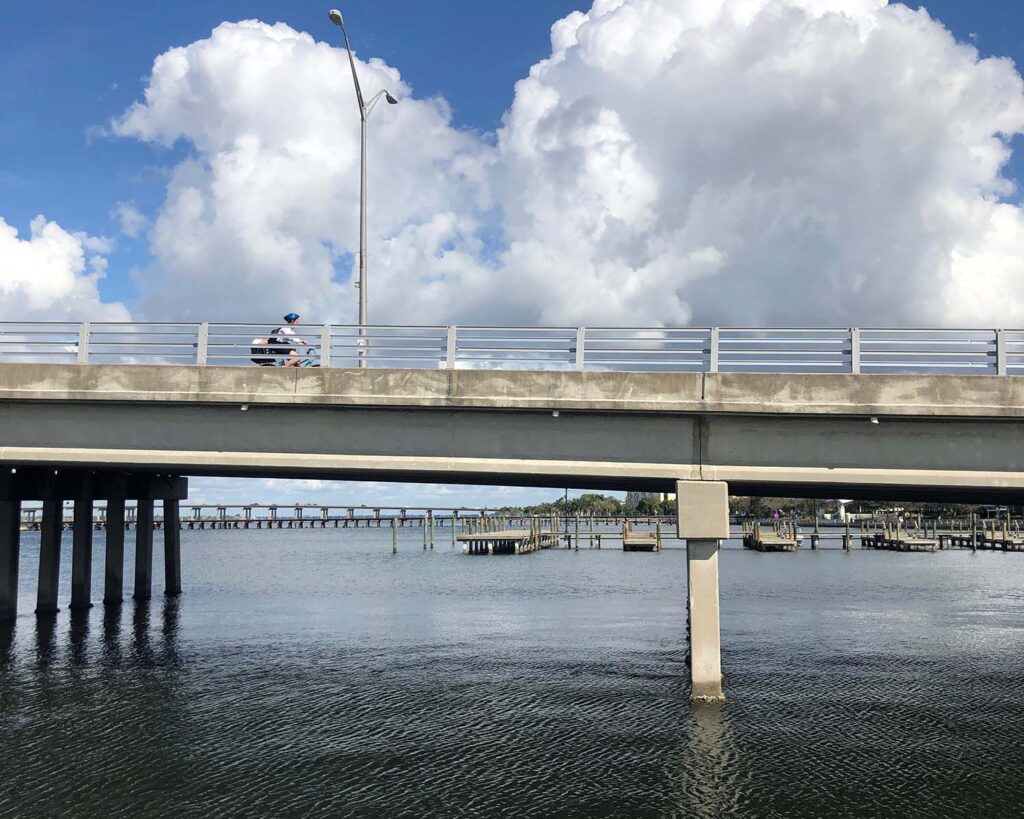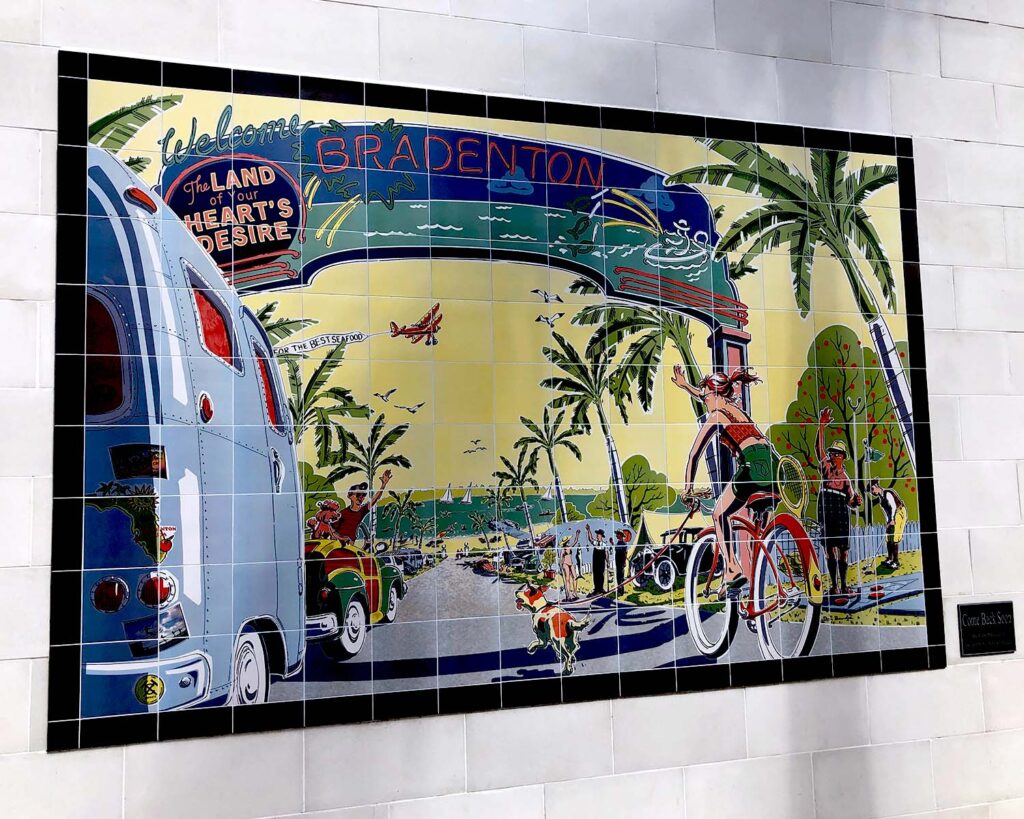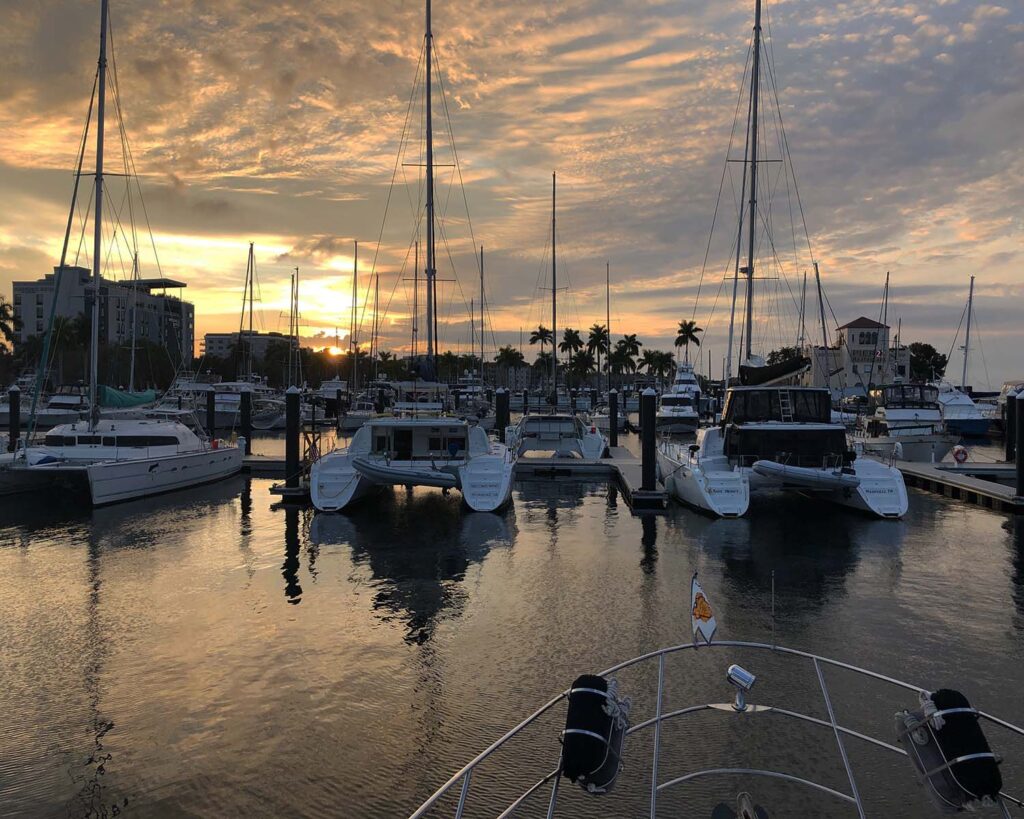 Monday was President's Day, and it's usually good to not be on the water on holidays because of crazy boaters, but we chanced a three hour trip to Sarasota. The marina had a large mooring field – which is a considerable savings over a marina slip – so we decided to try it. We took a lesson at the University of YouTube, and got ready to do this. A floating mooring ball is usually attached to a cement block. A boater ties a boat line to the floating ball, and this acts like an anchor, without having to set an anchor. The problem? – grabbing hold of the mooring ball in order to thread a line thru it. One way is to hang over the bow and try to bring it up 5-6 ft to grab hold of it. A second idea we learned is to stand on the swim platform – at water level – and grab hold. Then you "walk" the secured line forward to cleat it to the bow. The second option seemed easier.
So, with Ed at the helm, I stood on the platform in open water – WITH a lifejacket on – and used a boat hook to try to grab the mooring ball. Ed did a great job of jockeying the boat close enough for me to "do the grab." Once I got a line secured to the mooring ball, Ed cut engines and between the two of us we got the line "walked" to the bow of the boat and secured. HA – nothing to it!! Actually, we breathed a sigh of relief when it was done.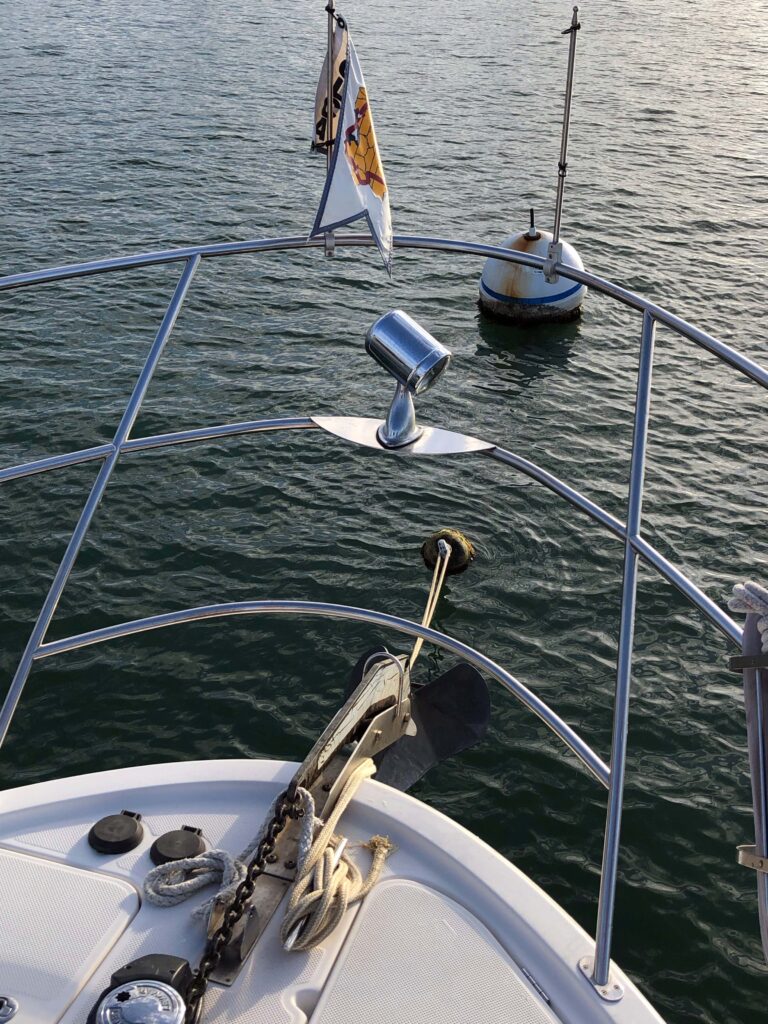 So when you are on a mooring ball, the only way to reach land is via another boat – ie. our dinghy. So we lowered The Pudgy and put-putted over to the dinghy dock, which was only reached by going past some BAB's (Big Ass Boats). Sarasota is a very UPSCALE town, which was first evident by the numerous BAB's in the marina. We walked around town to see some of the sights and then headed back to the boat.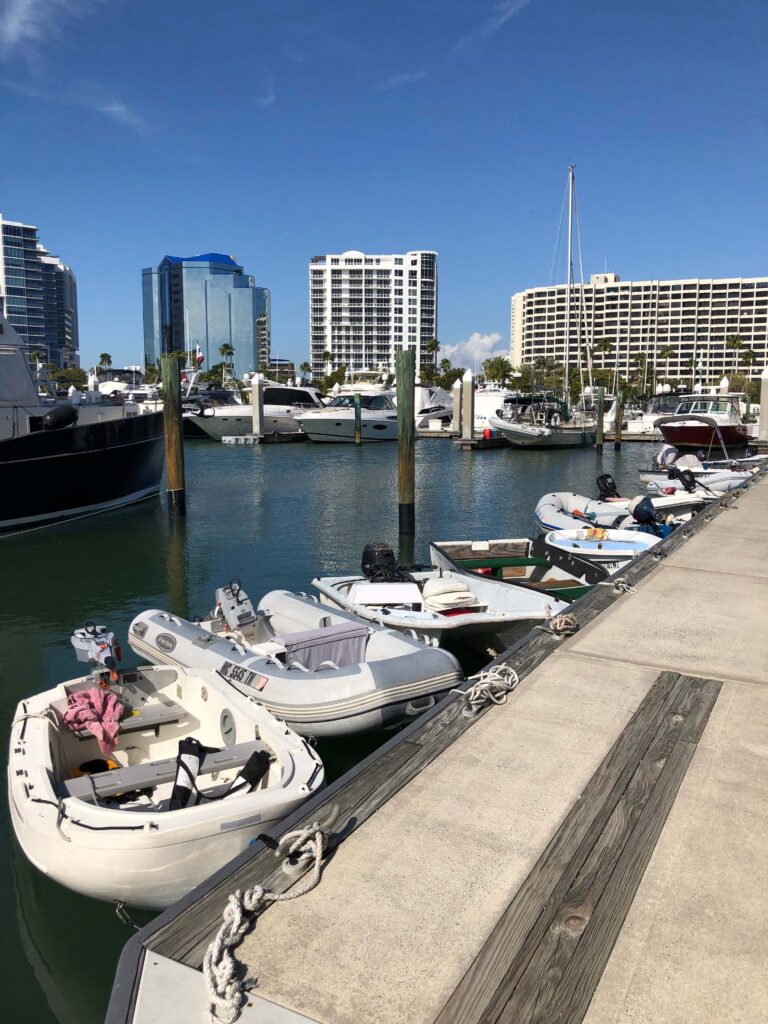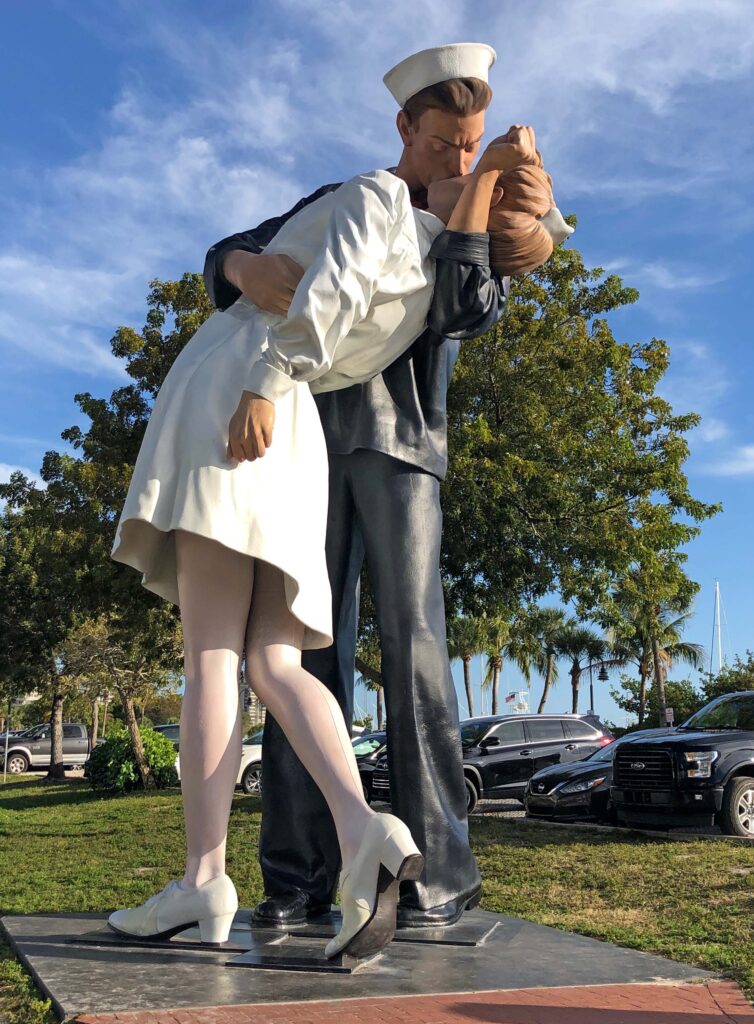 We passed another Looper boat on our way back to our boat and we hollered out for them to join us for docktails. John and Susan were on Eagle Heart out of British Columbia. Honey Queen came over, too, and suddenly it was a party!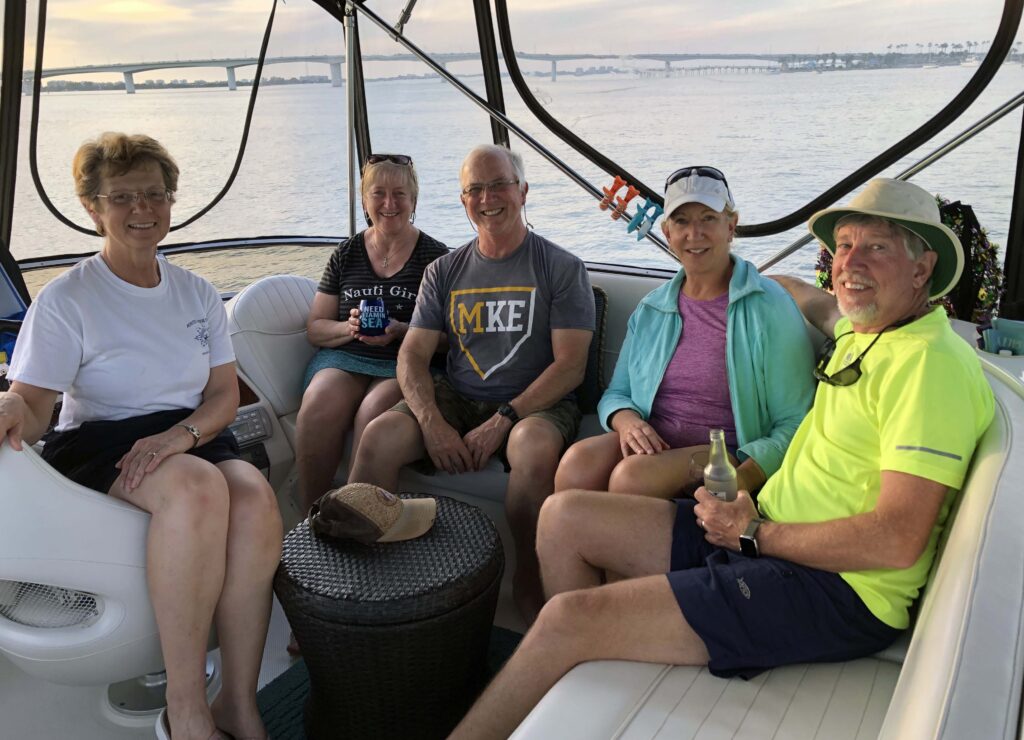 The next day Amanda joined us and we headed to the Ringling Museum. We expected to spend a couple hours, but were there all day. The first building we entered was the circus museum. There were lots of things from the circus to see – the rail cars, wagons, posters, and costumes. There was a lot of info on the 5 Ringling brothers who started the circus, and the eventual merger with Barnum & Bailey.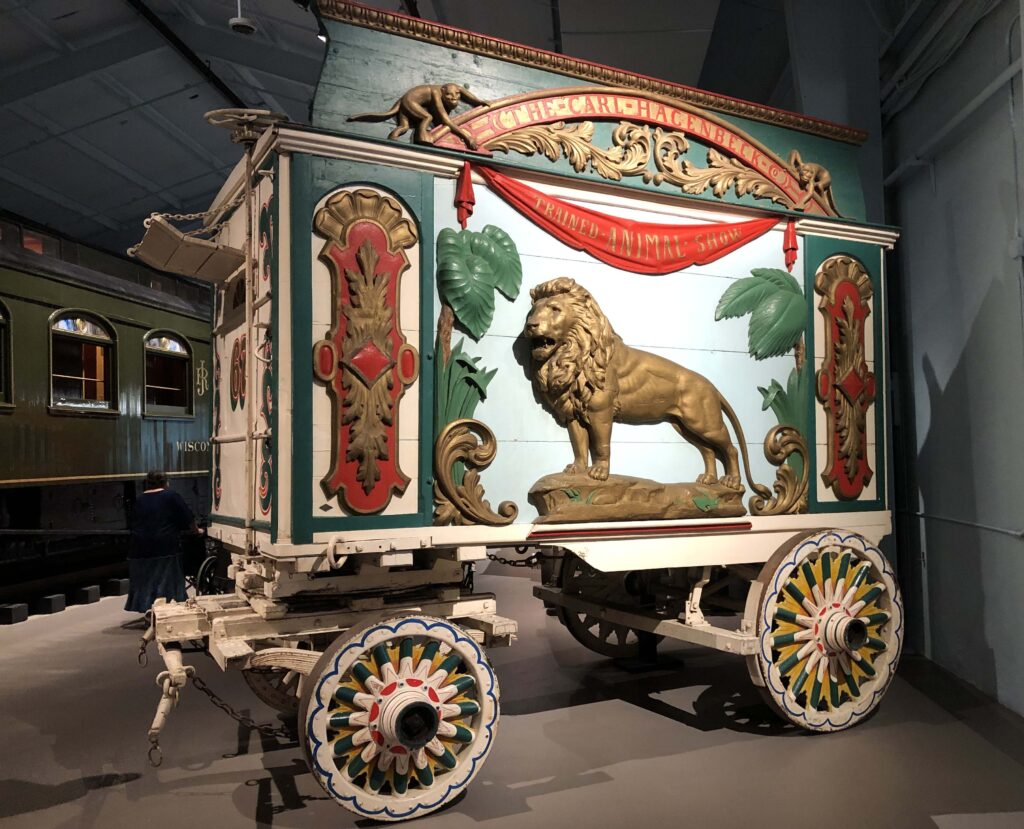 A newly opened exhibit was a miniature circus. We're not talking table top, we're talking gigantic sized: 3800 sq ft! It was created by Howard Tibbal – with a great deal of help from his wife. It has grown over a period of 50 years. "Detailed" doesn't begin to describe all the intricacies included in the circus menagerie. It was fun to watch children going thru the exhibit. They – as well as we – were utterly fascinated.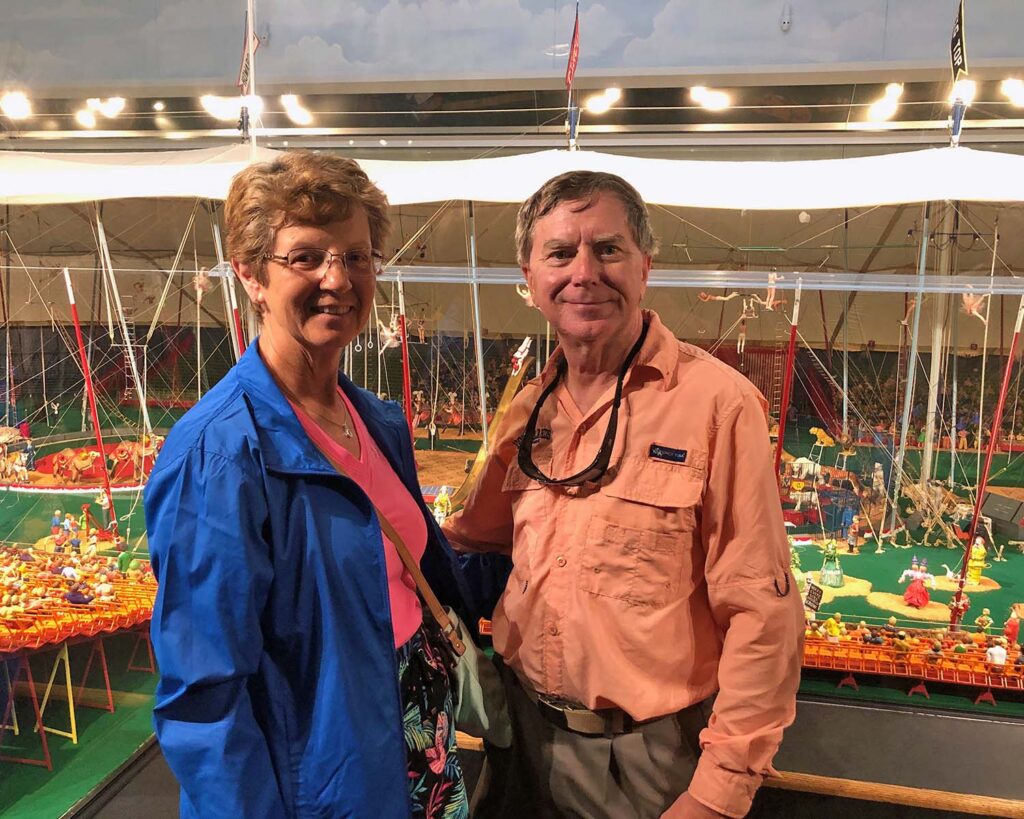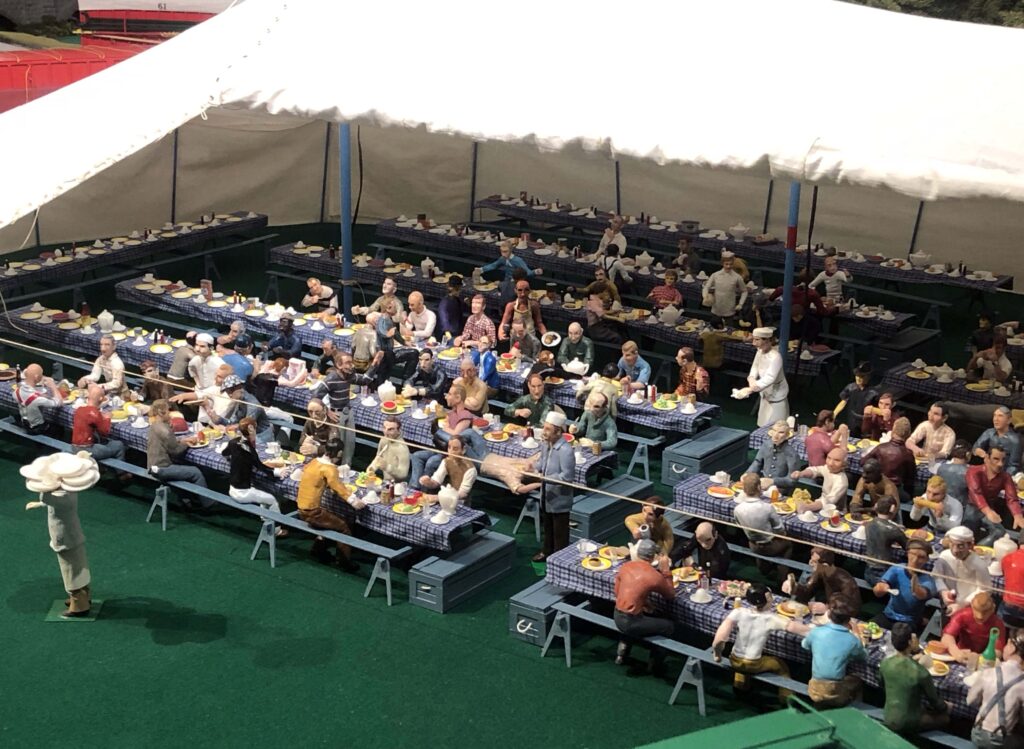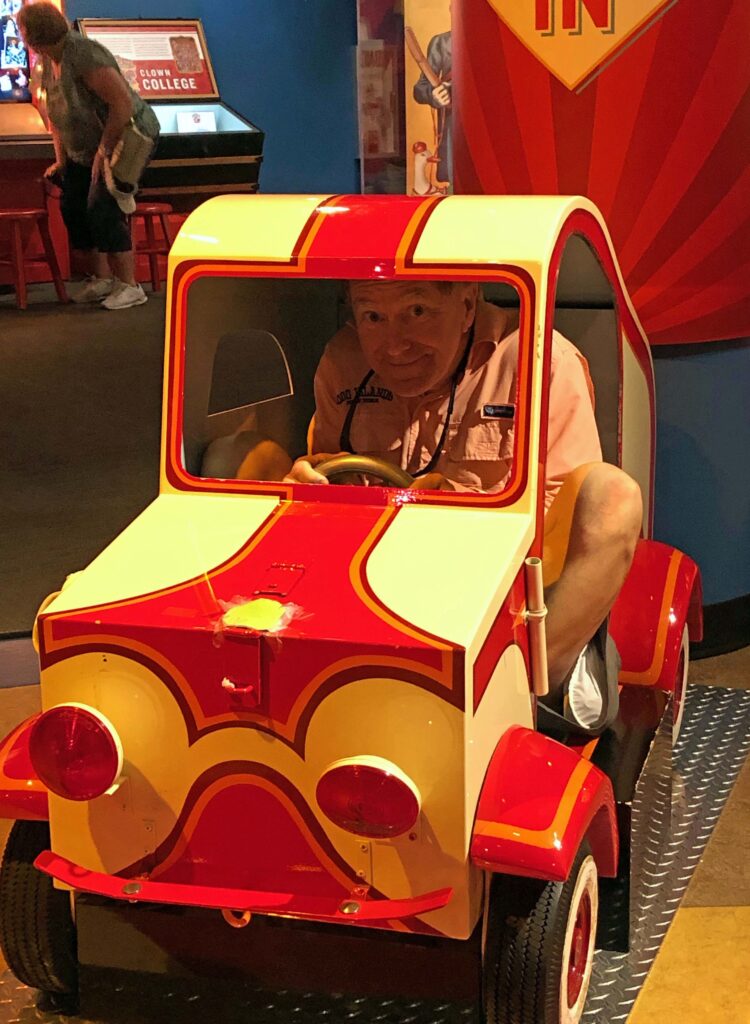 The home of John and Mabel Ringling is on the grounds. Named Ca' d'Zan, or House of John, the creation of the beautiful home was a labor of love for Mabel. When completed, they entertained many celebrities and the well-to-do social elite. Sadly, Mabel died just three years after the completion of the home. Both are buried on the grounds, along with John's sister, but due to many legal issues, it was several decades before they were actually laid to rest at their beloved Ca' d'Zan. In John's will, the estate and all the artwork were left to the State of Florida.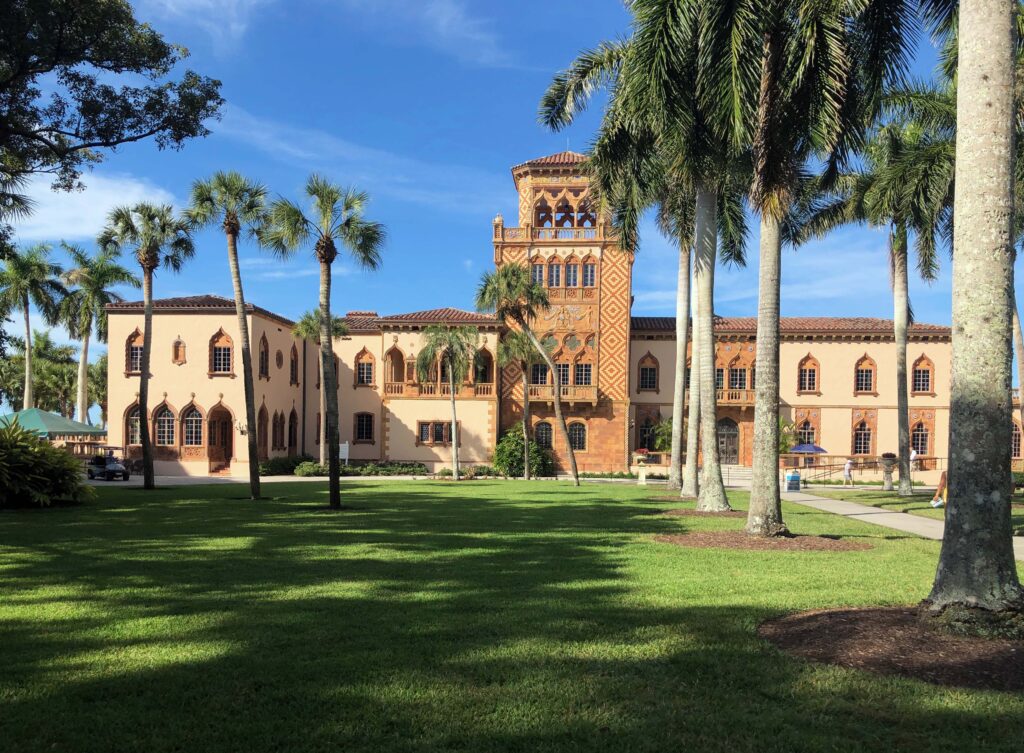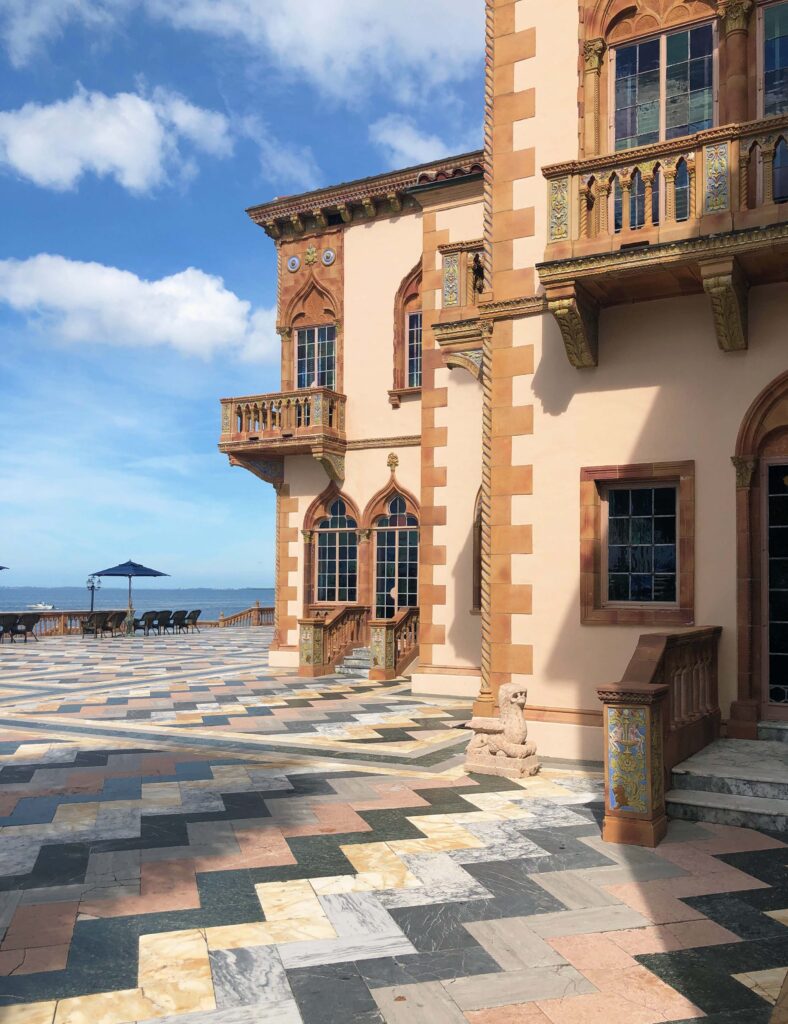 John and Mabel acquired quite a collection of artwork. A separate art gallery and courtyard garden were created with the intent that the art could be shared with the general public. When the building was designed, many of the galleries were created from rooms in various upscale homes that were being torn down for one reason or another. For example, when the Collis P Huntington mansion in NY was torn down, John Ringling salvaged the marble frieze, the door surround and the fireplace. One gallery was designed around these items.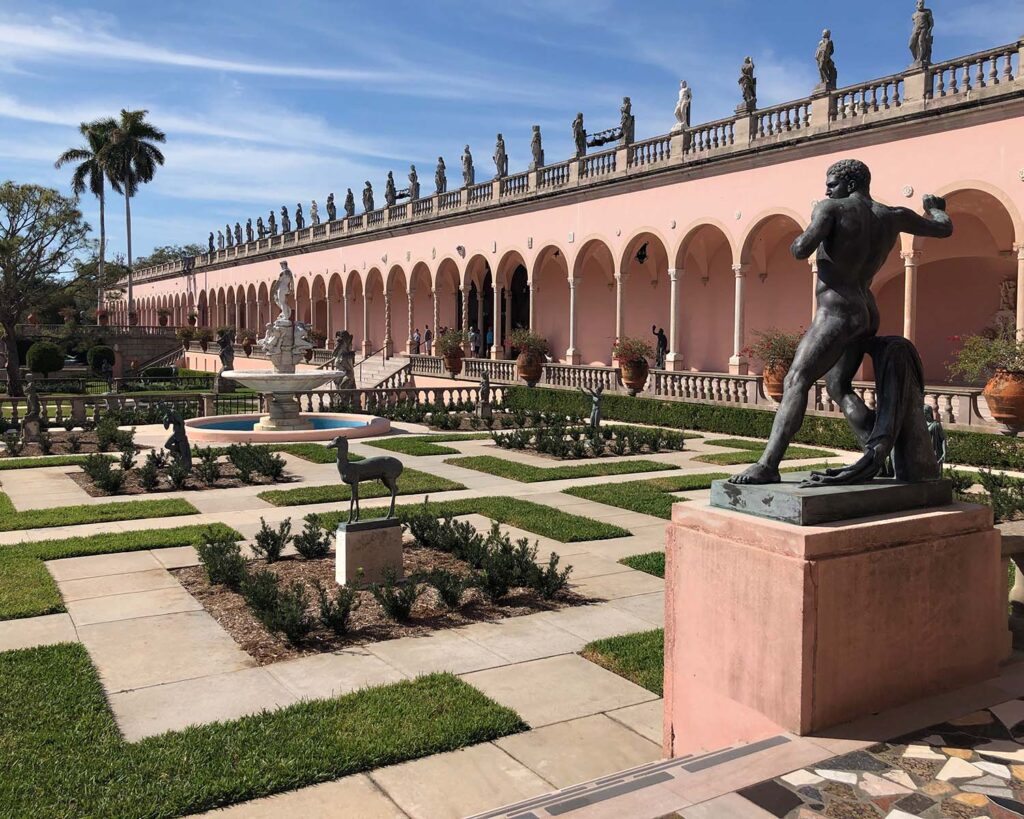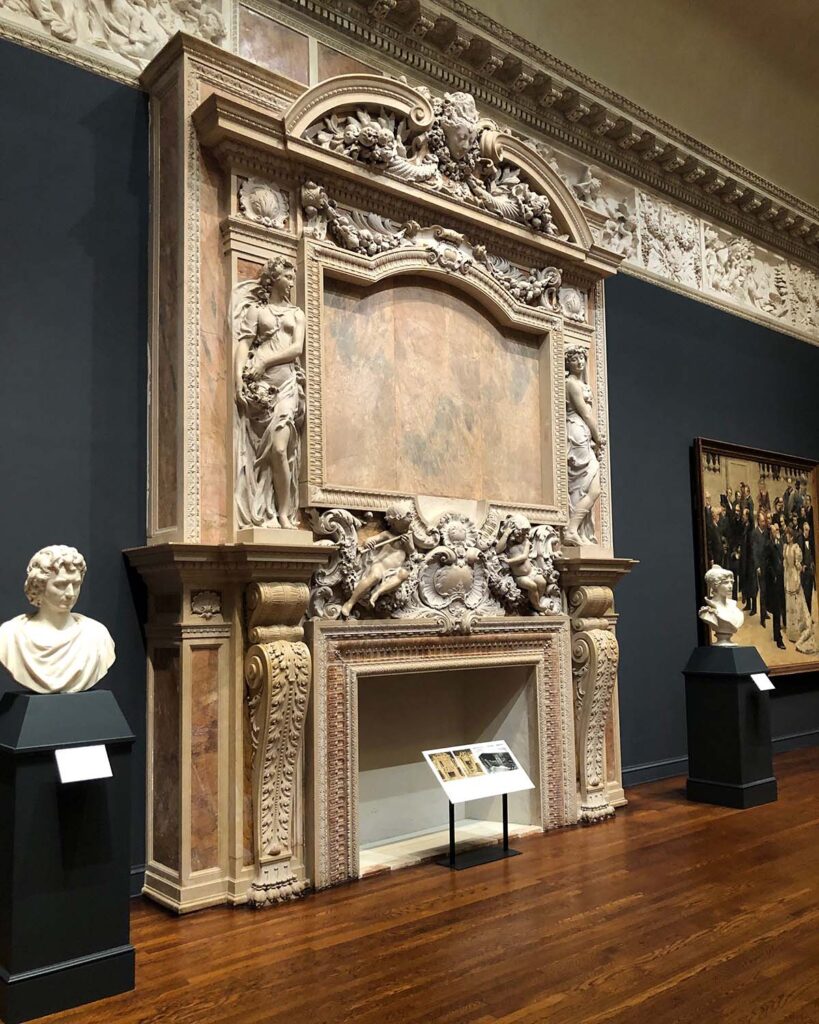 The estate also has formal gardens and beautiful walking paths. It must have been quite the showplace for the Ringlings.
We met Wes for dinner at the Columbia Restaurant in St Armands Circle – a very high end shopping district. It is a Spanish restaurant and they are known for their Cuban sandwiches and a 1905 Salad. We ordered both and were not disappointed.
Unbeknown to Amanda, Wes had been out shopping that day for some earrings to replace a pair she had lost. We think he gave them to her that evening – the next time we saw her she was wearing them!