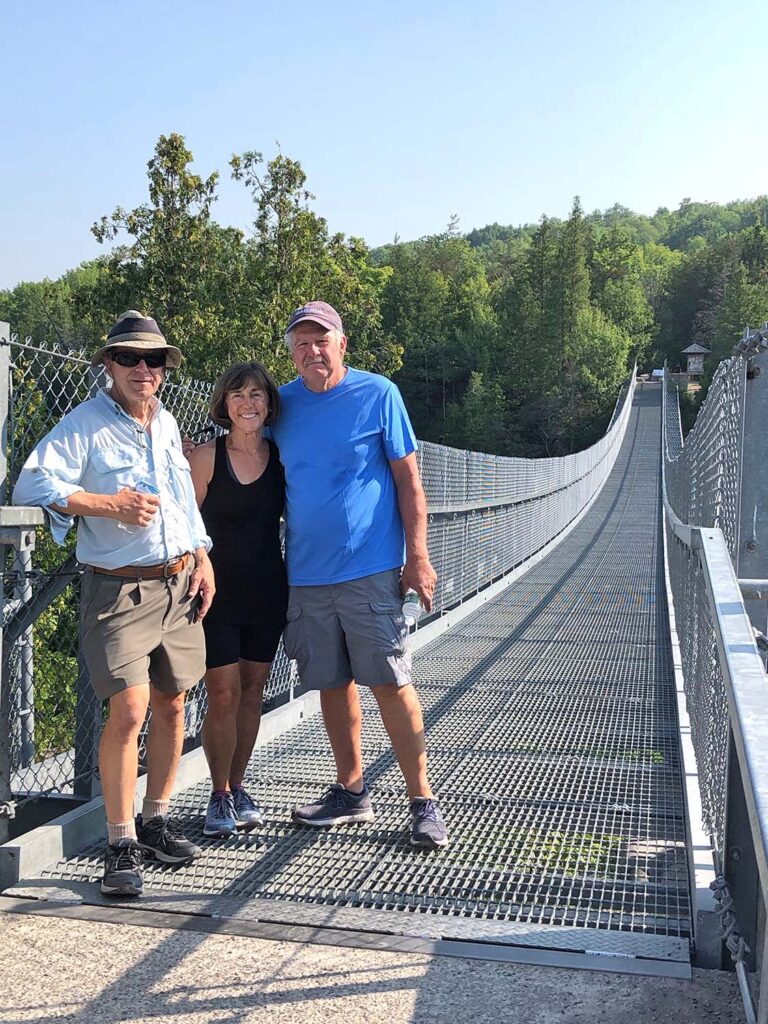 From the chocolate outlet in Campbellford, we traveled to Hastings lock and tied to the wall for the night. Maybe we should explain "tied to the wall." Parks Canada operates the locks and as a boat approaches a lock, there are cement or rock walls, usually on both sides of the waterway. One side will be painted blue at the top – referred to as the "blue wall." If a boat ties on that wall, it indicates to the Lock Master that the intent is to go through the lock. When the gates open, the boat will be directed to a place in the lock. If the wall is not painted blue, a boat can tie their lines to that wall and stay for a few hours or overnight. Depending on the popularity of a lock and adjacent town, and holidays, there are some limits on how many nights a boat can stay on a wall. A boat owner can pay for seasonal passes to go through locks and stay on walls, or payment can be made when going through a lock or tieing to a wall for the night. Some of the lock locations have electricity available which is an additional charge. Canada refers to the electrical hookups as "hydro" which was a little confusing at first. We thought of "hydro" as a water hookup, but they refer to it as Hydro-electricity. In other words, the electricity is produced by using water power.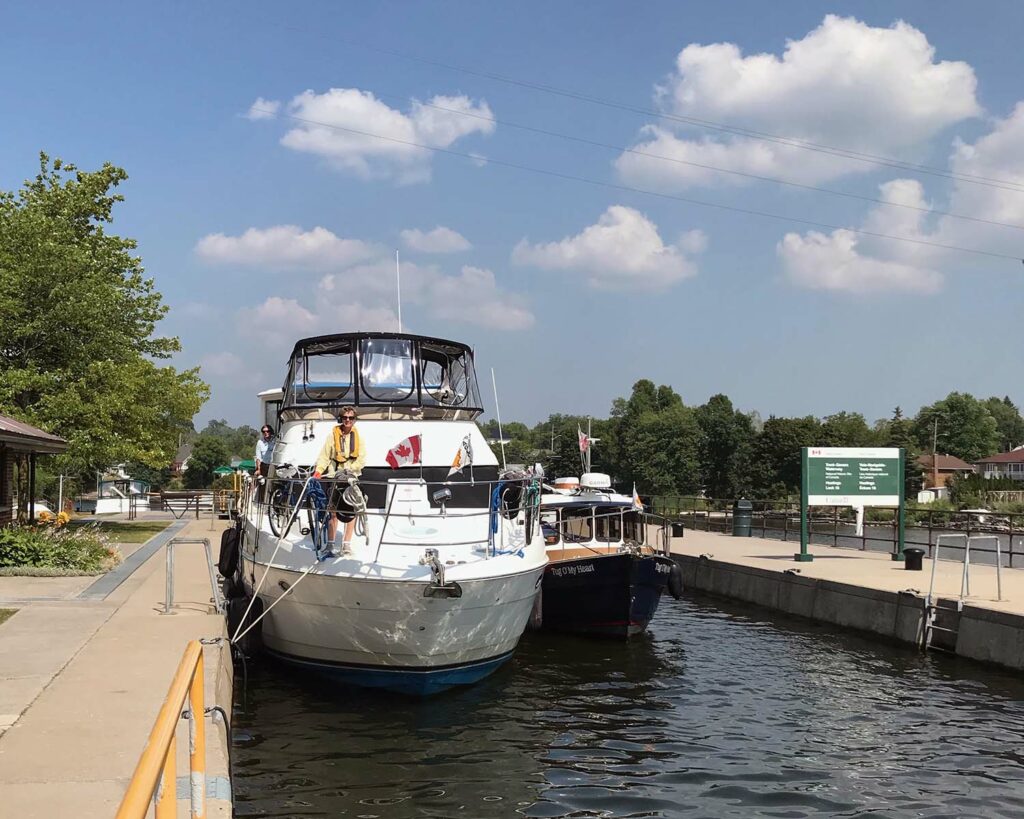 Not much there at Hastings, but we were looking forward to our next stop in Peterborough. Crabpots were our nemesis along the Atlantic coast, but wind has been a continuing problem for us on this trip. On this day, we were heading to the Peterborough Marina, which is located between two locks. We had to cross a small lake at the entrance to the marina. Wind was picking up and we contacted the marina and followed directions to our slip – or we tried. Wouldn't you know, they were directing us to the VERY FARTHEST slip inside the marina. As we approached, the wind caught us broadside and pinned us against a docking wall that belonged to a tour boat. Try as we might, we couldn't turn the boat off the wall. A lady with the tour boat company came over and told us "you can't stop here, the tour boat is coming back." Didn't say it very nicely. My reply – "Ma'm, we're trying our very best to get off your wall." Perhaps my tone wasn't very friendly. About this time, Ed gets a radio call from the marina to ask if we need any help. Duh!! Three dock hands came running and fortunately knew how to turn a boat while holding a stern line. They got us pointed in the right direction and we got off that crabby lady's wall!
Headed into the right direction, but approaching what I call a "salad bar." There was a tremendous amount of grass growing up from the bottom. When I say growing, I'm talking about stuff that is 4-5 feet high. Ed hated to be running his props in the mess, and we knew we couldn't possibly use the thrusters to turn into the slip – that green stuff would be wrapped around everything. We got close and I threw lines out to the dock hands and said "walk it in." Any of you who think this is a pleasure cruise, get that idea out of your heads! We work HARD on this trip!
So we're in the slip, right next to the sidewalk that people use to travel from a road to the adjacent park, BUT, our water and electric hookups were on the part of the dock that was behind the security gate. The hookups were secure, but anyone could have hopped on our boat! There was a concert that night in the park with a local girl as the opening act and Tyler Shaw as the main attraction. Yeah – we didn't know who he was either! Someone at the marina described him as a teenage girl heart throb. He was actually pretty good – and yes, the young girls were all up front near the stage. We must have been the most photographed boat in all of Peterborough that night. People kept stopping in front of it and having their picture taken. ??What's that all about?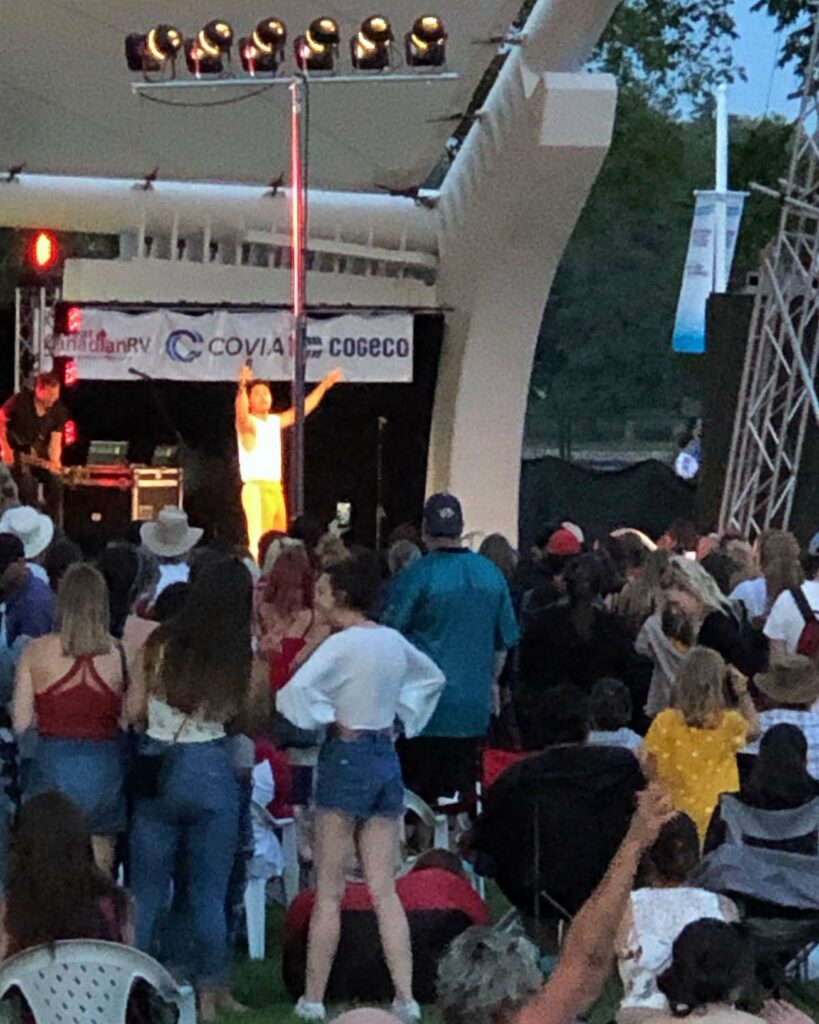 Two days later we were going through the Peterborough Lock. This is an incredible lock and one of the reasons we were so excited to be on the Trent-Severn. Imagine two big bathtubs – one at ground level, one 65 feet up in the air. Boats enter the "bathtubs" from both the top and bottom, and gates rise behind them to secure them in the "tub."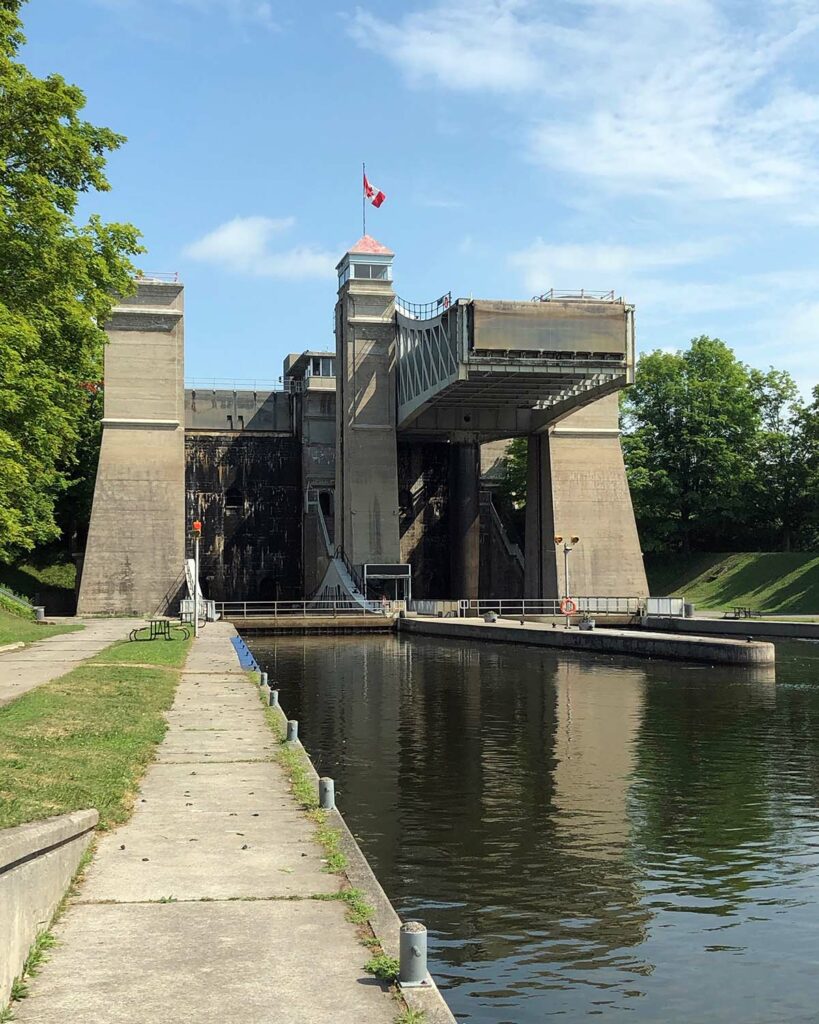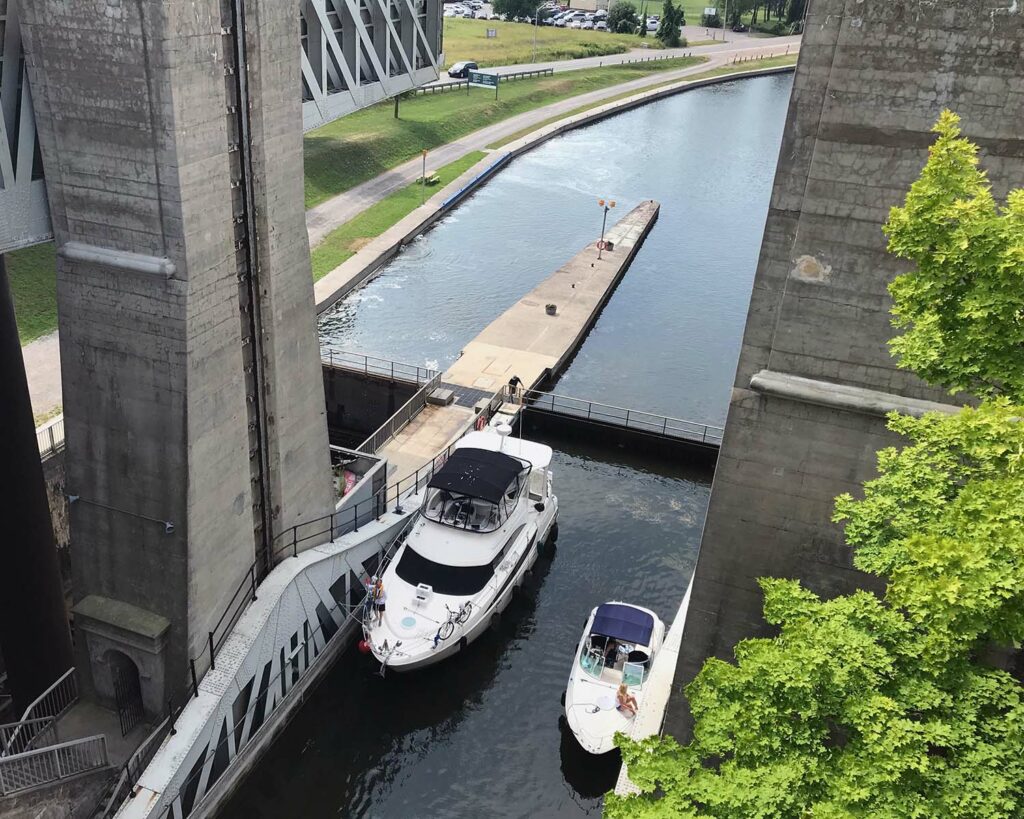 An extra foot of water is added to the top tub, which causes it to lower and to force the lower "tub" to rise. When the ride is over, a front gate on the "tub" lowers and the boats drive off. This lock opened in 1904 and is still operational, pretty much exactly like it was when built. We can just imagine some guy in a bar, drawing on a napkin, saying "so what if we used two big tubs to move boats from down here to up there!" It's amazing.