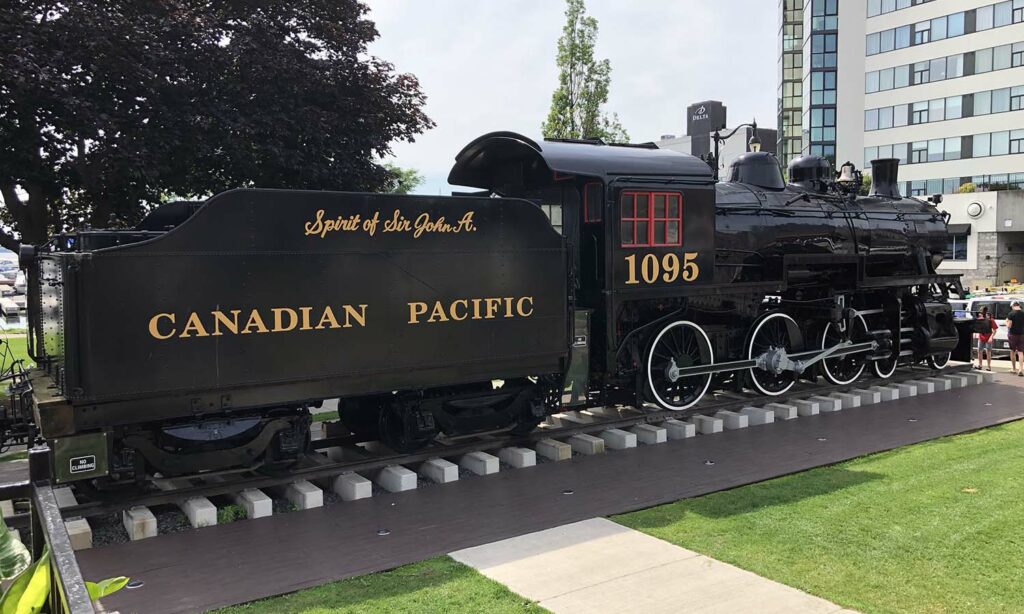 We had planned on only a day or two at Kingston, but once again the windy weather kept us from moving. We hung out with boat friends from Halftime and Tug O' My Heart. We found some more concerts to attend and an outside Movie on the Square. We got to the grocery store and the LCBO store. LCBO – Liquor Control Board of Ontario. All of the liquor stores in Ontario, Canada are owned by the government and prices are the same throughout all stores. Kind of interesting.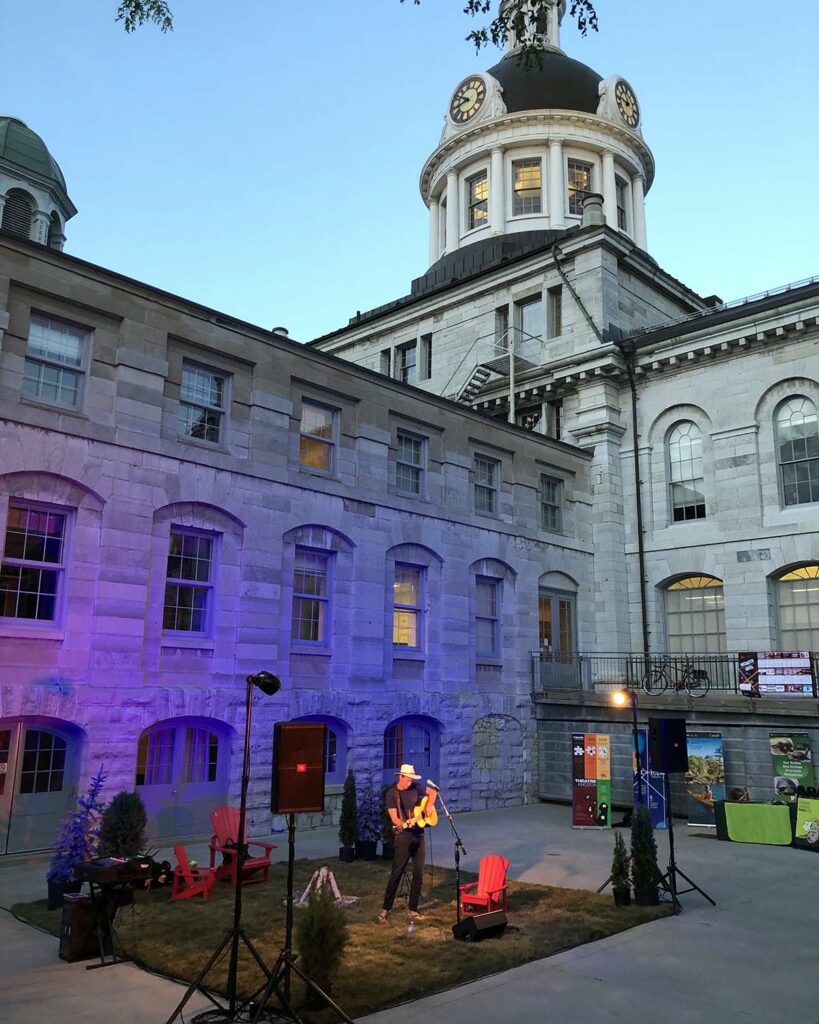 Days were going by and we were running out of things to do. Friends rented a car and we decided to go to Alexandria Bay to visit Boldt Castle and Singer Castle. To do that, we had to go thru the US/Canada border. Canadians had told us some horrible stories of going through the border – how rude and surly the agents were. Well, we experienced it ourselves. We pulled up to the agent and handed over our passports. His reply was "Windows down and sunglasses off." He then proceeded to ask questions in rapid succession, seemingly to try and trip us up on our answers. Let's just say we didn't feel very welcome returning to our own country.
That business behind us, we headed to Alexandria Bay to take a tour boat over to Singer and Boldt Castles. Sad to have to buy a boat ticket when we're still paying a mortgage on a boat!
Singer Castle is on Dark Island in the St. Lawrence Seaway. It was built by Frederick Bourne who was the 5thPresident of the Singer Sewing Machine Company. It was owned by the Bourne family until the 1960's and was known at that time as The Towers. It is four stories and has 28 rooms. Now for the interesting part – it has secret passageways throughout the house, tunnels to boat houses, and a dungeon. Not sure what that last item was used for! THEN we found out that people can actually stay there overnight. There is a double suite to accommodate up to 8 people. It includes dinner and breakfast AND guests have the run of the castle and grounds including all the secret passageways. If we had known that, we would have gotten some other Looper couples together and stayed for a night. Maybe NEXT time!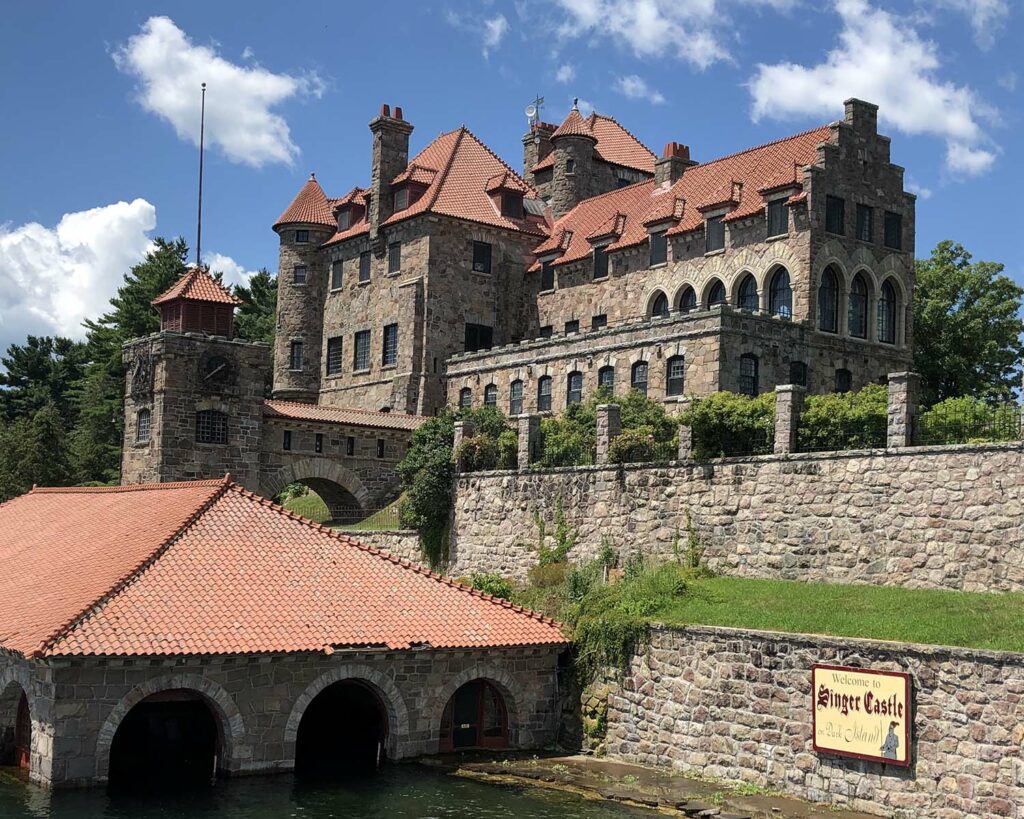 After Singer Castle, the tour boat took us to Heart Island, home of Boldt Castle. Unlike Singer Castle, construction of Boldt Castle was never completed, nor lived in by the Boldt family. George Boldt was a self-made millionaire, working his way up from a hotel kitchen worker to the proprietor of the Waldorf-Astoria Hotel. He and his wife Louise brought many new practices to the hotel business (like providing sheets!) that forever changed the way hotels operate. From Wikipedia:
He built Boldt Castle on an island in the Thousand Islands area of New York State. The enormous castle was intended as a gift for his wife, but when she died suddenly in 1904, construction was halted.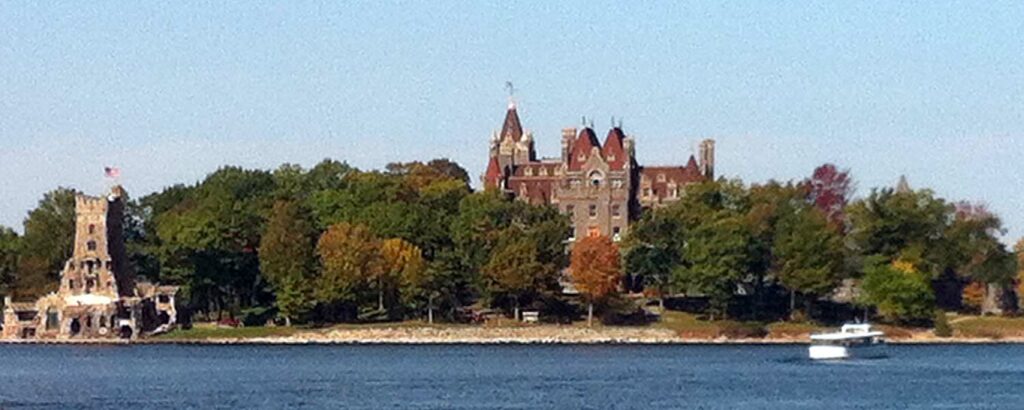 Louise died in January. The completed home was to have been presented to her on Valentine's Day. George Boldt never returned to Heart Island. The castle was vandalized over many years, but is now owned by the Thousand Islands Bridge Authority and had been restored according to the original plans. The completion of the Castle continues. It is an incredibly beautiful "home" and it is a monument to the deep love that George had for Louise. There are heart designs incorporated into numerous design elements throughout the castle. There is a Boldt Castle app which you can download for a tour of the castle.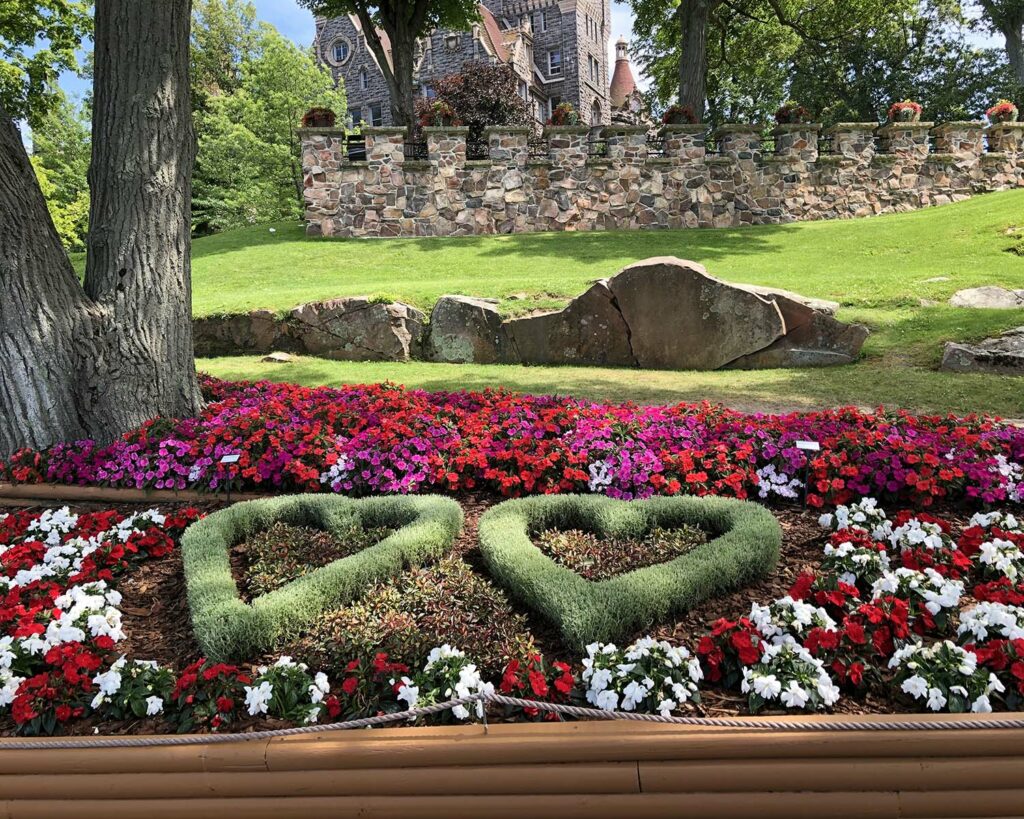 Returning to Canada, we waiting for over an hour to get through the Customs Station. There were multiple gates open, but there was a long line of cars in each. The best we can figure is that there are a lot of Canadians who spend the weekend in the States! Unlike our entry to US, our re-entry to Canada was businesslike, but very cordial.
Checked the weather when we got back to the boat – good to go for tomorrow!