What goes up, must come down.  We had made our way to Ottawa, via the Rideau, and we could have made a mini-loop by continuing to Montreal and then into the St Lawrence Seaway and into the Thousand Islands, but perhaps that will be saved for another trip.  Instead we planned to return on the Rideau and stop at locks we had bypassed along the way.  Such a plan didn't happen.  We stopped at many of the same locks, just because that's how the days happened, but we were able to do more exploring.  So here is a look at some of the Rideau locks.
Black Rapids– This lock is off a roadway, some houses about a half mile away, but not close to anything else except a bike path. Many "land people" go there for picnics, and boaters enjoy the breezes in the shade.  It's the kind of place that people congregate to talk because there isn't much else to do.  Here we met some girls who were kayaking.  Two were friends from Florida (1 originally from Canada) and the other was on her own.  They all had tents and were kayaking the entire Rideau, but only one direction.  They wanted a tour of the boat, which we were glad to give, and they were grateful for the additional offer of some cold libation.  These were tough ladies.  We had seen them along the canal, and were often surprised at how quickly they caught up to our location.  It was also here that we met the mother of the computer technician for the light show in Ottawa.  She frequently bikes to the lock to have "a bit of company."  We guessed she is in her late 70's or early 80's – still going strong.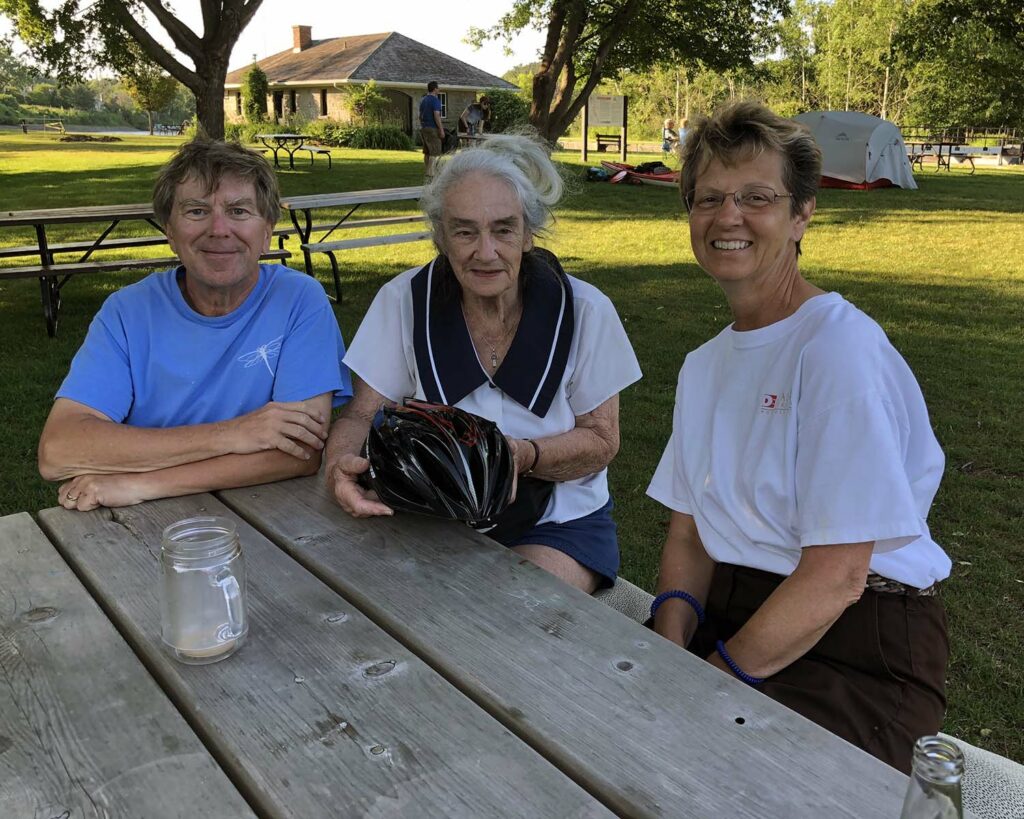 Merrickville– a charming little town that is a tourist favorite. In the warm months, the flowers are abundant outside the stores and restaurants. There was limited space available when we arrived, so we were tied to a wall that was parallel to a street. A storm blew in – literally – and the wind and waves hit us broadside on the boat. We half expected to be ON the road if the storm had lasted much longer!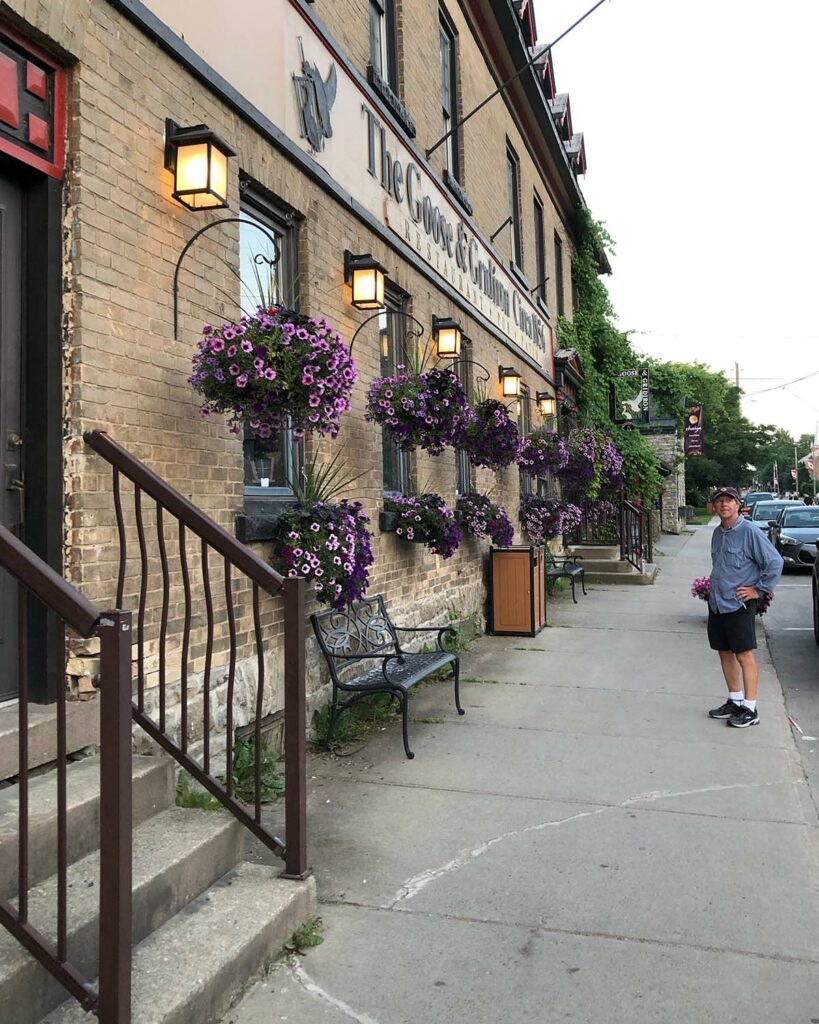 Hurst Marina– Not a lock, but a necessary stopover for us to get water and to do laundry. We look outside the boat, and here comes another Meridian, the same model as ours, but a different year. We go to meet the people and it turns out they are from Isle of Palms, very close to where we had bought our boat in Beaufort, SC. We felt a little embarrassed when we told them where we had bought the boat, because they had gone all the way to Ottawa to buy their boat. They were taking it back home!
Smiths Falls– Yes, that is spelled correctly. Several years ago, Canada dropped the apostrophes from City/town names.  Lots going on there over the weekend.  We ate at a restaurant called "My Place,"a little European type café with wonderful food, cooked to order. Can't be in a hurry – it's a dining experience.  The Heritage House Museum is a historic house depicting the upper middle class life of the Bates Family.  In addition to the household furnishings, there are other exhibits such as the RCA  exhibit.  RCA vinyl records were once produced in Smiths Falls.  Of special note:  the front and back of the house are identical, as it was considered rude to receive guests at a "back" door.  One side of the house faced a waterway, and the other a driveway.  Guests might enter either way and the Bates did not want to offend their guests.  Additionally, the house features a 2 story privy.  Mr. Bates became very ill shortly after completing the house and he was confined to his bedroom on the 2ndfloor.  The higher privy was added for his convenience.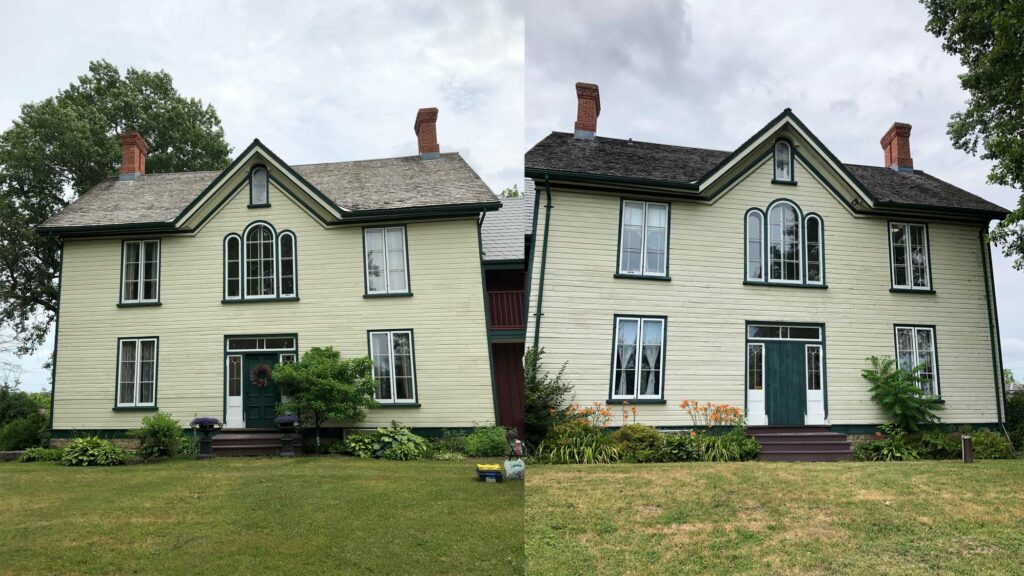 Tweed– a place I never imagined we'd be visiting. Located in a former Hershey Chocolate factory, Tweed grows cannabis and in October intends to start producing cannabis chocolate bars. The tour was actually very enlightening – never knew there was so much involved with growing "wacky tobaccy." It's grown under very strict supervision and only the female plants are used. If a male plant should invade a growing room, it can ruin that entire crop. And a female plant can "change into" a male plant, hence the strict supervision of the plants. Who knew?! Connoisseurs can apparently detect different fragrances of various types of cannabis, each providing a different experience for the user.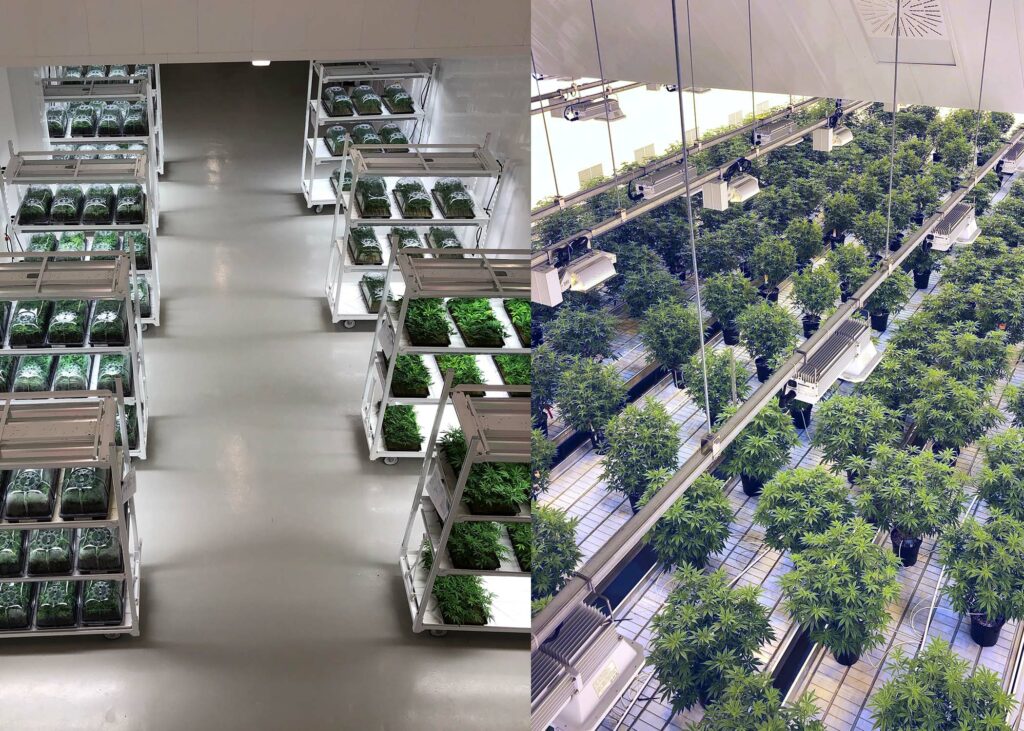 Car Show– A weekend car show caught Ed's eye. Always interested in those classic cars.
Tour of the Town– we joined a walking tour of the town on Saturday morning.  Not only was the guide able to give us info, but several of the other participants were long time residents and we got "the inside scoop" on events that had occurred over the years.  For example, a daughter of a prominent citizen had studied medicine and also went to Europe to train as a surgeon.  Highly educated, she was not able to practice when she returned to Canada as females were not legal to be licensed.  As a joke, a neighbor in town called on her to deliver kittens from his cat.  She did so and then promptly sent him a bill for $1500.  As her brother was a lawyer, the neighbor had no choice but to "pay up."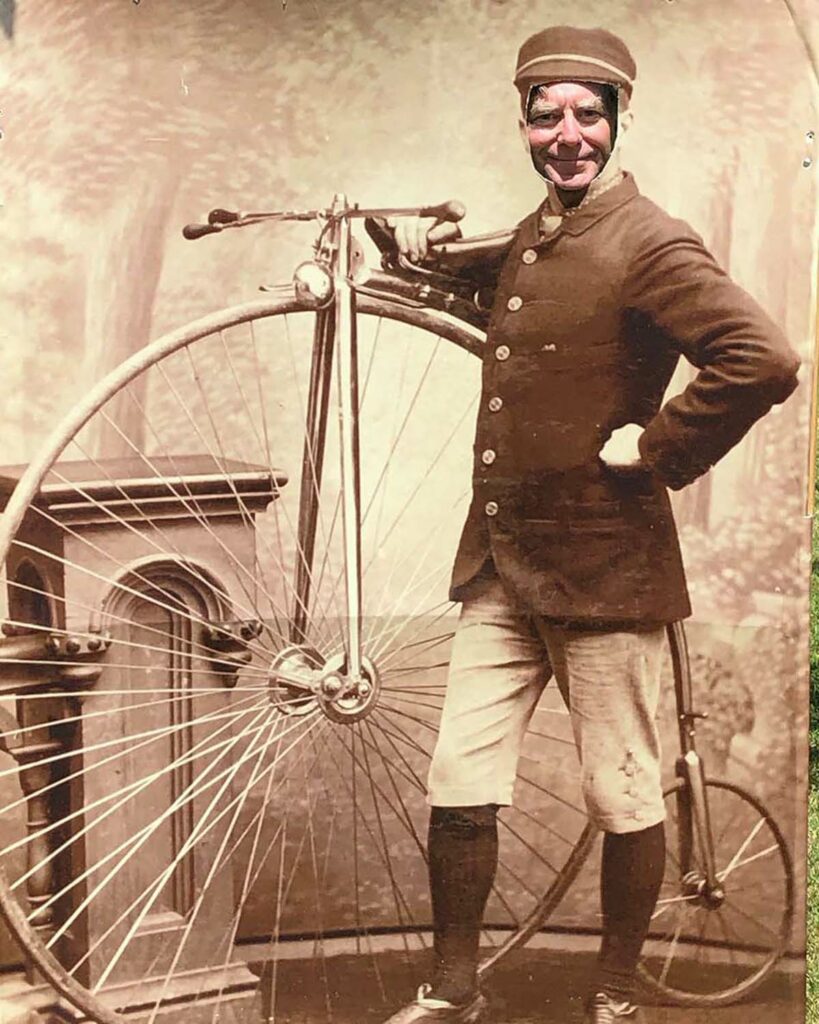 Library – On the town tour we learned about the grants that were offered by Andrew Carnegie to build free public libraries in Canada, US and various other countries. There are 111 of them in Ontario alone. Until this was done, libraries were usually accessed only thru a paid subscription which limited the access to mostly people of financial means. Carnegie credited much of his success to what he had learned from reading as he grew up, and he wanted this opportunity to be available to as many as possible. The early libraries were designed and built in a variety of architectural styles, but the plans were eventually standardized to a Beaux-Arts design such as the one in Smiths Falls.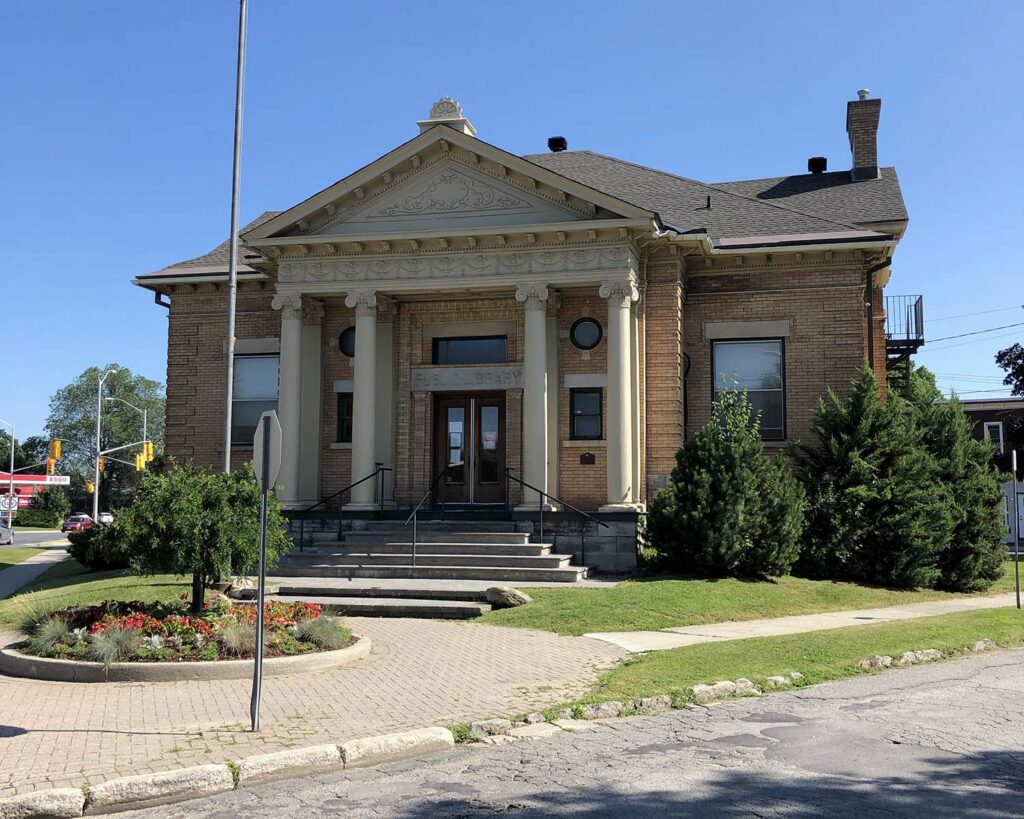 Le Boat Headquarters on the Rideau – these are houseboats for rent.  The boats are big rectangles surrounded by rubber bumpers.  Think of bumper cars, but boats.  People who have no boating experience can rent these to cruise the Rideau and strike terror into everyone who sees them coming! I think they get a training video and someone takes them through the first lock and then leaves the people to fend for themselves.  We tried to avoid being in locks with them as we saw more than one mishap. 
Jones Falls– Shortly after we tied to the wall here, we looked out to the other side of the lock and saw a boat that was almost "toy like."  Two fellas were in it and they tied to the far side of the wall.  Couldn't resist a closer look.  The boat was about 4 ft wide and 12 feet long, made of plywood. Inside on either end was storage space filled with plastic bins.  The inside center was flat and empty except for two foam mats which folded up on either side – the sleeping accommodations!  There was room for two people to sit – one in front and one in back – a 3 horse power motor, and a small bimini over the back seat. A makeshift "sail" was onboard to use if the wind was coming behind the boat. Todd had made the boat – cost about $300.  Turns out that his canal and mooring passes for the season cost more than the boat!  He was taking his friend to Kingston, then was expecting his wife to join him, but only for a couple of days!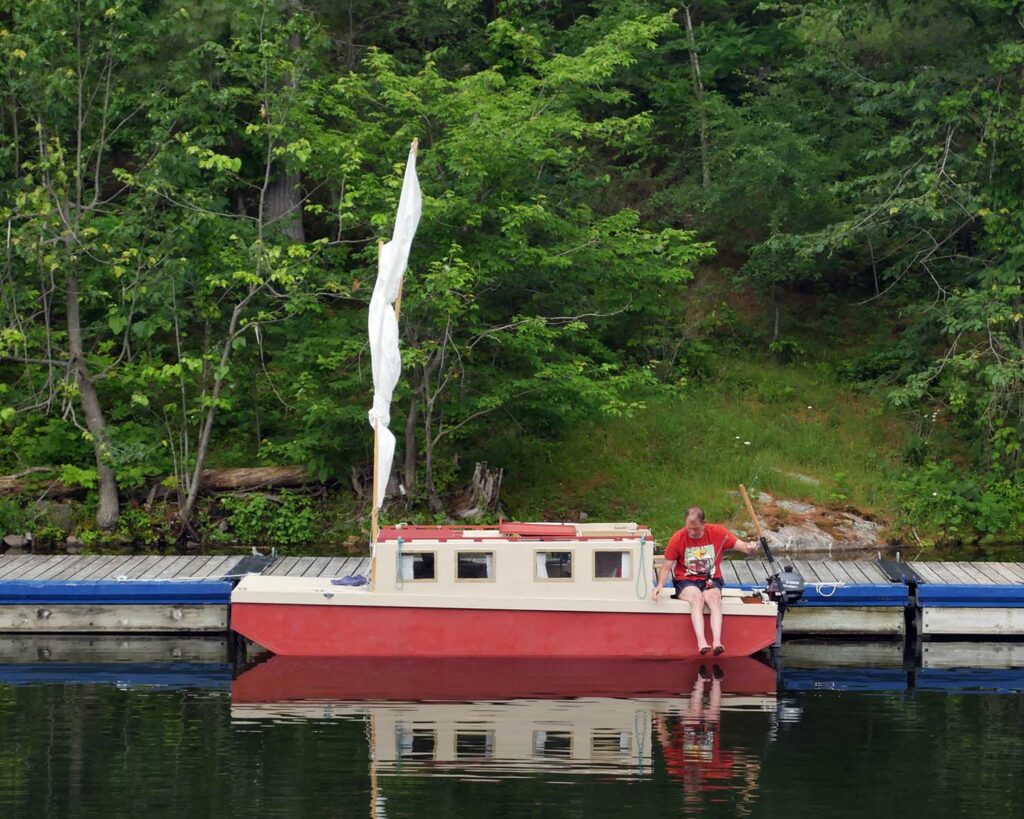 Davis Lock– The description for this lock is "an isolated, quiet, and beautiful setting." Right on all accounts. We were surprised to find several boaters here who meet at the lock each summer to spend a few days together, enjoying each others' company. We attempted to go for some walks, but once we left the Lock property, the bugs were swarming around us. It was like being in an episode of Twilight Zone.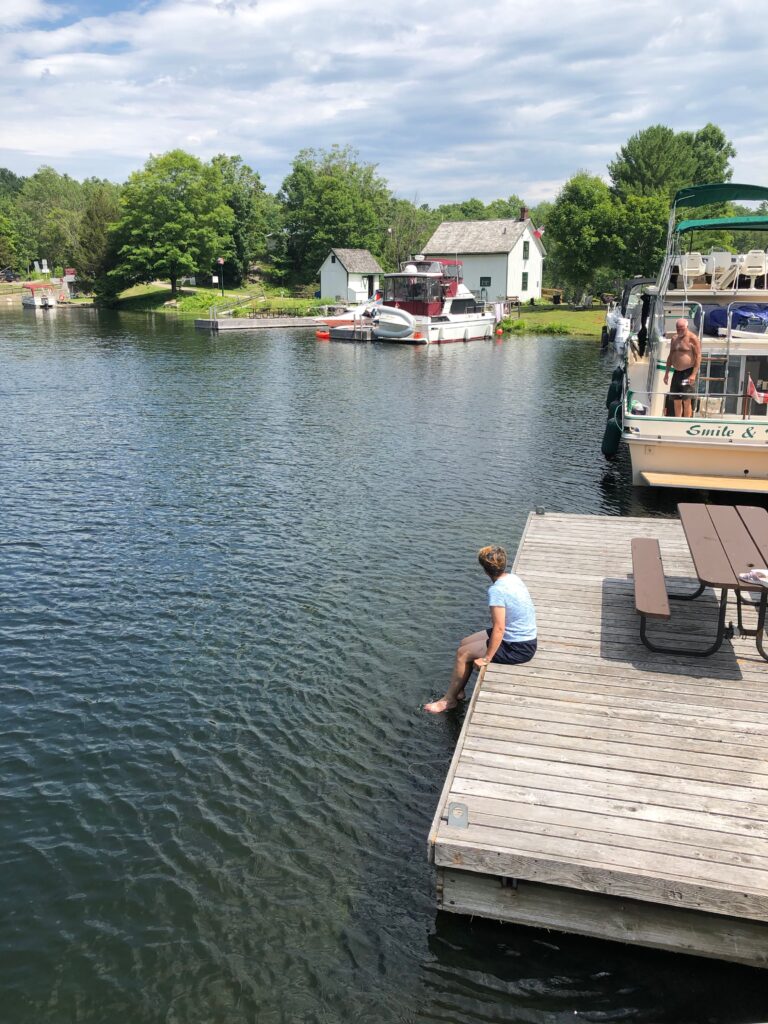 After leaving Davis Lock, it was back to Kingston for a day or two, or so we thought.