All rested from The Crossing and ready to go. We caught up with Patty and Todd on Alcyone. We had been in communication with them, and Todd has quite the Looper story to tell. After extreme headaches for a few weeks, it was finally determined that he had a hematoma on his brain and required surgery. Not too many people can tell of brain surgery while on the Loop. Without going into details, we can say that he recovered well from the surgery, done just before Christmas, and continues to do well. But their Looper trip is on temporary hold. Our objective while in Clearwater was to find fun things to do with them and enjoy the company of good friends.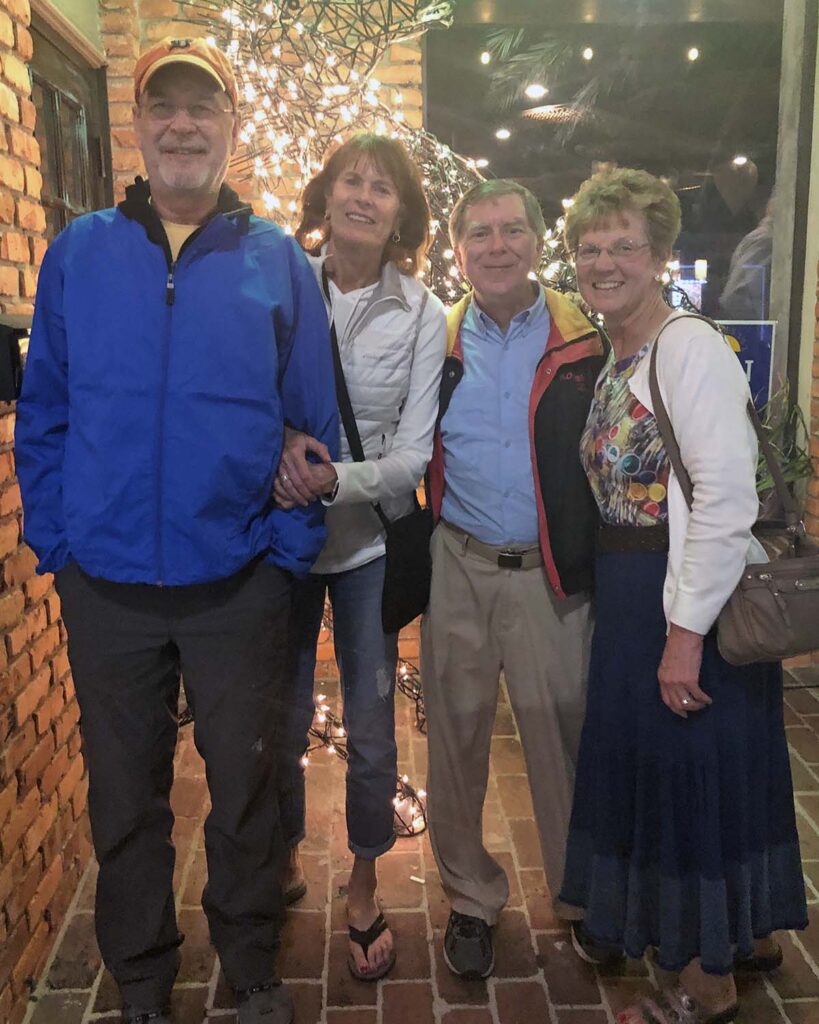 First on the list was to go to Tarpon Springs, which we had bypassed in favor of docking at Clearwater. We hopped on the Jolley Trolley, which took us the 14 miles for a cost of $2.50 – for both of us! Honey Queen went with us and Alcyone was to join us a little later. First stop was the Tarpon Heritage Museum to learn the history of this town. It was settled by Greek immigrants and they brought with them their skills for sponge diving, turning Tarpon Springs into the Sponge Capital of the World. These are natural sponges that are harvested in the Gulf of Mexico. The town is still very Greek, as evidenced by the wonderful Greek restaurants and bakeries. This history was shown in various exhibits in the museum. Also shown were some beautiful murals by Florida native Christopher Still. They depict life in Florida and explanations of the paintings told us of so many intricate details in the paintings that are not at first obvious.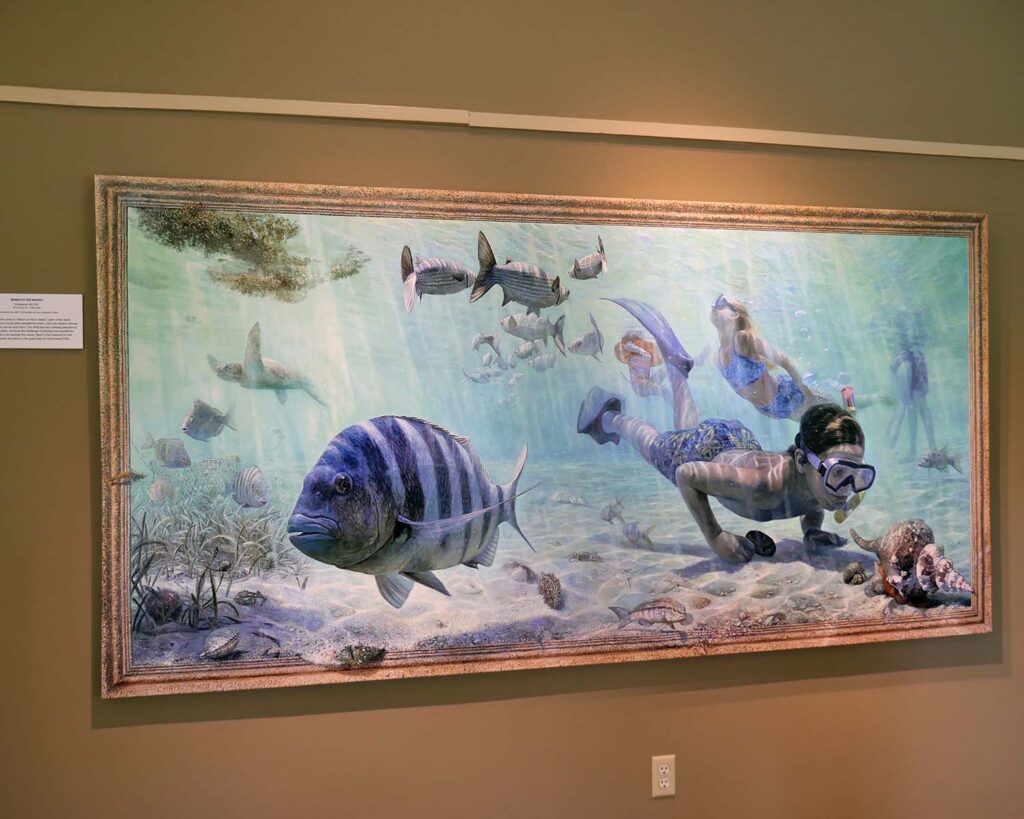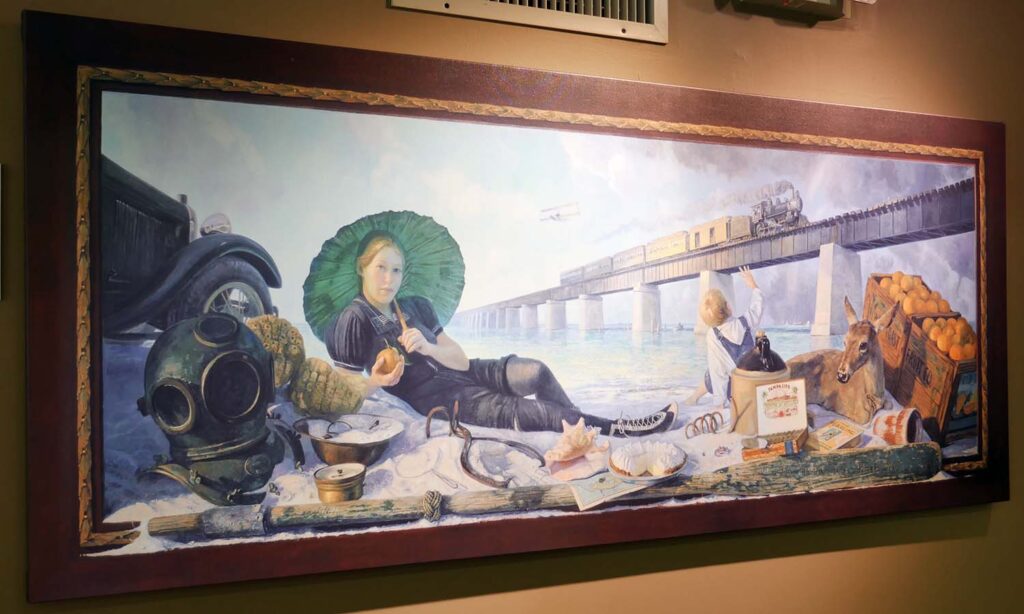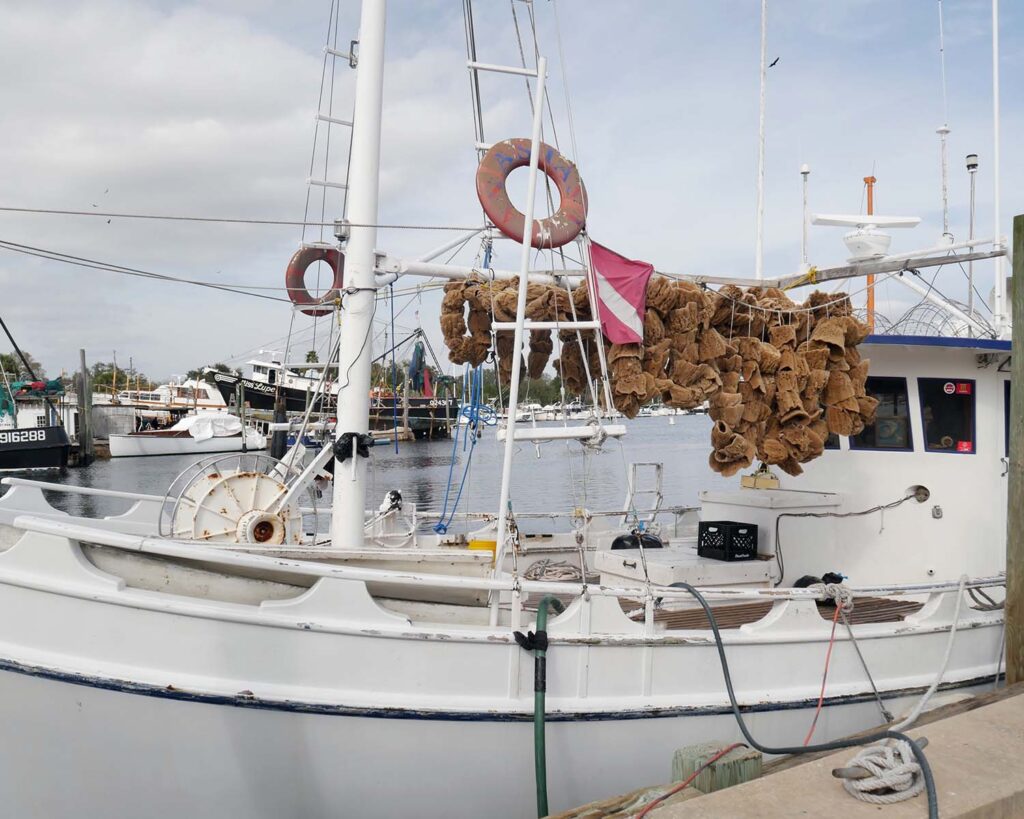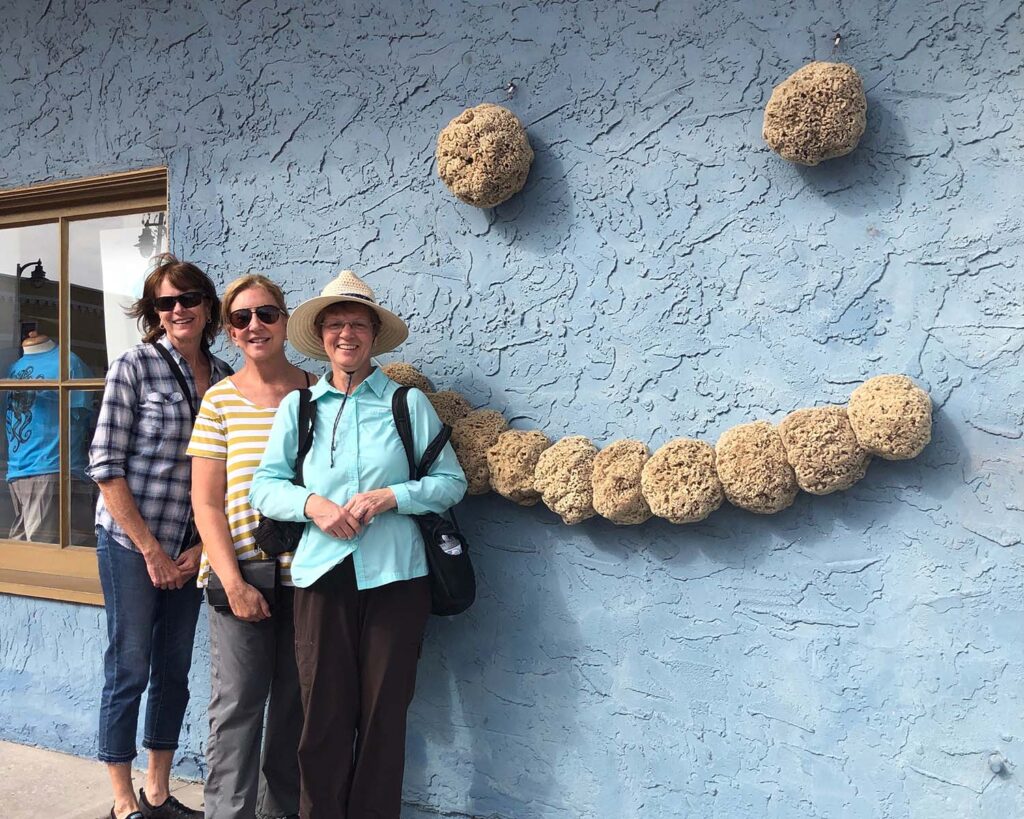 Included in our admission was a visit to The Safford House. The story of the house began in the 19thcentury when Florida was on the brink of bankruptcy. The governor sold 4 million acres of land to Hamilton Disston, a land developer. He paid all of 25 CENTS per acre. In 1882, he deeded several thousand acres to the Lake Butler Villa Company, of which Safford was president. Safford moved to Florida with his family and bought a modest home. He worked at developing the land, but was also very community minded, building the first school and donating land for several churches. His family outgrew the modest home and several additions were made, making it a rather grand home for the time. His sister Mary Jane moved in with his family, of significance, because she was one of the first female doctors in Florida.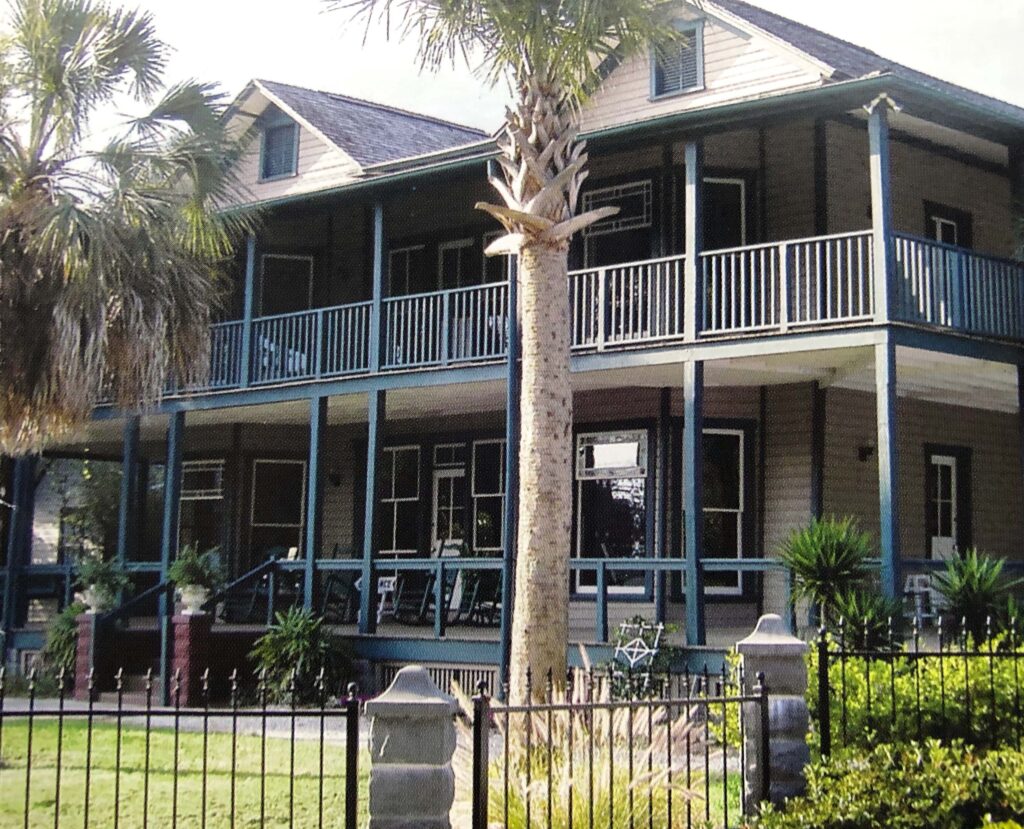 Of course, lunch had to be at a Greek restaurant. We went to Hellas, which was not only a wonderful place for lunch, but had an attached bakery with LOTS of Greek pastries that were fabulous. Not a time to be watching calories.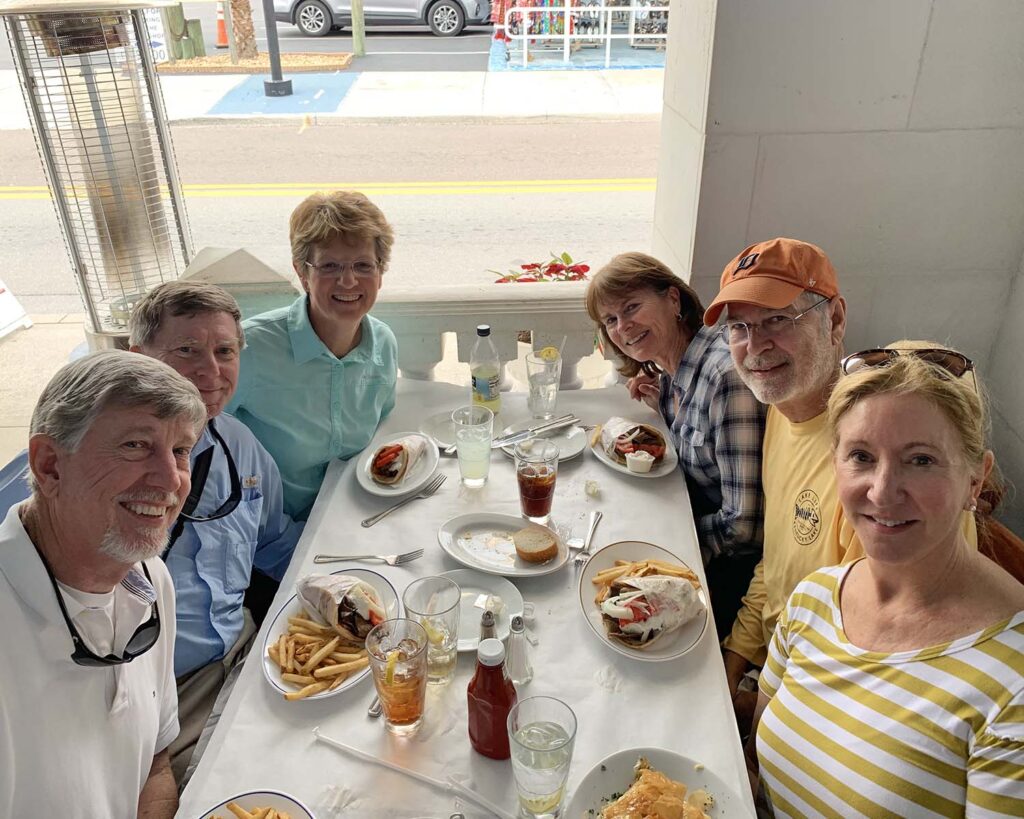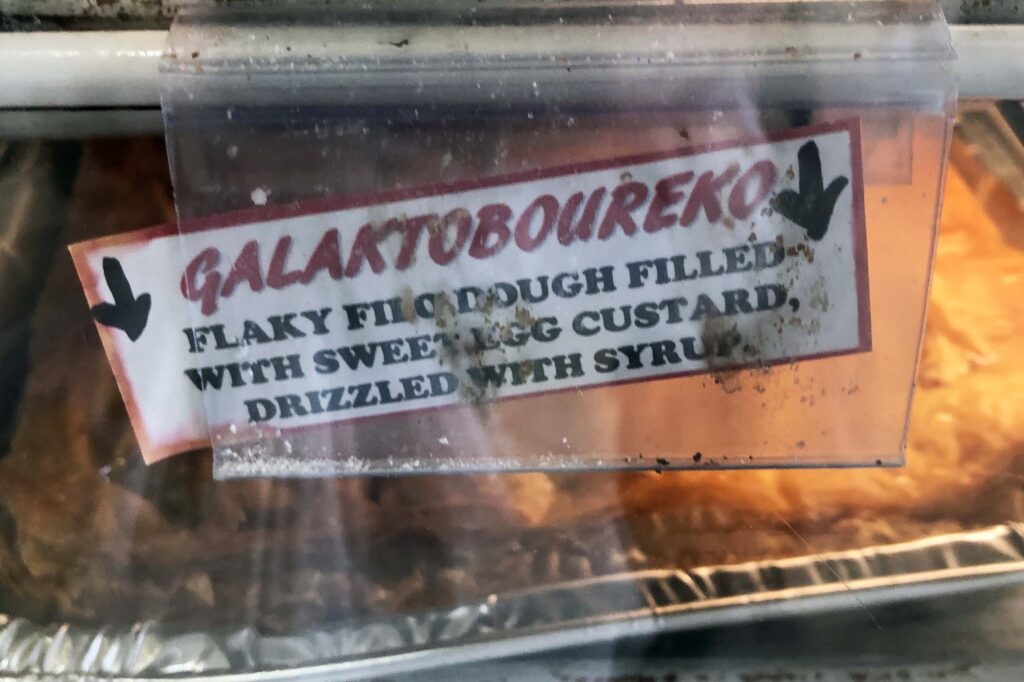 After lunch, Ed and I made a side trip to St. Michael's Shrine. The small shrine was built as a result of a mother's promise to St. Michael to build the shrine if her son could be cured. The son was cured and the shrine was built. It has reportedly been the site of many miracles. It's a beautiful story, and I encourage you to google it to get all the details.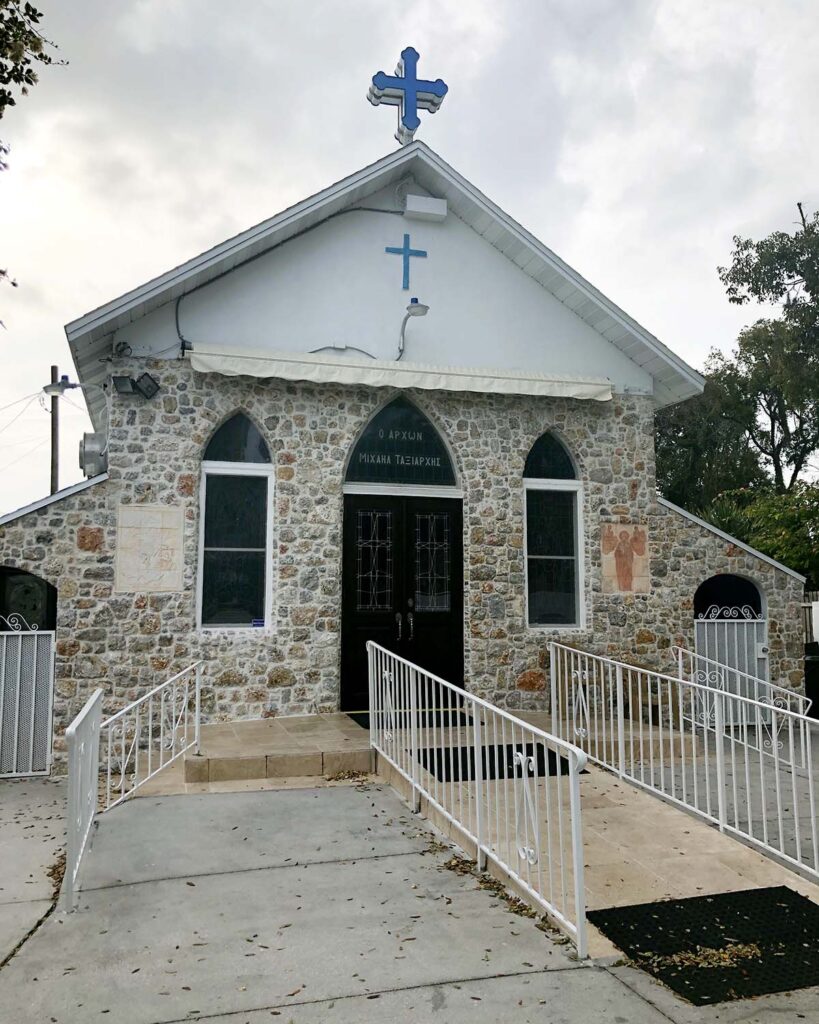 That evening we watched the Pirate Ship come into port as we enjoyed docktails at sunset. Life is good.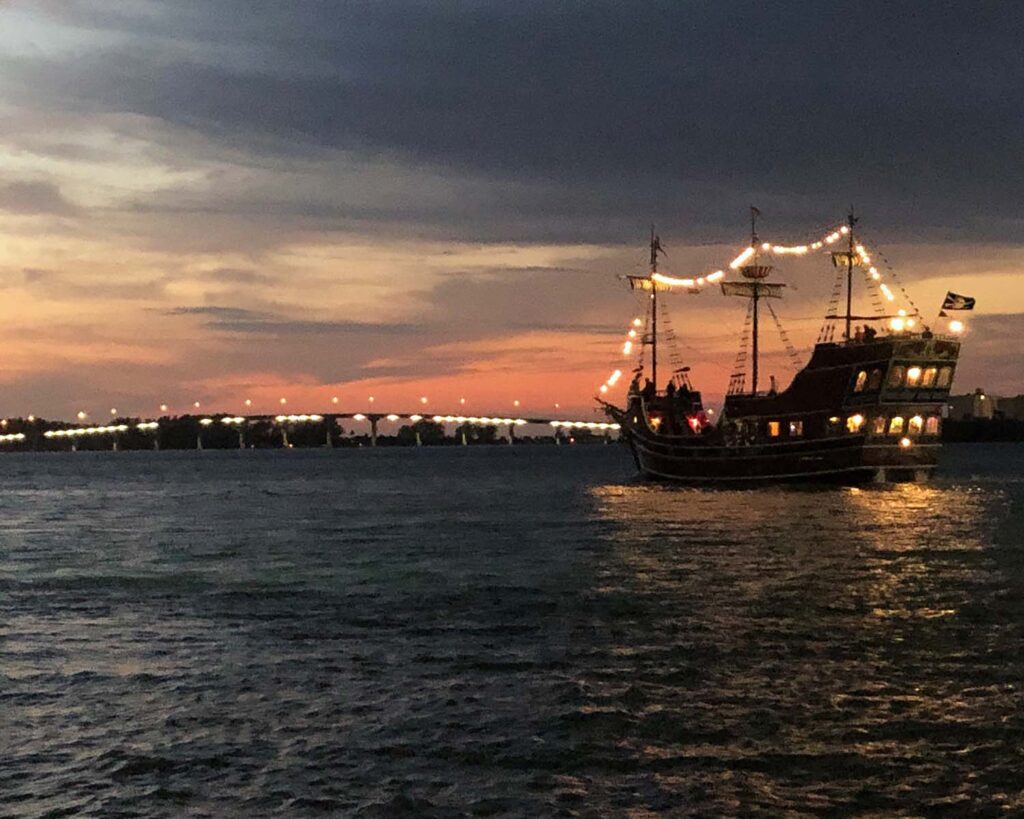 The next day we walked around Clearwater to just see what was there. For our evening entertainment, we invited friends over for a little "guitar pickin'" and a bowling tournament on our boat. You read that correctly! It was actually Wii bowling, and it was great fun. Not too many Loopers can boast of holding bowling tournaments on their boat!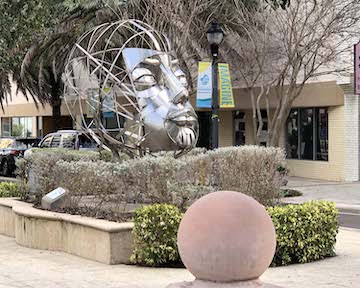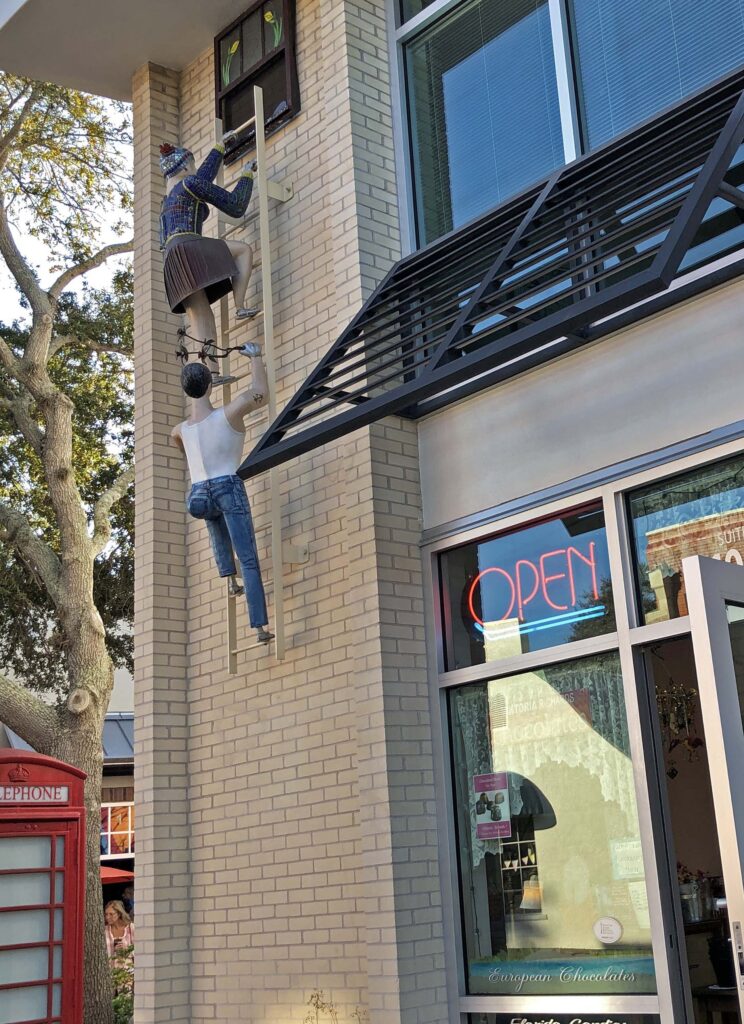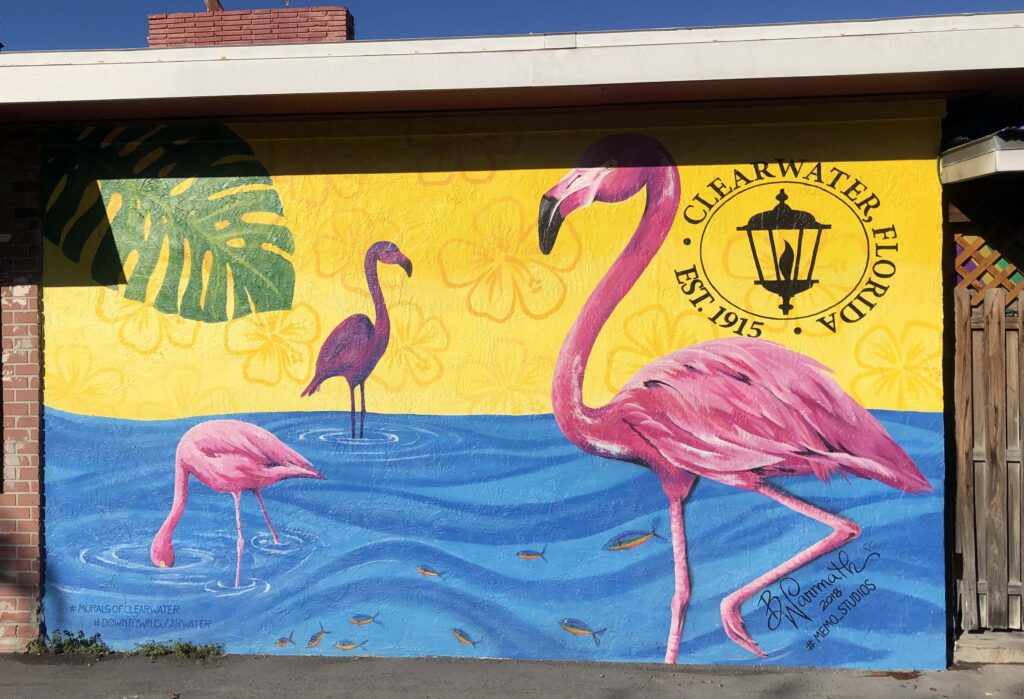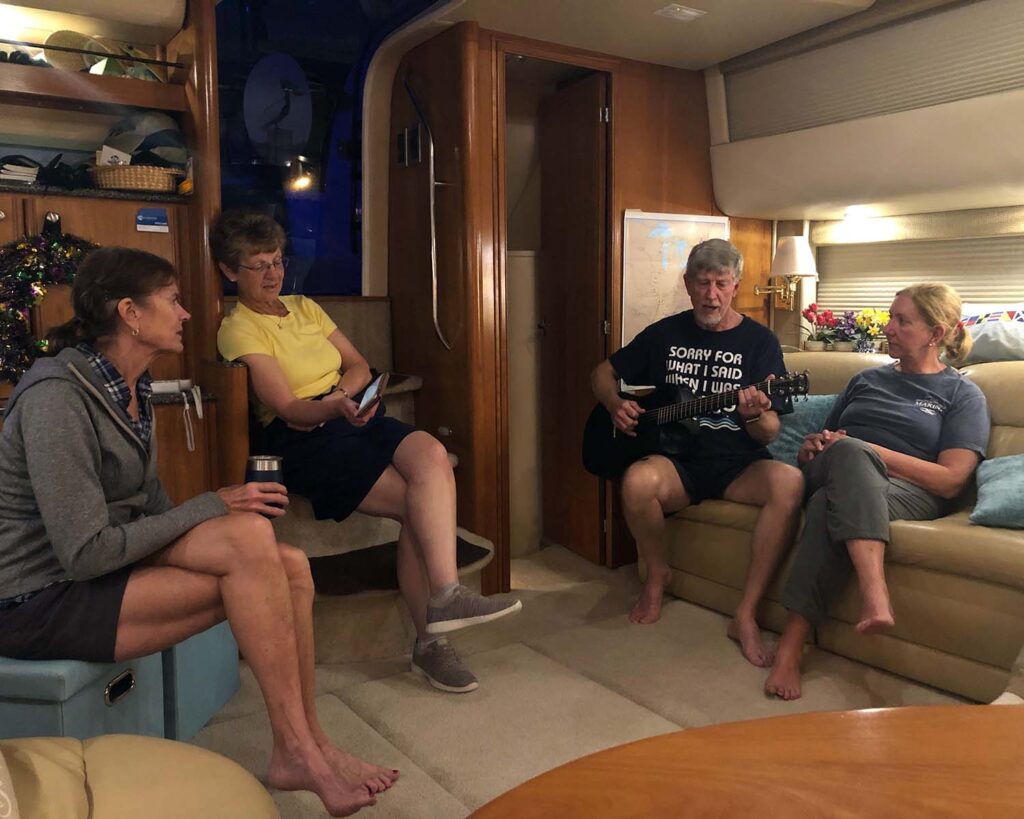 On Friday we visited Clearwater Marine Aquarium. This is a rescue aquarium for injured marine animals. It is home to Winter the Dolphin, star of the movies Dolphin Tale and Dolphin Tale 2. When the animals can be rehabilitated, they are released back into the water, but if they can't be rehabbed to be self sufficient, they have a permanent home at this aquarium, or a similar type facility. It was such a joy to see dolphins, penguins, turtles, seals and other water animals as their trainers worked with them to show off their skills. The Aquarium has lots of visits from children who have lost limbs and they get special "audiences" with the animals – up close and personal. What an incredible experience it must be for them.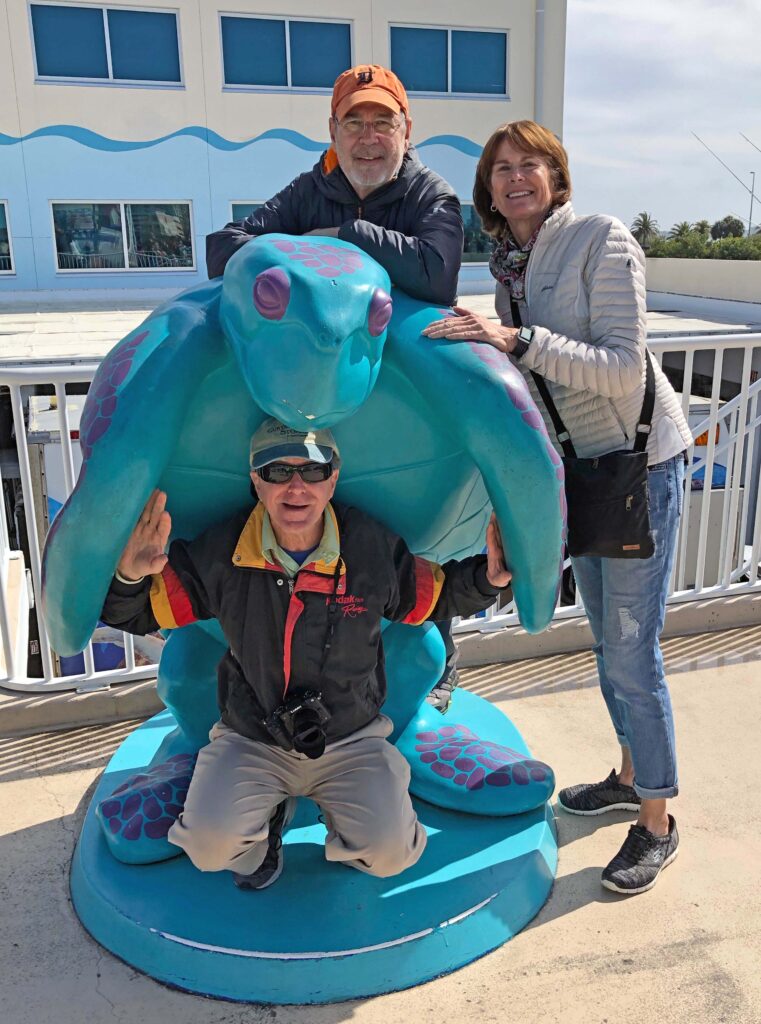 On Saturday we were reunited with some former neighbors from Augusta – Bernie and Vicki. They retired to Dunedin, a charming town just north of Clearwater – just a short bike ride away. SO fun to catch up with them. They drove us out to the Tampa Riverwalk area, a beautiful area, bustling with activity. We started at the Armature Works, a restored warehouse that is now a "foodie hotspot." We had lunch there and then started walking the 2.6 mile Riverwalk. Along the way we had views of the University of Tampa, created out of the Tampa Bay Hotel, which had ornate Victorian gingerbread and Moorish designs of minarets, domes and cupolas. There were some park areas, including one that was hosting some kind of Fair for 4-legged friends – hence the reason that we saw SO many dogs while walking. The views were lovely and when we reached a marina at the far end, we even found some Loopers, who knew someone that we knew– imagine that! It was a wonderful afternoon, spent in the company of long missed friends.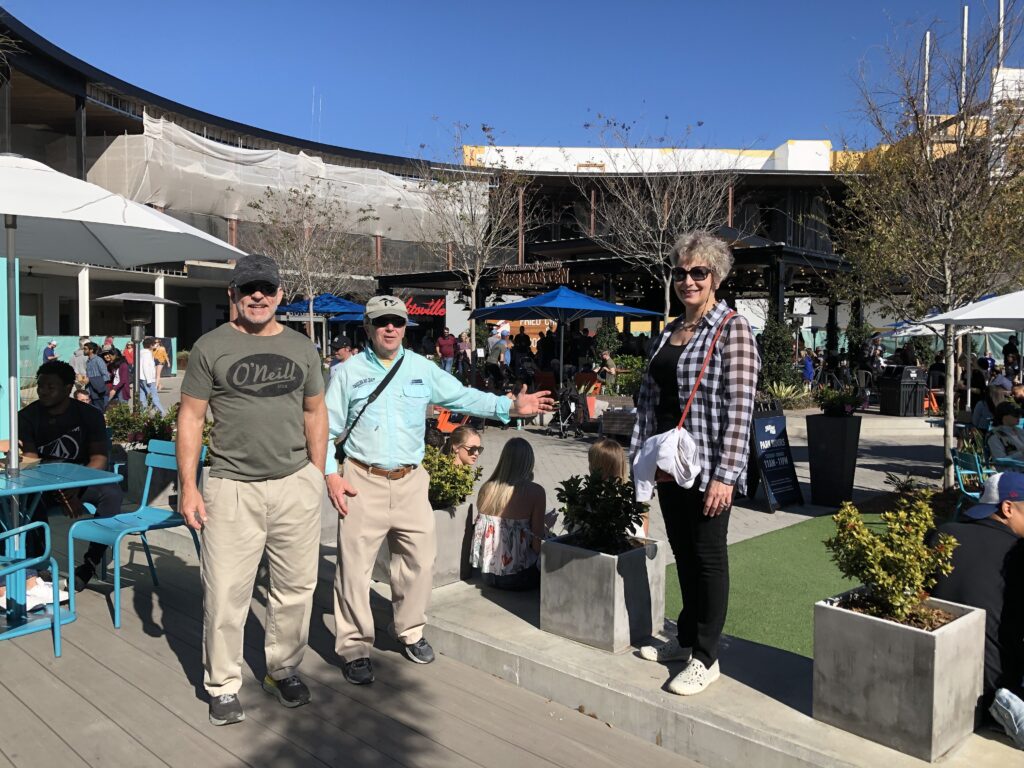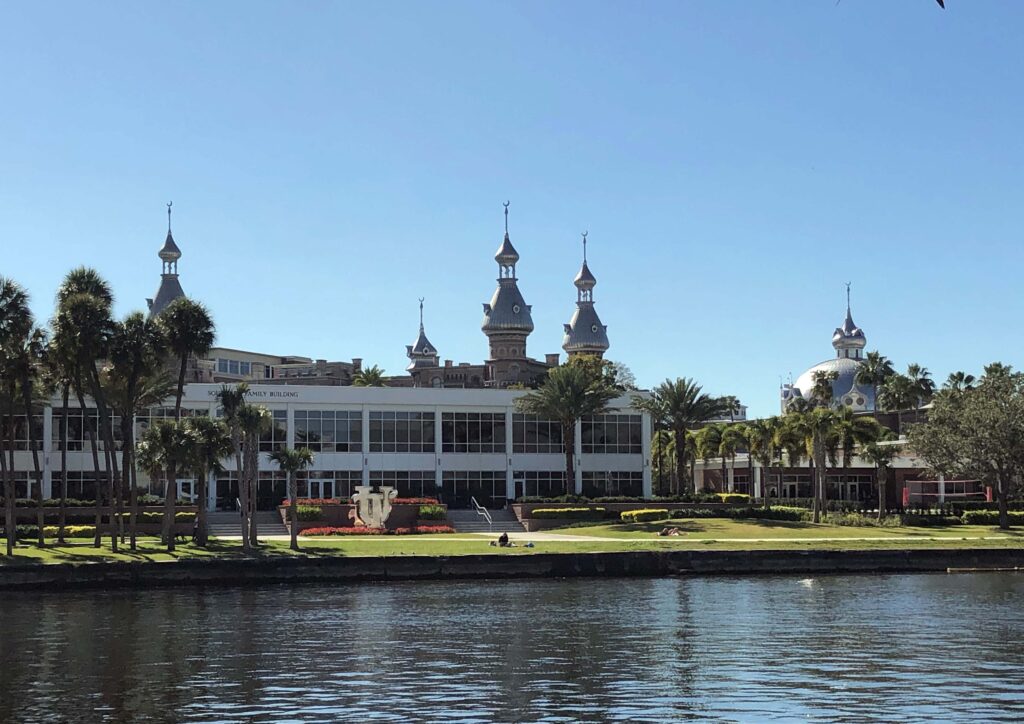 We went to church the next morning at St Cecelia's. It is a uniquely designed church in the shape of a V, with the altar at the point and seating on each side. People seated on one side of the church, can't see people on the other side. I asked a long time parishioner if there had been an addition to the church, but he told us that this was the original design.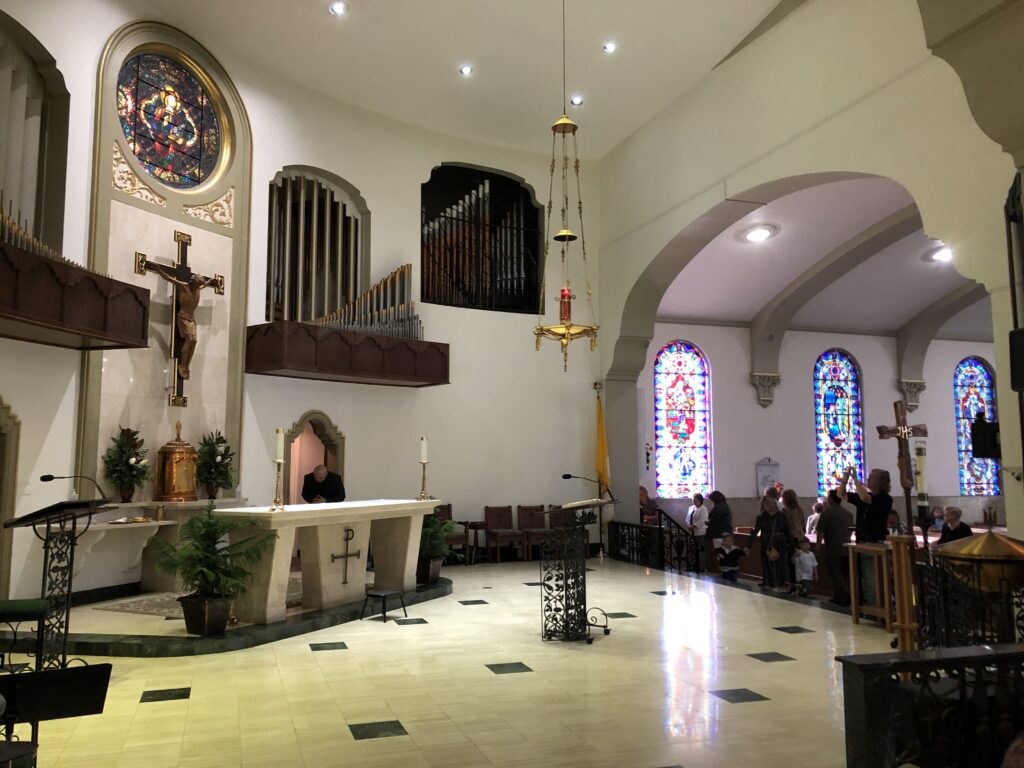 Later in the day, we took our bikes to Dunedin and we rode the Pinellas Trail with Bernie and Vicki to Wall Springs Park. At one time, the park area was a commercial recreational facility. People would come to swim in the springs, but there were also sports fields, picnic areas and lots of hiking trails. It is now a public park. There is an observation tower, which we climbed to see the views. The original tower burned down, but an artist took the charred and twisted metal remains and created some very unique seating for the park. We returned to Vicki and Bernie's home for Aperol Spritzers and then were treated to dinner in town. What a great day!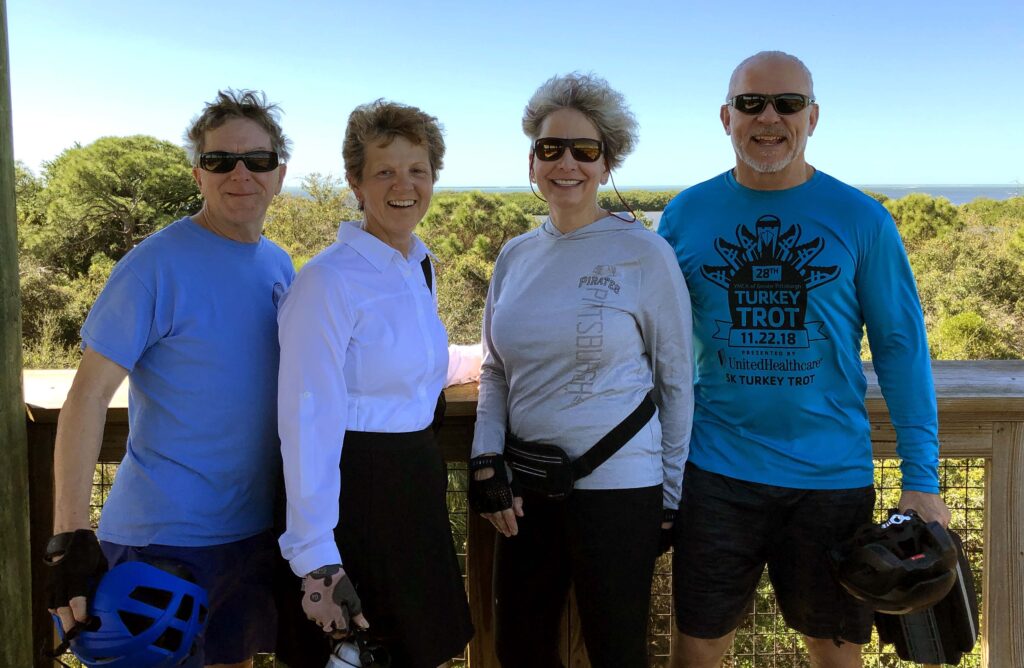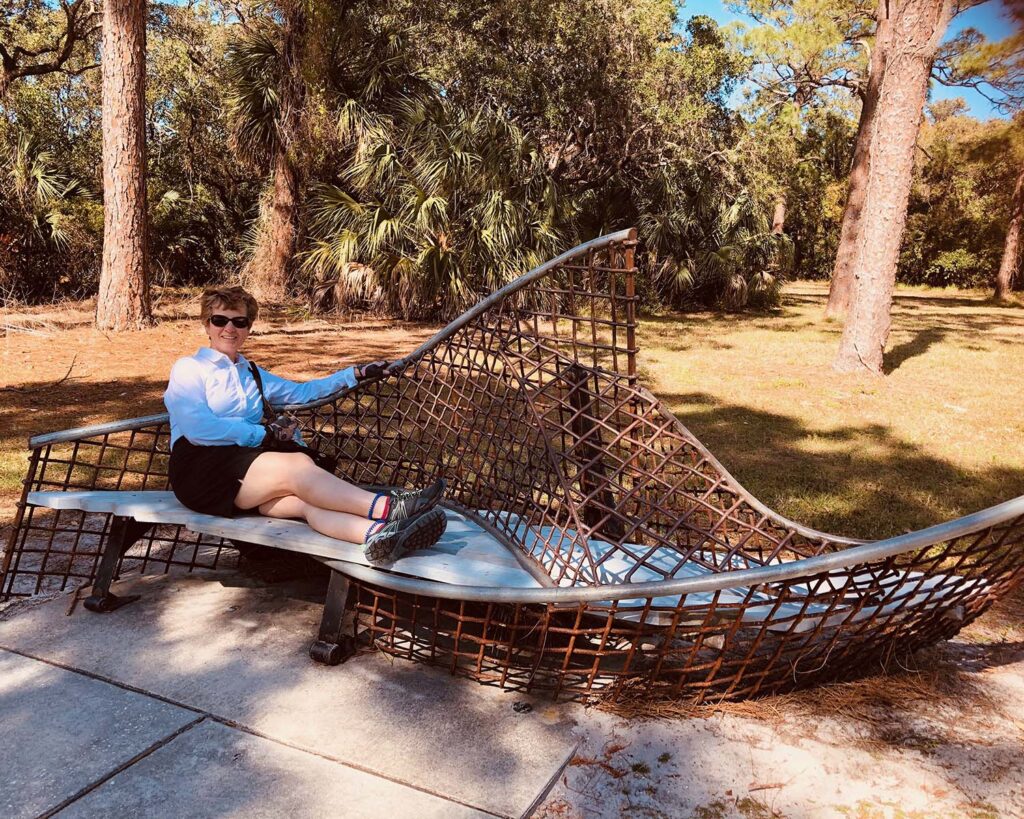 On our last day in Clearwater, we headed to the beach – just so we could say we had seen it and to put our toes in the sand. Alcyone gave us the tour of the beach area – they had been here many times. The sand was lovely and the light green waters of the Gulf were so beautiful to see. We all had dinner on the deck of the Bait House at the beach marina and celebrated the 3rd Anniversary of Patty and Todd's first date with cake on board Vitamin Sea. We're going to miss our friends on Alcyone, but it's time for us to continue on our Loop.