May 15-19, 2019
Heading back down the Potomac, again to find that some days are better than others.  Actually, some hoursof a day are better than others.  It started out to be beautiful.  Looked at DC through the back windows with blue skies and sunshine.  Planned a long day – about 78 miles.  Late in the afternoon, Ed remembered a place we had passed on the way up the Potomac – an island with a large cross on it. We found it on the charts – St. Clement's Island.  We anchored off the island and took the dinghy in to explore.  Turns out the cross marked the site of the first Catholic Mass in English America in 1634.  This is where people had landed and eventually started the Maryland Colony.  On the island, there is a replica of a lighthouse and a bell tower which gave warnings in foggy weather.   Pretty place – walked the island then got back to the boat to head for an anchorage for the night.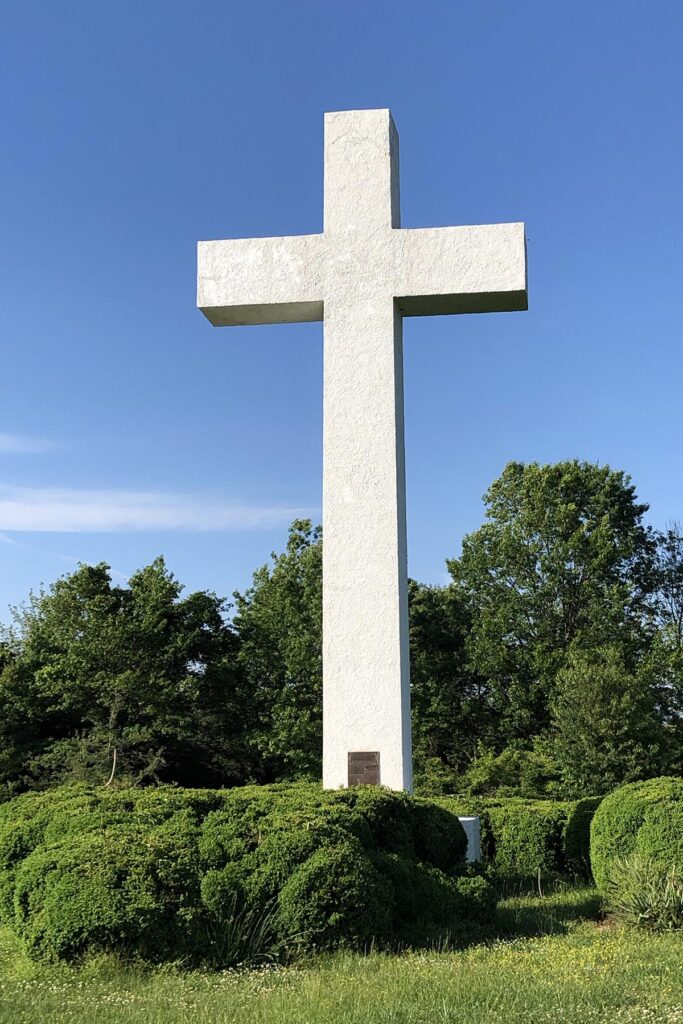 Went to Canoe Neck Creek to anchor. Found a lovely spot. Put down the anchor – couldn't get it to set. Pulled it up, tried another spot – couldn't get the anchor to set. Tried another spot – same result. We tried 7-8 spots with no success. By this time, the moon was up, the sun was pretty much down, we were tired and hungry and didn't know what to do. We were now in a channel, but fortunately no boats moving about. I finally said "drop it and we'll drag it until it catches on SOMEthing! " It finally did, but not a comfortable night as there was lots of water movement through the channel that night. This is why people usually travel fewer miles and stop by early afternoon. Lesson learned.
Next two nights at a beautiful anchorage in Jultand Creek, just south of St. Marys, MD. Quiet and peaceful. TWO nights because when we tried to leave, the Potomac kept slapping us back. Can't fight it.
On to Solomons. Docked at the Solomons Island Yacht Club.  Wonderful people there and SO welcoming.  This happened to be their season opening weekend and they had lots of festivities and invited us to join them.  To top it off, the Tiki Hut was re-opening after being closed for a year.  This is apparently an icon on Solomons and the turn out of people was phenomenal.  So much to do! Additionally, the local Catholic Church was having a Dancing Thru the Decades dinner dance.  We HAD to go.  Lots of fun and lots of dancing.  Turns out the pastor was a priest at a church Ed's family attended in the 70's in Bowie, MD.  He actually remembered Ed's parents.  Small world.